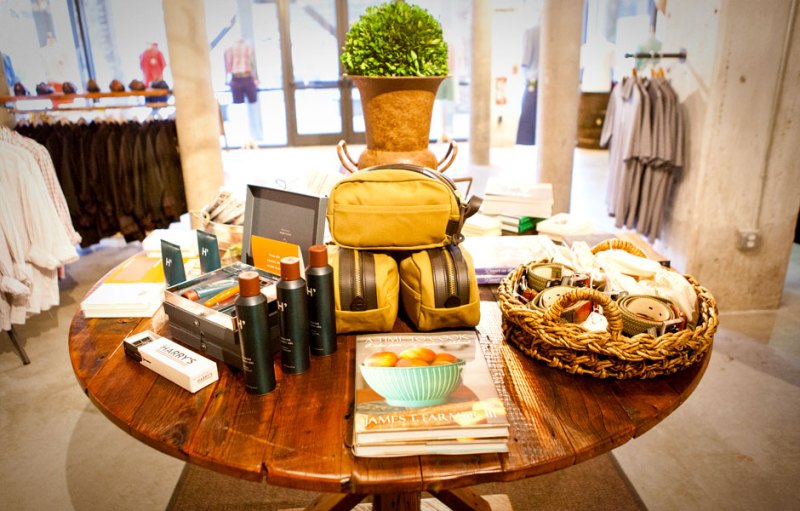 Now boasting seven brick-and-mortar locations in Georgia, North Carolina, Tennessee and Washington D.C., Onward Reserve is a retail bastion of up-to-date apparel, accessories and gifts for guys whose style can best be described as "conservative Southern." Stocking brands from Peter Millar and Barbour to Levi's, Shinola, Filson and Southern Proper, these upscale and welcoming lifestyle men's stores also do a brisk business with their in-house apparel line, which is created by store founder/owner TJ Callaway. He recently spoke to The Manual about his go-to and growing retail chain, which also operates a successful online business….
What is the history of Onward Reserve?
We opened our first store in Athens, Georgia where the University of Georgia is in 2012 right before football season. Since then we've opened six more. We started with ecommerce before we opened the first store and had a good print catalog and website.
What is the overall gist of the stores?
We are a lifestyle shop and cater to my lifestyle: a laid-back sort of Southern lifestyle. In the third-party brands that we carry we are trying to curate unique items that people want or don't even know that they want and bring all those items together in a really cool atmosphere. There are bars and leather couches and flat-screen TVs in all the stores where you can just hang out. And some have pool tables. It's really laid-back and a sort of man cave type of environment.
And you do your own collection?
We've got our own line of clothing and it's a pretty conservative mix that's updated. Fall 2016 will be our fourth season. We do standard wovens and sport shirts and that have a little bit of a tailored fit. We're playing with performance fabrics in order to differentiate and we have some pretty great golf shirts and a pretty full line. We have sport coats coming out this fall. It has been really well received. I have a knack for retail and merchandising but I am certainly not a fashion designer. I think that's what also makes us unique. I'm not trying to reinvent the wheel and I'm not trying to be the next hot fashion designer. We're really just trying to put together a really organized line that outfits our customers.
Speaking of, who are your customers?
It's probably 50-50 male to female. We've got a really inviting environment that actually feels more like a boutique for females to shop for the men in their lives so it's a little more comfortable than a dusty old men's shop that they had to go to in the past. As far as who is wearing our product, it's all over the board as far as age. We've done a good job of catering to lots of different types of people. We get everyone from high school kids to people who are my dad's age. It's more about whether somebody identifies with the feel of our store and brand as opposed to other brands.
What are your current bestsellers?
Our brand has been far and away our bestseller since we launched it. It has been growing tremendously every year. Accessories-wise, Shinola watches are still on the rise and Krewe sunglasses out of New Orleans have done really well. And in the fall we sell Barbour jackets and Filson luggage and that sort of thing.
How often do you refresh the merchandise?
It's a constant shuffle. We pride ourselves on having unique gift ideas. We sometimes refer to ourselves as that place you go to buy a gift for the guy who has everything or at thinks he has everything. We to find those cool items. For example, we've got a company, Tokens & Icons, that makes bottle openers out of old MLB bats, paddock at the Kentucky Derby and old Madison Square Garden seats.
Do you plan to open more stores?
We do. We've seen so much success with our own label our biggest focus right now is wholesale accounts so we are selling it into other specialty retail stores. We're going to do some pop-ups this holiday and then we'll probably open a few more stores next year.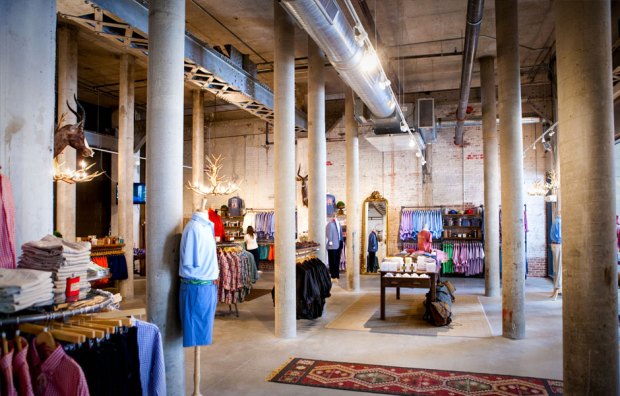 What is the general price range?
We are a luxury price point generally. Our sport coats are in the $595-695 range and sell Canada Goose jackets that are upwards of $1,000 and Shinola watches are $500-700. But you don't want to go into a store and feel like you can't afford anything so from the beginning I've wanted to have stuff that anybody can afford. We've done a T-shirt partnership with Steve Penley who is well know artist out of Atlanta who has done a ton of stuff for the Coca-Cola company. He is to Coca-Cola what Andy Warhol was to Campbell Soup. He's known for political stuff and has painted all the presidents. We're the exclusive licensee to put his art on apparel and gifts so we have great T-shirts from him that are in the $30 price range.
What sets Onward Reserve apart from other stores?
We are coming at it from a really authentic place. At the end of the day it's obviously about making money but it has never been about sitting down with a spreadsheet and figuring out how to make the most money possible. It has been about figuring out how we create an authentic place and serve our customers. It's really just me and what I would want in a store and thankfully a lot of people seem to have the same taste as I do.