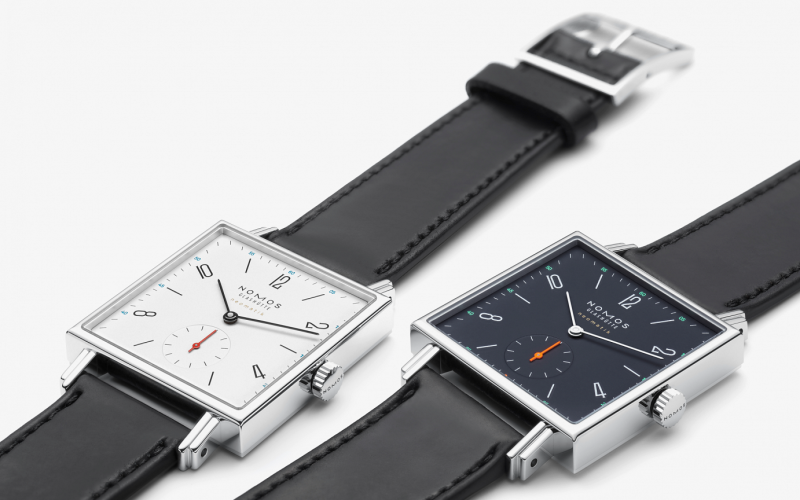 Nomos Glashutte is wise beyond their years. Minimalist dial design, simple case shapes, and in-house movements keep this German brand plugging right along. Its not easy to continuously debut new designs and strike a cord every time. Nomos has done it once again with the Tetra Neomatik. Clearly they recognize what defines them stylistically, which can be hard for an up and coming brand.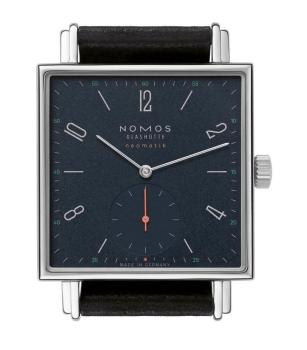 A perfect square of stainless steel, 33mm x 33mm, the Tetra Neomatik is sandwiched by two sapphire crystals. Below the first lies the dial with two options. One being galvanized white silver plated with blue, black and red accents. The other is a lacquered deep blue with green, rhodium, and orange accents. Both dials offer a simple and unique appearance with just a slight flair of color. Beneath the dial lies a Nomos Glashutte in-house automatic movement with a 42 hour power reserve. A leather strap attached to the step style lugs both frame and complete this timepiece.
Almost as if this piece fell out of the 1950s automobile dashboard, the Neomatik is built for function and legibility with style. No detail is spared from the different number fonts, to the color shades used to contrast with each offered dial. Framed by a square case that acts as a pedestal to display this artful dial, Nomos has pulled off another minimalist masterpiece. Diversify your collection with this piece for just $3,860.