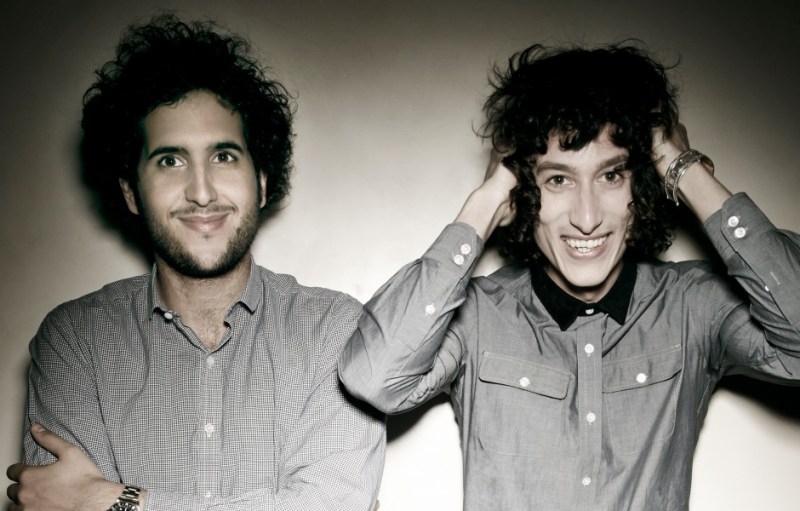 Updating your wardrobe this spring, you'll want to find a brand that not only makes you look good and feel good but one that you can trust is well-made. Based in New York City, Bespoken delivers on all fronts—and then some. Its London-born designers Liam and Sam Fayed, for example, grew up working at their father's tailoring biz, Turnbull and Asser, a house synonymous with Britain's famous Savile Row, but in 2008 embarked on a different path to create Bespoken, a brand celebrated for its unobvious heritage, superb craftsmanship, smart but relaxed aesthetic, and slight rock 'n' roll spirit. Able to define that elusive look of unstudied cool, Bespoken was named Best New Menswear Designer in 2013 by GQ Magazine. We caught up with Liam and Sam recently to talk about what it's like to be Englishmen in New York and how to get standout style.
This is a great picture of you guys. What was going through your minds when you took this?
When we took this picture there were quite a few sarcastic comments going around the studio because we are normally shooting models or other people wearing our clothes. So I was joking with Liam about his blue steel look. Being brothers creates a lot of jokes at work.
Are you each usually this fun or actually more reserved but witty in that classic "British" way?
We both work very hard but like to have fun. We tend to be reserved when we have to be, but share that dry British sense of humor.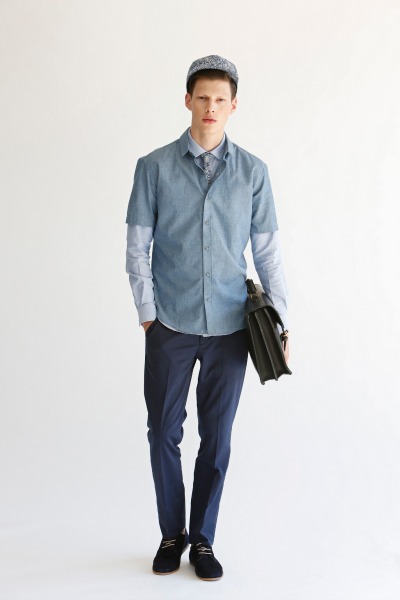 You're both Englishmen who chose to launch the brand in the US. Why is that?
We felt like New York is such a mash-up of great art, fashion and pop culture. NYC is such an international city and sometimes you will find brands replicating British style in a way that has more Brit than parts of England! Kind of like how the Japanese do it in Tokyo with certain sensibilities. We love the energy of this city and people are constantly creating and progressing; it's an inspiring place that keeps you on your toes and pushes us.
Five years later, how's the brand changed over the years? You launched and had to navigate through a recession and its recovery, after all. What are you now striving towards becoming known for?
When we launched, menswear was really attaching itself to harder tailoring and more Americana-based looks. What's really changed for the brand is this shift of guys blending more athletic and softer tailoring to their wardrobe. We are seeing a big shift from this workwear kick that has been so prevalent in the community for the past few years. It's exciting because when we started it was all about the suit and the shirt and the tie; now it's all about deconstructing those elements to go against the status quo and create unique looks that look refined but go against the grain of conservative looks. We strive to show rebellion within our clothes and a sense of irreverence, almost like "I don't give a f%* if people say you have to wear a black tie with a white shirt, I'm going to do otherwise" but still make it work. We like this black sheep element.
What's the best piece of (business) advice your dad gave to you?
"Retail is detail."
You offer a made-to-measure service in conjunction with Turnbull and Asser, which is pretty cool. Will you be expanding that in the future to include suiting and outerwear as so many young companies are starting to offer custom-tailoring?
Yes, we have this in the horizon. We have been consciously holding back because we want to make it beautifully curated and feel special. There is this whole explosion of "custom" happening now and we want to make it as easy as possible for a guy to shop suit and shirt without any hassle or nonsense. This is something we have been working on the past few months.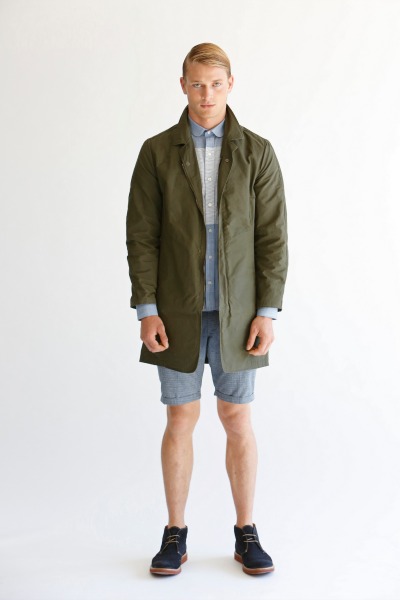 What are your thoughts about that? Are guys really getting the same quality with young companies as they would with Savile Row?
We feel like we are very lucky because of our ability to work with the Turnbull and Asser factory. They have been making shirts for over 100 years and the quality is amazing. We design our collection around our DNA of shirts and use the same principles for other categories. This is important now, as guys want longevity in their clothes.
Alexander McQueen and many others have said you need to know the rules in order to break them. We're pretty sure you know how to bend them to create great style. Give us three tips to creating kick-ass style.
1. Break the rules with layers: i.e. you don't need to wear a tie with every button-down shirt. Rock a bandana over it or even wear it buttoned up with no tie under a blazer.
2. Not every guy needs to buy a pair of brogue shoes to wear with a blazer. Buy yourself a pair of high black boots and watch as they wear in over time. They will start to look more clean as the leather wears in. Worn with a blazer and black denim, you can't go wrong.
3. Pairing a blazer over a knit (i.e. t-shirt or basic henley or knit crewneck) breaks the rules of having to wear ties all the time.
Finally, we peeked at the Fall 2014 collection (below) and think it's best collection to date. Tell us about the inspiration and what are the must-buy pieces?
Thank you! This collection was exciting for us because Sam really dug into his rock 'n' roll roots on the vibe for this season. We were inspired by the grit of New York and named our handle for the season "Tailored Vandal." Downtown New York meets the London East End. Late nights. Dark alleys. Banging on drums. Cigarette butts. Wheatpasting the subways. Wandering artists. Menswear crafted from the finest materials and to the highest specifications. These were all the key terms we used to describe this season. Key pieces? The charcoal SB2 suit in grey exploded check. This is our black sheep version of a traditional check suit and can be worn super casual for winter and looks really cool. The reinforced topcoat in olive drab, made from super soft loungy melton fabric and has a sharp patch overstitch detail on arms. Looks great over a t-shirt or with a shirt and boots. The Vandal denim jacket, made from super clean resin coated denim and has a soft leather sleeve with a rib knit cuff. Very easy to wear and looks great with a necklace and beanie for casual feel.
Editors' Recommendations