The watch market is the place to be, or at least that is the sentiment luxury brands all share. Names like Salvatore Ferragamo, Gucci, and Ralph Lauren have made offerings to the watch gods but it is still to be decided if they accept. One brand that been in the watch game for some time but it not typically equated with watches is Montblanc. This classic producer of fine writing instruments has been trying its hand on the wrist for some years now, but over the last few years has been showing serious watchmaking prowess. This year, they introduced some noteworthy pieces, including the Montblanc Heritage Spirit Orbis Terrarum.
At a conservative 41.5mm, the perfect size for a dress watch, this world time has certainly learned from the best. A watch of this complication will certainly resemble its competitors. Fortunately for Montblanc, this piece has a close resemblance to the Patek Philippe and Vacheron Constantin world times, yet Montblanc is not quite at that level. This piece offers the dramatic world time look of the greats for far less money. There is great depth to this dial layering the rings of the world time. Legibility is also very important and this piece reads quite clearly. There is a lot of information on there, but you wont need a loop to decipher it.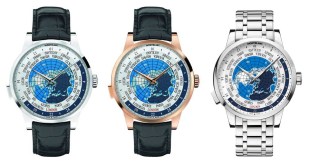 Keeping all those time zones in order is a Montblanc in-house module designed solely for this timepiece. This 42 hour power reserve movement adds the Montblanc developed worldtime to a base movement Sellita. Modular movements tend to be thicker which is why this piece is 12mm thick. Not too thick for a dress piece, but certainly not a Patek World time.
Available in both rose gold and steel, the Heritage Spirit Orbis Terrarum might be the best value world time complication on the market. Priced at $17,000 in rose gold and a mere $6,100 in steel, this partially in house world time puts this grail complication in reach.