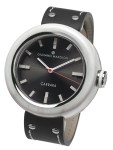 Every timepiece has a designer, but not every designer will take the risk of producing a timepiece.  Giuliano Mazzuoli is a risk taker.  Since the launch of his namesake brand in 2005, he has approached the design of the timepiece from a different angle.  His inspiration, Italian heritage and simplistic design, has truly created a unique timepiece.  Deviating from his automobile inspired line of watches, his latest release, the Carrara, takes the material of the region for his creation.  Yes, marble.
Known for its use in architecture and sculpture, Giuliano Mazzuoli has taken Carrara marble to the wrist.  At 44.5mm in diameter, the case is made of this renowned stone polished to hold the classic Giuliano Mazzuoli case shape.  The polished marble case surrounds a steel movement casing to add strength in the design. There are no lugs in his design which brings focus to the case on your wrist.  The leather strap is simply to attach this watch artwork to the arm.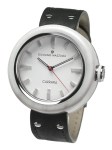 Giuliano Mazzuoli is known for his use of exotic materials and efficiently incorporating them into his designs.  This once again is evident in his choice of dial material, ceramic.  Used mostly in watch cases across the industry, Mr.  Mazzuoli has brought this material inside.  With the ability to hold color as well as multiple finishes, ceramic is an ideal dial material.  Offered in black satin, polished white, and matte blue, Mazzuoli has really exploited this material for great use.  Rounding out the design are block steel markers and hands giving the dial depth.
With two Swiss automatic movement options, this piece is not only well designed but reasonably priced.  The three hand automatic is priced at just under five thousand and the automatic chronograph just under eight thousand.
With the release of the Carrara, Giuliano Mazzuoli has truly ensured that his design prowess is set in stone.
Editors' Recommendations