Menswear designer Jenny Schwarz looks to the past to create awesome men's clothing for the future. The ethos behind her eponymous brand calls for meticulous quality and craftsmanship fused with a rugged take on smart styling. The resulting collection is wearable and utterly unique.
Intrigued, we caught up with the London-based designer to find out more.
Can you talk me through the history of the brand?
My brand has its roots in 1930s Bavaria, with my great grandfather who was a bespoke tailor. He was also a bit of an adventurer so in his spare time he would scale the Alps often being the lead climber (which meant that he led the way for the other climbers securing the rope to the cliff face). He also loved his horse and was often found hacking through the woodland and if he wasn't doing that he'd most likely be perilously flying down the mountain on a pair of wooden skis.
It is this strange dichotomy of the precise craftsman and the reckless explorer that ignited my interest in the man. I studied as an apprentice under the couture designer, Gabriele Blachnik in Germany and then went on to study Menswear at Central St Martins in London.
In 2011 I launched my brand which remains inspired by my great grandfather and his rugged elegance.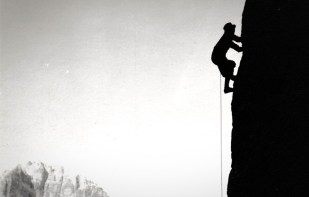 Do you think your Great Grandfather would approve of the collection?
I think my great grandfather would certainly approve of all my collections and I hope he would have worn the pieces also. I can totally imagine him in some of our heavier melton jackets, dangling off a cliff whilst contemplating the cut of his next customer's suit. I still use the same elements of tailoring that he passed down to my grandfather so he would also recognise some of the same, traditional techniques.
Who is the Jenny Schwarz guy?
The Jenny Schwarz guy is a little ambiguous. He is of no particular age although he must have the confidence to pull off garments that stray from the norm. Our cut remains classic so he appreciates the history and tradition in our tailored pieces yet he wants something modern and intriguing from his clothes. He doesn't necessarily want to stand out from the crowd. Instead, he will differentiate himself by the detail and the quality. Our guy is a little unpolished, a little elegant and a little rugged.
What's your design process, from initial inspiration to finished garment?
The design process is not one that can easily be defined. Although we are constrained by the regular clockwork of a year's seasons, we will pull inspiration from everywhere and anywhere compiling a huge patchwork of ideas that come to fruition when the time is right. We're not particularly trend-led and that allows us to bypass some of the more obvious choices and stay fresh for the consumer. We might start with pages of sketches which will be fed by inspiration, research and our imagination. After dissecting, leaving for periods of time, revisiting and re-dissecting we will reveal some of the stronger pieces at the same time we'll be discussing fabric textures and tones and piecing the puzzle together. More often than not, the collection will evolve right up until the last minute. It's like a balancing act between texture, tone, weight, formality, informality, editorial, commercial and many more elements. Sometimes we'll just have a feeling that something is missing or that we need to drop a piece.
Aside from your Great grandfather, who are your menswear icons?
I tend not to idolise that much and I'm often teased for not recognising very famous people. I love old films and the depiction of a romantic era that we seem to have discarded. I'm thinking of Cary Grant, of James Stewart and of Humphrey Bogart and a time when we dressed up to travel or to see a show. I want to bring that to the modern audience in my pieces whilst retaining the adventure of the characters these actors portrayed.
What's next for the brand?
We've just finished a very exciting collaboration for our AW15 collection which we'll be releasing in January 2015. It was a lot of fun to do and we have some amazing pieces and shots as a result. It's quite hard to keep things like that quiet for so long and funny to think that we're already designing pieces for SS16.
How do you plan to spend the holidays?
As we're currently a couple of weeks away from our holiday break we're in full action mode right up until the minute we stop. Then we'll be heading to Cornwall for the holidays. I plan on splitting the time between watching 1940s Sherlock Holmes films in front of a fire clutching a cup of hot chocolate and brisk, wintery strolls on the wild Cornish beaches.