Enjoying a nice pint of beer means setting the scene with the proper pairings; the right glass, a complimentary cheese, and even good music can all improve the drinking experience. British footwear company Gola wants to add a pair of trainers (British slang for sneakers) to that list, with the British Ales pack. The group includes four sneakers, each with its own unique charm and colors, made by hand in England, and named after traditional British beers.
As American sneaker companies move toward space-age materials and futuristic technology, a number of European companies have instead embraced modern quality control as a means of creating the best possible shoe from tried and tested textiles. Quality has been the name of the game for British footwear brand Gola since 1905, and they've always kept one foot in their storied and prestigious heritage.
Even though Gola employs modern production methods for many of their sneakers today, the Made In England 1905 collection takes a step back into the traditional art of cobbling. Each shoe is made in a small workshop in England with premium materials, meaning each shoe receives more quality attention before it gets to you.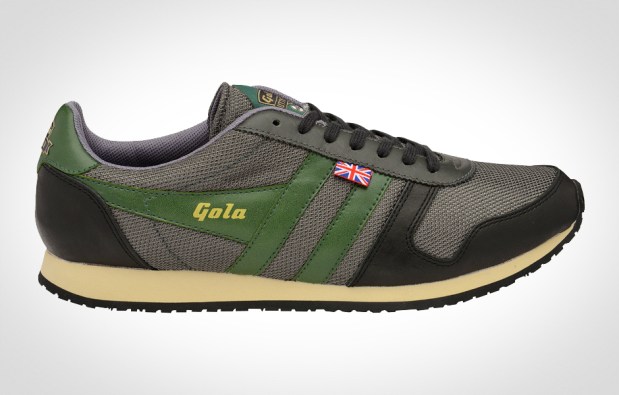 The four colors of the British Ale pack, Cobbler's Dragon, Nutty Soler, Pattern Cutter, and Last Maker, all refer to not only styles of beer, but also to steps in the process of hand-making a shoe. The sneakers aren't just a reflection of how great beer is, but also an homage to the classic days of high quality footwear crafted with premium materials. Nylon, leather, and suede all make an appearance on the Track silhouette, allowing room for additional touches like a woven badge tongue label, an EVA foam midsole designed for strong impact resistance, and a Union Flag tab so you know it's made in England.
The British Ales pack, as well as the rest of the Made in England 1905 pack, is available on the Gola website.
Editors' Recommendations