You may remember, we are big fans of the cool and comfortable menswear collections by Jed & Marne. We thought we would catch up with them three years later and hear about their progress and what is happening down in Guatemala. Happy to report, it is all good news!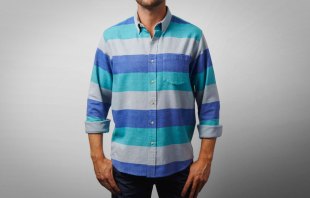 We caught up with Jed and here is what he and his sister have been up to:
Tell us about some of your recent feel good stories.
We are supporters (we make monetary donations and volunteer our time) of both the Konojel Nutrition Center and the community health/nutrition project Comida Vida. Marne also was responsible for designing several of the nutrition courses for Comida Vida and participates in them as an instructor as well. We feel these efforts are well catered to Guatemala as it has the fourth highest rate of malnutrition in the world. Over 70% of indigenous children are chronically malnourished, resulting in slowed childhood development, diabetes, and a myriad of other health problems.
We consider these initiatives/actions a part of our "social responsibility/community out reach" efforts and they represent one aspect of what makes us a sustainable operation. The other major contributor or representation of our sustainability efforts is our core business strategy. It has been an integral part of our mission to revive and support one of the most storied and respected traditions of Guatemalan culture: weaving. We feel strongly that the best way to make any skill set and/or business truly sustainable in this world is to find a competitive/economically viable place for it in the market. By working directly with our weavers to generate designs, products and price points that can make all of us viable players in the contemporary market, we are providing a direct connection to the capital of developed world economies. The other core part of this strategy has been to eliminate middlemen and pay our workers the wages that they demand/need to live. Marne and I work directly with our weavers and directly with our cutting and sewing operation to help ensure more livable/fair wages. We feel this has been one of the more impactful efforts that we've achieved thus far.
Feel Good News of the moment:
Just this month we donated two sewing machines and seed money to a women's sewing cooperative. The program's mission is to offer free classes on sewing machine operation and how to construct a basic garment start to finish. The first pattern they are learning to make is an apron. They will be working with recycled traditional Guatemalan weavings as well as donated Jed & Marne designs. The sale of these aprons will help to fund the growing health and nutrition initiative, Comida Vida.
A Recent Feel Good moment:
Becoming a fabric supplier to the BFDA. We are reaching out to other emerging designers with similar passions and bringing their business to our artisans via our fabric wholesale business. The relationship with the BFDA has resulted in our increased awareness of environmentally and socially sustainable trends in our industry. We hope to introduce organic cotton to our weavers' repertoire, and work on some limited runs of fabric using natural dyes.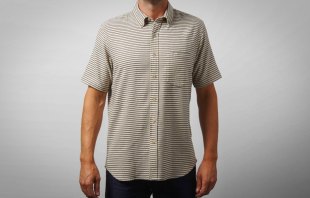 Wow you guys have been busy! Are there any new additions to the line?
Shirting – We are really excited to be including long sleeve and short sleeve shirting for men this spring summer. We've found wearing our fabric as a button down is incredibly comfortable given the breathability and now our customers can also buy matching sets if they're really feeling a color way in particular. It's nice to be able to showcase the depth of color in our hand-woven fabrics up top as it makes a bit more of a statement than just wearing it as bottoms. We've worked really hard on refining our tailoring and landing on a fit that is not too long to wear untucked as we feel most customers will wear the shirts this way (they are casual, airy, summer shirts) and the overall fit is situated strategically between the long and slim euro fit and the big boxy American fit. As I've said before they are comparable to a Steven Alan or Gitman Vintage fit.
Bags – stay tuned, we'll be releasing beach bags and tote bags at the end of May.
Pants / Fall Winter 2015 – We'll be introducing the first ever Jed & Marne pants this fall which we are so pumped about we can't even stand it and that will coincide with another collection of fall winter shirting with a button down collar or mandarin collar options. This fall collection will be a series of heavily textured solids, triptychs and diptychs.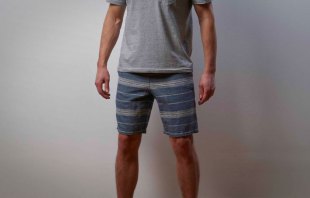 Awesome. How do you see the line progressing?
Overall, we've really begun to hit a nice stride with the weavers we work with. We've been at it for almost five years now and that has resulted in distilling our group to a core of incredibly talented artisans who are trained to our high standards, which translates to quality fabrics and finished garments. Moving forward you're going to begin to see many new variations on what we can do with the foot loom. Stay tuned…
Jed is offering our readers 25% off any purchases including items already on sale. It will expire at midnight on Sunday 5/10 Eastern Standard Time.
Coupon code is : feelgood25
If you haven't watched their video on the site please give it a watch here:

Editors' Recommendations