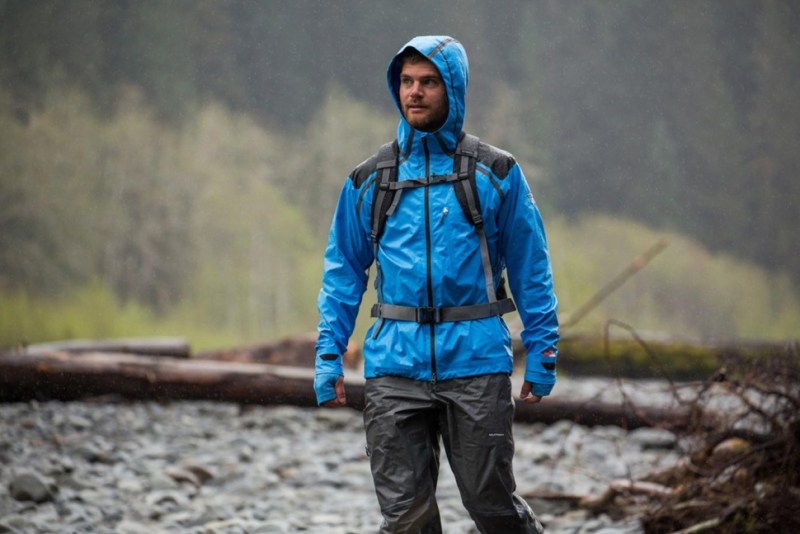 We expect a lot from our clothes. They have to make us look beautiful. They can't interfere with our lives. But most importantly, they have to counteract the elements. We want to be warm in single digits, cool in the tropics and dry in downpours.
In other words, our clothes have to be smart enough to respond to different conditions – just like smart cars, smart homes and smart thermostats. But to create intelligent garments, like one that shirks rain or keeps you cool in the sun, takes more than just a fashion designer. Devising a smart rain jacket, for example, takes a team of scientists, engineers, designers and project managers – like Jeff Mergy. He's the director of innovations at Columbia Sportswear, and the leader of the Project Innovation Team. Mergy shared what it takes to make clothes as smart as the people wearing them.
Raging against rain
If you own a rain jacket, it's probably reasonably intelligent already. Water-repellant technology had come a long way from the days of animal pelts and waxed cotton. The first modern rain jackets appeared in the early 19th century, and were made from layers of fabric and rubber. But rubber isn't breathable, so instead of soaking in the rain, their owners often got drenched in their own sweat.
Almost 100 years later, Gore-Tex technology made rain jackets breathable by using a microporous membrane and a durable water repellent, DNR, which lets the water vapor escape from the inside, but don't let the rainwater in from the outside. This has been a standard in the industry for 45 years, says Mergy, but it's not smart enough by today's standards — or at least not durable enough, because the water-repellent layer wears out.
That's why Columbia Sportswear introduced OutDry Extreme, a new line of clothing in which Mergy's team put the waterproof membrane on the outside of the jacket, using a new, proprietary process to cover it with a very abrasion-resistant material. Designers lined the inside with a wicker fabric. "It's more of a regular fabric that absorbs your own moisture and doesn't repel it, and the membrane evaporates it from your system," says Mergy. "So you get a feeling of wearing more of a shirt than a jacket."
But once you design a modern garment, you have to test its IQ. To make sure the new smart jacket will indeed keep you dry and remain durable, about 150 people all over the world ran through bushes or rolled down grass hills, sometimes in inclement weather. "We had testers in New Zealand, Germany, the Pacific Northwest, Ireland, and Alaska," says Mergy, adding that all testers are volunteers and are not paid by the company. "They're hard-core users who give honest feedback." The jackets will come in kid and adult sizes, with prices ranging from $120 to $400, and will hit the stores in spring 2016.
Heat and A/C for your body
So what about smart clothes that counteract cold and heat? A few years ago, Columbia Sportswear introduced a couple of apparels designed to do those better, too.
One is the Omni-Heat reflective technology, which uses little silvery dots that retain and reflect the warmth your body generates. The shiny dots, planted on the shirts' left side are made from aluminum covered with thin polymer coating for protection and durability, and function as heat reflectors. "The dots reflect your body's radiant heat back to you," Mergy says.
Another technology called Omni-Freeze Zero uses tiny blue rings embedded into the fabric that cool your body by absorbing your sweat. "The blue zero rings love moisture," Mergy says. "When they come in contact with moisture they expand and undergo a reaction that extends evaporative cooling, lowering the temperature of the fabric, which in turn cools the skin and the user down in hot conditions."
Proof is in the infrared
To test these smart clothes, the team had to go pretty high-tech too. They turned to a FLIR thermal imaging camera, which detects the infrared radiation which we perceive as heat, and creates a video image that shows the relative temperature of different surfaces. Mergy's team uses the camera to see whether the clothes' thermal performance is up to snuff.
For example, when creating the Omni-Freeze Zero rings, the team checked how different polymers performed under the same conditions. For jackets, they watched where the heat leaks out and devised ways to keep it in. "The camera sees temperature variations," Merge explains. "So we can look at a jacket and see where heat is escaping and what we can do to keep the heat in."
The future looks smart
Columbia isn't the only company creating smarter clothing for the outdoors. An Australian company called Threadsmiths, for instance, created a hydrophobic stain-resistant T-shirt. In addition to repelling just about anything, it's 100 percent cotton for comfort. French-based Spinali Design equipped their bikinis with an ultraviolet sensor that alerts its wearer when it's time to get out of the sun — because she's about to burn.
So your jacket knows how to let vapor out and prevent rain from coming in, your gloves know how to reflect back your heat, and your shirt knows how turbocharge your sweat your cooling. And that's just the beginning. "We will have many more ideas and technologies to come," Mergy hints. "Stay tuned!"
How about pants we never have to wash? Shirts that never shrink? Socks that never stink? Let us know what smart clothes you'd most like to see in the comments.