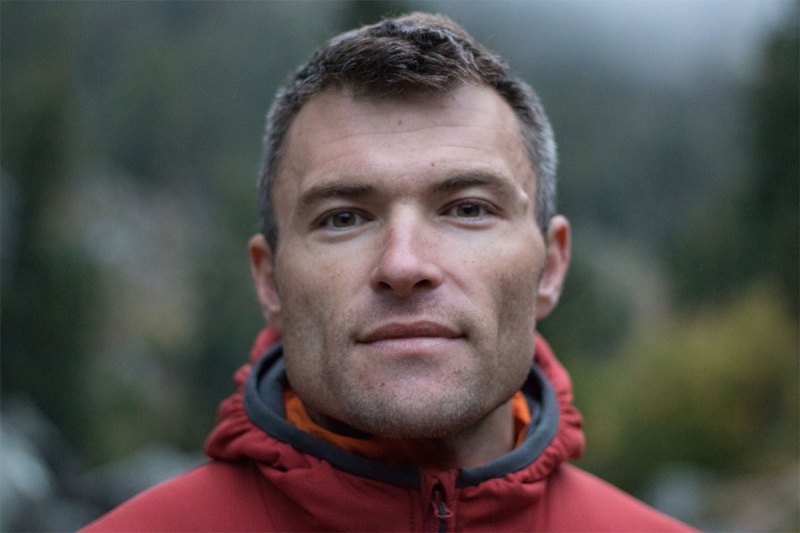 Today we speak to mountain lover, climber and runner, Jason Antin:
I'm a native of New England who now calls Colorado home. I wear many professional hats within the outdoor industry: working as a climbing guide, coaching mountain athletes, striving to BeatMonday and developing business strategy for an adventure-tech company. Off the clock, I enjoy moving quickly in the mountains over all mediums that mother nature shares with us whether that be trails, rock, ice or snow. I'm lucky to be married to my best friend and adventure partner Jenny and a proud father to my 5-week old daughter Avery Nalu. Although I really should invest in a lightweight camera, I do my best to document my adventures with my iPhone.
Before I caught my stride here in the Rockies, I was living in the Boston area, chipping away at a less-fulfilling career path with a major financial institution. I realized that it was important to create a lifestyle for myself that included passion for the outdoors on both a personal and professional level.
When I first arrived in Colorado, I just wanted to take some time away from the corporate grind I'd just struggled to escape from and work at a small climbing gear shop while I got to know the local community. However, not a single climbing gear shop would give me the time of day.
I posted my resume on the Outdoor Industry Association site. Shortly thereafter, the manager from a local boating store called me up to interview. There was one major issue: out of all my outdoor recreation adventures, I had zero experience in the rafting world. I explained this to the manager and he told me to come down and chat anyway. It turns out he was a climber as well, and thought I would be a good addition to the staff. He offered me the job on the spot. It was my first retail gig, and a fantastic intro to the outdoor community out here.
It wasn't long before I was asked to interview with the rapidly growing start-up LivingSocial. I worked alongside another co-worker to run the Colorado Adventures division.
In 2013, LivingSocial started to show some signs of struggle. In July of that year they laid off a large chunk of the workforce, including the entire Adventures team. As soon as news got around that I was unemployed, I received numerous calls and job offers from the partners that I previously worked with at LivingSocial. Those interactions validated the efforts I put into building these great relationships and ultimately the birth of my business, Alpenglow Experience Management. I was hooked on the freedom and volatile nature of small, start-up style business and couldn't see myself returning to the work-sleep-repeat lifestyle I had grown complacent to in the corporate world back on the East Coast.
I worked under my own LLC to consult with companies to better their experiential programming and various other business strategies. That's ultimately how I got involved with Gociety.
For those of you not yet familiar with Gociety, it's the social network for the outdoors that has aggregated a community of outdoor adventurers from around the world. I met with the founders shortly before the launch to discuss a major business development task which led to me teaming up with them as a consultant on behalf of Alpenglow Experience for a few months. Our joint effort was a success and I was given the opportunity to contribute what I could in business development full-time as their Director of Strategic Partnerships. I've been fully invested in this journey ever since, doing what I can to truly master the art of living.
As for my personal style:
Jeans: I'm a big fan of the Patagonia Performance Jeans. The lycra in these durable duds can accommodate my thunder thighs quite well (as long as I don't tumble dry them).
Shirts: I'm a sucker for a well fitted short sleeve button up, but my simple secret is any plain pocket t-shirt from Comfort Colors.
Pants: I wear dress pants less and less these days, but for a casual occasion I'll throw on a pair of Gramicci Original G's. When I'm playing in the hills I most often have a pair of Alpine Guide's on.
Suits: I haven't worn a proper suit to the office in ages, but when I do add to the wardrobe, I get my suits tailored custom at Gould's. For the perfect tie there's only one place to go: Jack Sartori.
Shoes: I can't say it's the most stylish, but the tires are most important to me. I've been wearing my Merrell SugarBush Boots a lot these days, hitting the trails and mountain approaches in my All Out Crush – Light sneakers, and rocking the La Sportiva Tx2's for technical scrambles with significant vertical terrain.
Accessories: Thanks to more recent battery technology, my GPS watch, the Suunto Ambit 3 Peak is my 24/7 wrist-top computer. My custom ring is made locally in the Northeast by Facets. For lots of other active occasions I wear a wedding ring made by QALO. I also always carry my Benchmade Osbourne 940 pocket knife with me.
Outerwear: In Colorado, outerwear is key. I've been really impressed with the Merrell Unbound Jacket. I've worn it around town and in the high country on some big missions and it performs really well! I've also been wearing my Aroundabout Featherless Shirt Jacket on cold days, and my Geotex Fleece when I just need a light layer.
Favorite cologne: Mountain Musk
Favorite app: It's been called the tinder for the outdoors, but as a happily married man, I use the Gociety app to help remind myself to get outside for an adventure every single day.
Favorite piece of technology: My SPOT Tracker Gen3 and Global Phone are essential pieces of technology that help me stay in contact with my family when I am in the mountains far from cell service.
Next style/gear purchase: A better compact camera for capturing my adventures. It needs to be light, small and pack a punch. If you have some suggestions – don't hesitate to send them my way!
Feature image courtesy of Mike Thurk.