This is it. The year everything changes. The first year of your adult life where you actually accomplish a New Year's resolution. "Outrageous," you might be thinking. "Who do you think I am, Mark Zuckerberg?!" Normally you would be right — it's basically impossible for non-Zuckerbergs to keep resolutions. But here's our sneaky little secret to success: Just pick a resolution that you can accomplish with a measly one day's worth of solid work. Piece of cake! You'll be done and about your business in a matter of hours, then you can spend the rest of the year reveling in braggadocio about how you totally slayed your goal. Sounds great, right? So now there's just the business of choosing a resolution that fits those guidelines, which — givers that we are — we've already taken care of for you: This year will be the year you clean your closet.
Lest you doubt the feasibility of purging your closet in one day, or the impact such a simple task can have on your quality of life, we guinea-pigged ourselves and tackled a staffer's overstuffed closet as a trial run. In the end, he walked away with two full trash bags (one destined for the garbage and the other for a tax-deductible donation to Goodwill) and the light-as-a-feather freedom that comes from clearing away all that built-up closet detritus. And all for the low, low price of one day's work. So roll up those sleeves, grab some garbage bags, and follow our quick guide to take your closet from a fabric monster's vomitorium to a pristine, organized wardrobe.
Step 1: Prepare Thyself
When it comes to learning how to clean your closet, it's important to know that it will take time. This isn't a 10 -minute affair; the whole process requires emptying your closet and drawers, piling everything in a gloriously intimidating mountain around you (Ok, you don't have to do it all at once if you don't want to), and sorting items into three piles: keep, donate, and destroy. This is gonna take a while, so get comfy.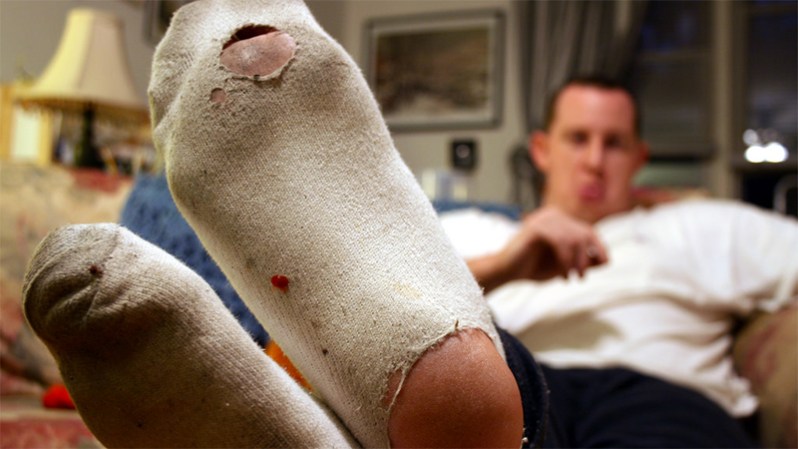 Step 2: Start with the Small Stuff
Now that you've steeled your resolve, keep yourself from being bogged down by the difficulty (or annoyance) of the task by starting with the easiest genre of clothing: undergarments. That's right, choke back your shame and pop open that sock drawer. Is it full of mismatched pairs, lonely singles, socks with holes, or socks that are so over-worn the bottoms have mutated into an entirely separate color from the rest? If so (and who are we kidding, you are reading this, after all), it's time to start tossing.
Do the same thing with your undershirts and underwear. Anything with a hole in it gets tossed immediately. Oh, it just has that one tiny little hole that's only visible if you move your arm forward, backward, up, down, or outward? Well that's fine to keep then. We're joking of course — get that trash out of there, what are you even doing? You know those emergency rations at the back of the drawer that you've convinced yourself you should keep in case the world is ever ending on laundry day and you'd rather be caught in stained undies than no undies? Come on, we both know what those "mystery" stains are. Dear god, get those out of there. Toss them into the trash pile without a second thought.
Next, let's tackle that old T-shirt collection. This is also pretty simple: Dump or donate all the old tees you haven't worn in the past few months. Some people may suggest a year, but the fact that you've ended up here proves you can't be trusted with that sort of leniency. If you haven't worn it since Thanksgiving, it's probably a no-go. We're not heartless, though: We get that tees are especially prone to having emotional and nostalgic trappings, like college football shirts or social event tees. You can keep those (for real this time, you can), but if you're not wearing them, then they should be banished from your regular closet or dresser. Put them somewhere out of sight, in an airtight container away from the sun, and they'll still be fresh and stable when you're ready to re-live those quarterback days after your 60th rolls around.
Undergarments are relatively inexpensive, so it's not a huge financial loss. Besides, you know half that stuff was a decade old anyway, you monster. If you're looking for a new pair to replace the ancient ones you just jettisoned, try out some of our favorite skivvies, socks, and undershirts.
Step 3: Sort Your Shirts and Oust Outerwear
Once you're done sorting through those old tees, move on to your other shirts. Typically, these should be hanging in your closet. If we've already lost you on this step, you need to take a few quiet moments of honest reflection to figure out what made you into a person who would fold up an Oxford button-down and put it in a drawer. Come back when you're done … we'll wait.
If your shirts already were hanging up (or if you've just quickly hung them all up in abject shame), do a quick scan and eliminate any shirts that immediately stand out to you. You know the ones we're talking about — those flashy prints and risky colors you can't pull off and never should have bought, those outdated styles, and all that stuff you know damn well doesn't fit anymore. Once the first pass has been made, go back and try on every remaining shirt. Every. Single. One. If it doesn't fit properly, donate it. Chances are you'll never get around to hauling it down to the tailor anyway. If you're trying to lose weight and keeping a too-small-shirt is a good motivator for you, by all means, keep one goal shirt. But only one. Just like with your T-shirts, if anything has a tear or stain or hole, chuck it. You're never going to hunt down the exotic ingredients for the mystical poultice to remove those set-in spaghetti stains from your lucky sweater, dude. Just let it go.
Do the same with jackets and other outerwear items. You don't need to keep every single coat Gam-Gam has ever given you for Christmas, so donate the ones you seldom use — someone out there will make them a much better home than the forgotten back corners of your closet. A suit or blazer really doesn't make you look super profesh if there's a big mustard stain on the collar or a busted seam. And no, you can't just slap a flag pin over it and start acting really patriotic. Throw it out.
Step 4: Purge Those Pants
Finally, it's on to pants. You probably have fewer of these than shirts, which makes this a nice cool down after that pro-level purge you just tackled. Toss out torn, ripped, or worn out sweatpants and joggers, along with any other sportswear that is just too bruised, beaten, or coated in next-level stank to hold onto. Pants that are too small also need to go. Resist the urge to hold onto them, even if you're convinced you'll be squeezing back into them in a few months' time. If you lose weight, reward yourself by buying new ones — it'll be a lot more fun anyway.
As with all your other clothing, any pants that have holes or stains should make a bee-line right for the destroy pile. Those frayed jean cuffs were pretty dope when you were an angsty teen trying to cobble your garage grunge band together, but you have to adult now, so give 'em a good culling.
Step 5: The Reveling in Braggadocio Part
So there you have it — an easy resolution that will make dressing in the morning a snap and will save you the embarrassment of ever having to dip into a shame-filled closet in front of company. Now that you've experienced the glory and satisfaction of accomplishing a resolution, you basically own Facebook. Congratulations! Plus, you've earned the bonus reward of freeing up enough space for some new duds, which, as a fashion-loving magazine, we applaud. Next step (if you're feeling up to it): closet organization. Although it would be easier to check out one of our favorite apps for keeping non-closet resolutions.
Featured image courtesy of ©2011 Dorann Weber/Getty Images. Article originally published by Chase McPeak on January 8, 2017. Last updated by LeeAnn Whittemore on January 23, 2018.
Editors' Recommendations