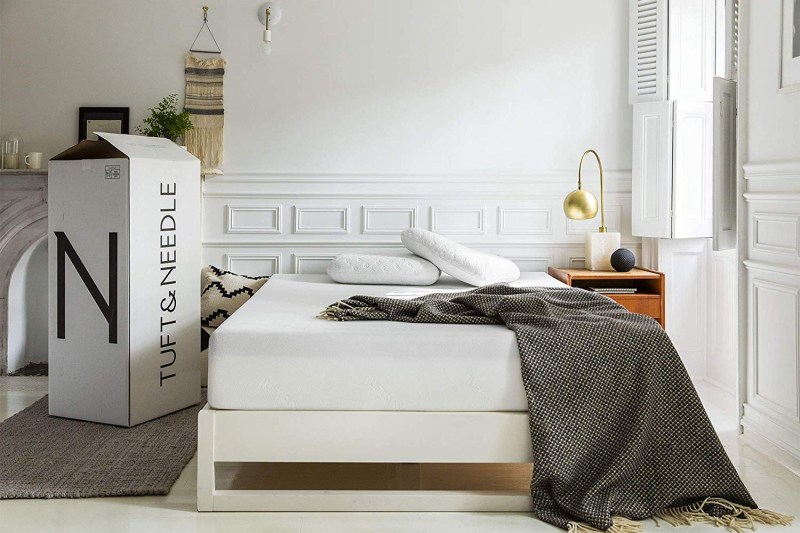 Although many treat it as an afterthought, it's worth the money to invest in quality bedding: You spend a whole third of your life in bed, and a good night's rest is vital for your health and for proper recovery after workouts and other physical activities. Tuft and Needle makes some of the best, especially if, like most of the population, you're a side sleeper, and its ongoing spring sale is the perfect chance to score some high-end bedding at a discount.
The Manual may earn commission on products purchased through our links, which supports the work we do for our readers.
The highlight of this Tuft and Needle sale is its Mint mattress. There's an ocean of memory foam mattresses on the market, but the Mint is made from Tuft and Needle's proprietary adaptive foam which is made with supportive and heat-absorbing graphite and cooling gel. This, combined with the foam's breathable open-cell design, pulls excess heat away from your skin to keep you cool while you sleep.
All six sizes of the Mint mattress (from twin up to California king) are $50 off, which isn't a screaming deal, but you also get one or two free Tuft and Needle pillows with your purchase depending on the mattress you choose. The twin and twin XL come with one standard Tuft and Needle pillow, the full and queen sizes come with two standard pillows, and the king and California king mattresses include two king-size pillows. This stacks with the $50 mattress discount for a combined savings of between $125 and $250, sweetening this deal considerably. These pillows just so happen to be one of the best pillows for side sleepers as well.
If you're not in the market for a whole new mattress, then the Tuft and Needle sale is also offering nice discounts on its excellent bed sheets. The percale sheets are made of clean, crisp cotton – probably what you imagine when you think of "bed sheets" – and are on sale for between 30 and 40 percent off. Tuft and Needle's soft jersey sheets as well as its light, breathable linen sheets (which would pair nicely with the cool Mint mattress if you're a hot box) are also both on sale for a nice 20-percent discount.
This spring sale is happening right now on Tuft and Needle's website. Shipping is free, and Tuft and Needle also offers a 100-day trial period on its bedding with free returns if you're not satisfied. The sale runs until Sunday, May 12, so you've got plenty of time to take advantage of the deals and outfit your pad with some quality bedding to get a better night's sleep.
Looking for more sleep solutions? We've found memory foam pillows, mattress toppers, and white noise machines.
Editors' Recommendations