Another weird TikTok trend is making the rounds, and this time, it's taking over your refrigerator. Whether you organize your condiments up by size, color coordinate your drinks, or prep your fruits into their own containers, no one wants to open the fridge door and get hit in the face with whatever rank stench is growing into a science experiment.
While pretty much all of us grew up seeing a box of baking soda sitting in the fridge, a TikTok trend is going around that wants you to use toilet paper instead. Yes, that precious commodity we couldn't even find on store shelves a few years ago is supposed to be a fridge anti-smell hack. Let's break down if you should jump on this fad or leave the toilet paper in the bathroom.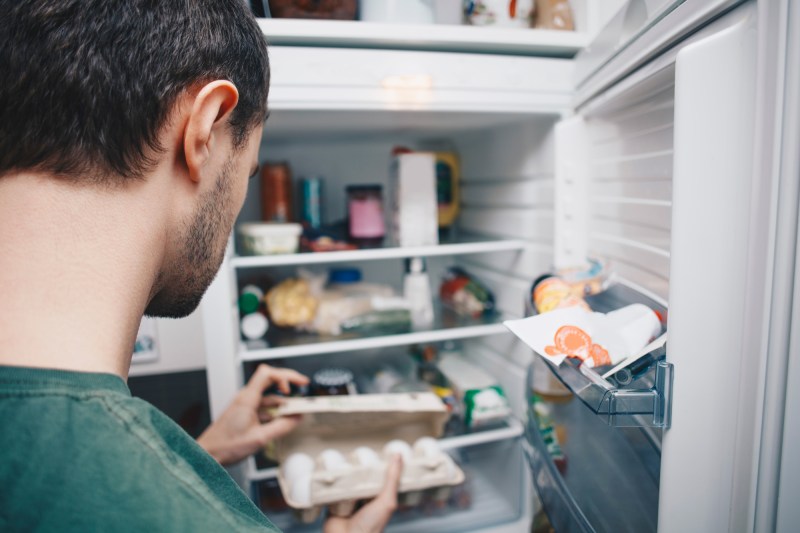 Keeping the fridge as fresh as possible
Like how your home or car smells, your fridge has a distinctive scent, and it's not always pretty. For generations, we've seen that handy orange box of baking soda sitting on a shelf and have probably taken it for granted. It's helping your house not smell like a trash can every time you open the fridge.
Baking soda banishes the smells
Put an open box of baking soda in your refrigerator.

It will take around three days for your fridge to smell clean.

You need to replace the baking soda every few months.

The sodium bicarbonate collects those acid particles stinking up the place and absorbs them into nothing.

No, you cannot use the baking soda that's been in the fridge for baking.
What in the TikTok is going on with toilet paper?
If you don't clean your fridge regularly, mildew and mold build up, causing strange smells to pop up in there. That doesn't make for an appetizing time when you go to grab a snack. Thanks to TikTok, there's an interesting way to keep the smells to a minimum. It's not a new trend, having made its debut around 2015, but it's coming back around. All you are supposed to do is take the toilet paper from the bathroom to the fridge.
Apparently, the toilet paper will absorb those particles and moisture that build up in your fridge in a similar way baking soda does. Does it work as well as baking soda? No. But if you don't have a box in the house, we guess having an alternative is good. But before you grab your precious toilet paper, there are other things to look for in your kitchen that aren't so strange, make more sense, and are a little less wasteful.
Before you raid your bathroom, try these options
Vanilla extract

Activated charcoal

Black cumin seed oil
You could also regularly clean your fridge, especially the plastic parts. We know, that's the lame adult thing to do, but it will help keep the toilet paper in the bathroom where it's more useful.
So, if you are ever at anyone's house and see toilet paper in the fridge, know they are trying to air it out with a TikTok hack. Maybe check the cabinet to see if they have any baking soda or vanilla instead and switch it out for them because toilet paper is expensive.
Editors' Recommendations