Last week I highlighted the Yamaha FJ-09, a do-it-all bike from Yamaha that is winning over riders with its high-tech heart, stout 3-cylinder engine and wide range of abilities.
This week, I'm returning to the Yamaha stable for an offering that is almost diametrically opposite of the FJ-09: the SR400.
The FJ-09 is pretty much everything the $5,990 SR400 isn't. It's not fast. It's not loaded with tech. It's not modern (well, not by much). As new bikes go, it's about as analog as it gets. However, all of those things work in its favor.
The SR400 is a single-cylinder, two-valve, air-cooled, kick-started retro bike that may be the coolest urban scalpel available outside of a scooter or bicycle.
The lineage of the SR400 stretches back to the late 1970s, when Yamaha saw fit to export the then-500cc SR500 to the U.S.A. Park an old SR500 next to a new SR400 and you'd be hard-pressed to say when each bike was made – long live the 1970s!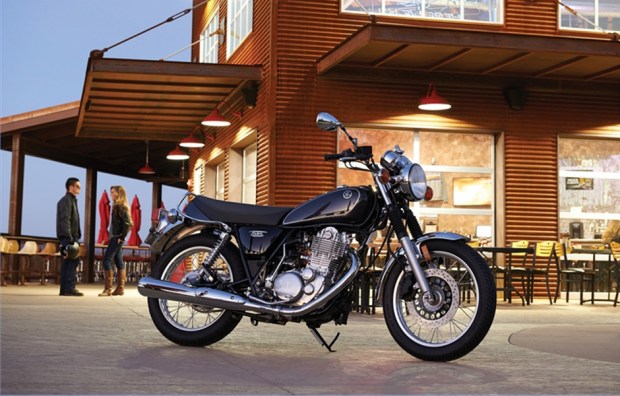 The SR500 was an oddball bike at the time: a svelte, thumping single-cylinder anachronism drowning in a sea of ever-faster and ever-heavier four-cylinder machines that would leave it for dead in any straight-line race.
But get the SR500 out in the twisties, and a curious thing took place. The torque-rich SR500 could absolutely blast out of a corner and despite a serious horsepower disadvantage, its slim profile and relative light weight was a godsend on a twisty road, allowing it to leave the more ponderous multis behind.
The simplistic design of the bike allowed it to be upgraded on the cheap and many riders were quick to do so, hopping up the engine, improving suspension, and making it their own personal canvas. SR500s are sought after even today and Yamaha even took it to the next level themselves with the now ultra-culty and rare 1986 SRX600, a full-on sportified super-single they should immediately bring back as well (hint hint).
But because it wasn't a hot seller, the SR500 quickly disappeared from American showrooms. That wasn't the case in Japan, where it has soldiered on since that time as the SR400 – essentially the same bike that recently reappeared here. When I was running around Japan in 2004, SR400s were absolutely everywhere and in all kinds of custom shapes and forms.
At least the SR400 is back in the USA now, and despite the 1970's vibe, the bike has been modernized with fuel injection, a better front brake and… well, that's really about it. It sports classic round gauges, never-out-of-style chrome wire wheels, a slender chrome exhaust and a lever behind the engine us "mature" riders call a "kickstarter." Trust me, you'll learn to love it – after you learn to use it.
Cross-country touring is likely not the SR400's forte, but hey, never say never. Where the SR400 will really shine is slicing up city traffic. Single-cylinder bikes like the SR are fantastic commuter rigs and at only 400 pounds gassed up, the SR is easy to ride for beginners or re-entry pilots who last saddled up a bike when the SR500 was new. The engine's torque makes getting the drop on traffic a snap and at 400cc, it's just big enough to get you down a stretch of freeway without drama. Oh, and it gets just shy of 70 miles to the gallon. Of regular.
Complaints? Mine would be that it's not a 500. Or a 600. Or a 650. This is 'Merica after all, home of the free(way) and super-sized bravery. The 1978 SR500 I owned was a perfect fit for my six-one burger-loving physique, the 400 is just a tad too small. If you're a few burgers and a couple inches shy of my avoirdupois, you'll fit just fine.
So, Yamaha, when is the new fuel-injected, liquid-cooled SRX600 going to arrive? It's long past due. But thanks for bringing back the SR400 at least – it's a gem.
All images courtesy of Yamaha Motor Corp.
Editors' Recommendations