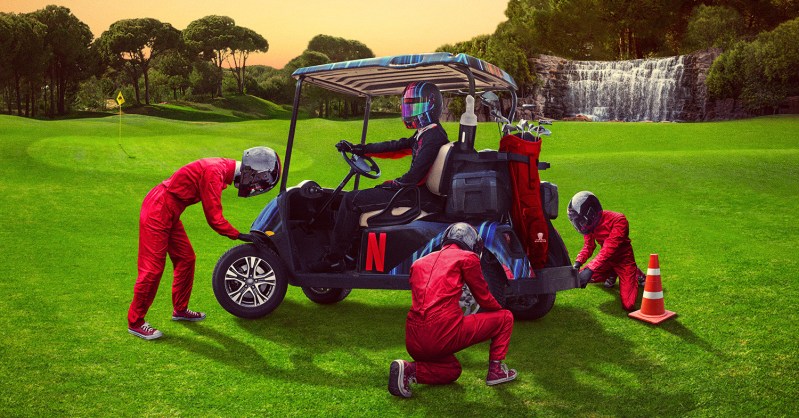 When it first emerged as a streaming behemoth, Netflix relied mostly on a mixture of scripted Netflix series and reality shows. In the decade since, that formula has continued to work incredibly well for the streamer and has kept it as one of the most dominant players even as new competitors have emerged. Now, as more and more people ditch cable, Netflix is experimenting more and more with a format that was anathema to its very conception: live TV. In addition to awards shows and reunion specials, though, Netflix is also getting into live sports, and it's starting with what may well be the most boring live sport there is.
If you're wondering what to watch on Netflix, the answer may now be golf. The streaming service recently announced that it would be hosting a live tournament between the stars of two of its recent streaming series hits: Formula 1: Drive to Survive and Full Swing. The F1 drivers from Drive to Survive will each pair up with a golfer from Full Swing to compete in an eight-hole match-play tournament at the Wynn Golf Club at Wynn Las Vegas. The event, which is being called The Netflix Cup, is set to take place on November 14 at 3:00 pm PT, 6:00 pm ET and will be streamed live on Netflix.
Netflix has already announced the athletes that will be competing in the event as well:
F1 Drivers: Alex Albon (Williams Racing), Pierre Gasly (BWT Alpine F1 Team), Lando Norris (McLaren Racing), and Carlos Sainz (Scuderia Ferrari)
PGA TOUR Golfers: Rickie Fowler, Max Homa, Collin Morikawa and Justin Thomas
The match will consist of four teams, with one driver and one golfer on each team. The tournament will see the final two teams advancing to the final of the eight holes in the tournament to see who will win Netflix's first Netflix Cup title.
Live events are still pretty unusual for Netflix, but the streamer is certainly trying to make them more frequent. One of its first-ever live events, a reunion special for its reality show Love is Blind, was a fairly high-profile disaster rife with such severe technical issues that it was actually impossible to watch the event live. Netflix clearly believes it has put the infrastructure in place in the months since that debacle to ensure that this one goes more smoothly.
Like the Love is Blind reunion, this live special is designed to capitalize on the success of several existing Netflix properties. Full Swing is a new series that premiered this year, and Netflix claims that it has improved interest in the PGA Tour. The show just wrapped up filming on its second season. Drive to Survive, meanwhile, was an even earlier entry into sports from Netflix and is entering its sixth season as F1 becomes more and more popular in the U.S. Assuming the event is not rife with technical problems or delays, it has the potential to be a solid redemption from Netflix's last major attempt at a live broadcast and will help prove that live events can be a part of every Netflix account.
Editors' Recommendations