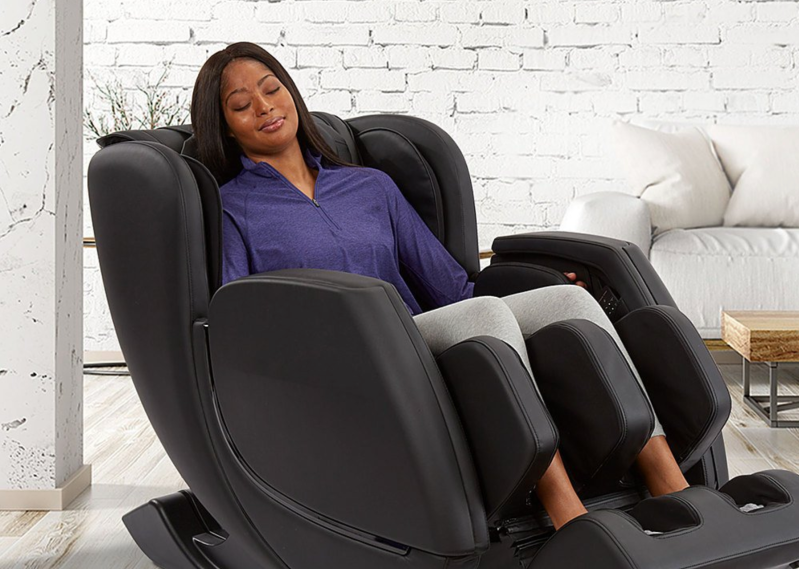 Relaxing at home is a much-underrated activity for many of us. That's why we had to highlight one of Best Buy's deals of the day which has a Sharper Image Revival Zero Gravity Massage Chair down to $1,799. It usually costs $5,499 so you're saving a spectacular $3,700 off the regular price. Whether you've had a long day at work or you've just got back from a hectic session at the gym, you need a great massage chair to relax into. Here's what we know about it while you decide whether to hit the buy button or not. Remember — you've only got until the end of today to do so.
Why you should buy the Sharper Image Revival Zero Gravity Massage Chair
Arriving with no assembly required, the Sharper Image Revival Zero Gravity Massage Chair is far better than any of the best massage guns you may have been considering for your post-workout recovery. It offers the most beneficial position for you to sit with the least amount of pressure on your spine.
Alongside that, there's lumbar heat which provides heat on your lower back, while there are foot rollers for reflexology treatment. There's also a four-wheel massage mechanism with rollers that run up and down your back to provide you with deep tissue massage that eases any aches you may have. Additionally, there's full-body airbag compression with airbags that encompass all parts of the body for compression therapy and increased blood flow. An L-track massage system also helps massage you from your neck to your tailbone and into your hamstrings.
Any time you want to make any adjustments, there's adjustable massage intensity so you can increase or decrease how much the airbags work.
The Sharper Image Revival Zero Gravity Massage Chair won't take up any more room than it has to either with the ability to place it three inches from the wall while still providing you with enough space for reclining. Fully automated, its many massaging nodes will do everything possible to ease aches and soothe muscles, much more so than the best fitness gear for post-workout recovery.
If you're keen to enjoy the best post-workout rest, you'll love the Sharper Image Revival Zero Gravity Massage Chair. You'll love it even more while it's $3,700 off at Best Buy so it's down to $1,799. Only available at this price for today, be quick so you don't miss out on this awesome discount.
Editors' Recommendations