There's a ruggedly romantic notion of a log cabin by a lake in the middle of the woods. It presents the ideal escape from daily life. A one room space with just the bare basics, built from trees you felled yourself. Log cabins are the original man caves. But they present a host of long-term problems that will make you regret your decision after just a few months of living out your lumberjack dreams. Luckily there is a company that has a solution.
Pluspuu, a Finnish design firm, has developed a unique line of log cabin kit homes that address all of the common problems of a traditional log cabin home while providing the modern comforts of home we love.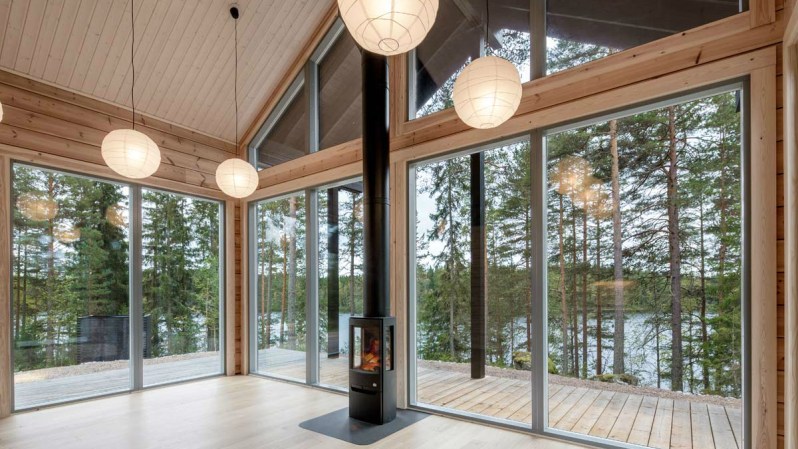 Pluspuu made sure their log cabin homes are durable, affordable, and stylish. One of the biggest issues with traditional log cabins is the shrinking and settling of the beams – a natural occurrence as the wood "breaths" in different seasons and weather. Working with a builder who specializes in log homes, Pluspuu developed non-shrinking beams. This means no settling and none of the constant post-construction maintenance that comes with typical log cabin homes.
This unique innovation keeps building and material costs down, making these homes more affordable and sustainable than other log homes. The strength of this system also eliminates the need for internal support walls. Gone are the days of the one-room log cabin. Pulspuu's kit homes are wide open, spacious and can be built as large as you want. Of course they also offer smaller models that keep in line with the notion of the tiny escape cabin in the woods.
Pluspuu delivers the parts and quickly pieces it all together on site. They offer eleven different models, including a sauna. All have large windows, unlike your standard cabin, making them bright and airy. The interiors can be decked out in whatever finish suits your style. Keep with the rustic theme and go with natural wood on the floors, walls and ceiling. Or for a touch of city life in the forest, there is a mid-century modern style interior complete with concrete tile floor, a stainless steel kitchen, and white painted wooden walls and ceiling.
And don't worry, the folks as Pluspuu know that anyone looking to build a log cabin will probably be spending more time outside than in, so they put just as much thought into the exterior of the homes. Their variety of options come in everything from a traditional gabled roof with white painted logs to an ultra contemporary mono-pitched roof with charcoal finish logs. Each model provides a spacious outdoor patio or deck for relaxing outside. There's even the option for a rooftop deck.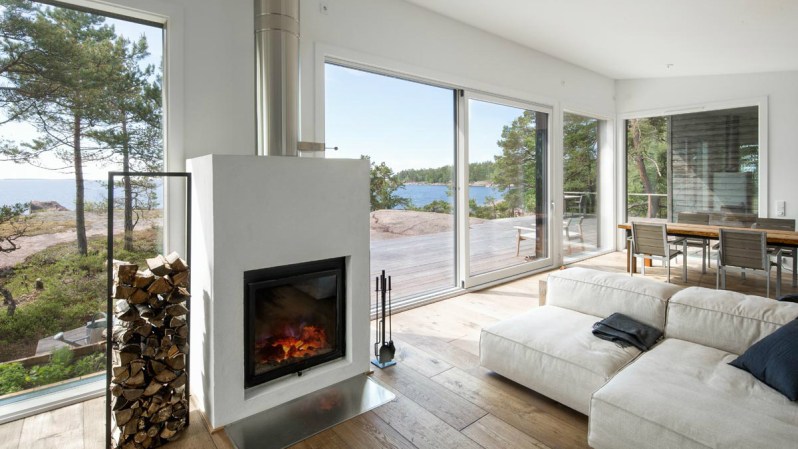 Ranging in size from 650 to 1,340 square feet, there is a Pluspuu log cabin home to fit every need. Set it up as a weekend retreat or permanently escape the hustle and bustle of the real world. Whichever style you choose, you'll be living like Paul Bunyan in no time.
For another non-traditional take on the cabin in the woods, check out this A-Frame cabin kit along with this backcountry hut building company for a truly off-grid home away from home.
Editors' Recommendations