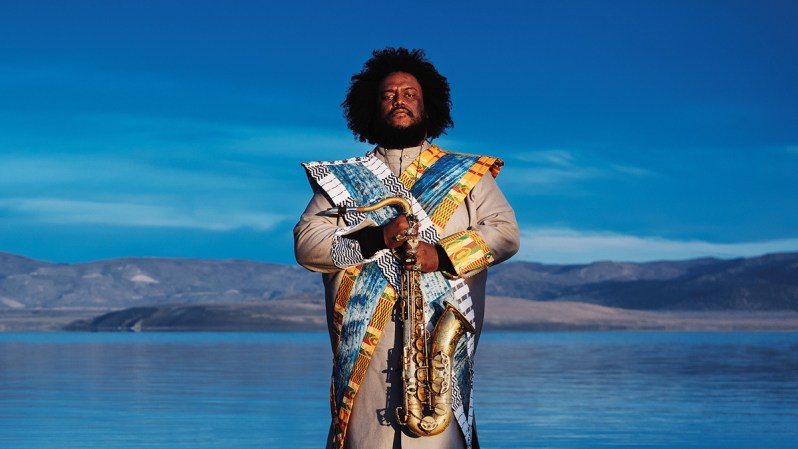 June has plenty of new album releases in store, but there are three particular records coming out this month that we can't wait to hear.
Kamasi Washington – Heaven and Earth
Kamasi Washington's 2015 debut album, The Epic, came out to rapturous critical reception, universally embraced as one of the best of the year and awarded the inaugural American Music Prize. In addition to his own acclaimed music, Washington has played with Snoop Dogg and Raphael Sadiq and performed on Kendrick Lamar's To Pimp a Butterfly.
Heaven and Earth, the saxophonist's sophomore album features Washington's band The Next Step, as well as members of the long running collective The West Coast Get Down. Notable contributors to the album include: Thundercat, Terrace Martin, Ronald Bruner, Jr., Cameron Graves, Brandon Coleman, Miles Mosley, Patrice Quinn, Tony Austin.
Based out of Los Angeles, Washington is a central figure in the West Coast Get Down. The collective has made a big splash in the past few years, seeing features in The Guardian and The New York Times.
Heaven and Earth arrives June 22 via Young Turks, and early singles "Fists of Fury" and "The Space Travelers Lullaby" both have preview videos available.
Neko Case – Hell-On
Five years have passed since Neko Case's last solo album, The Worse Things Get, the Harder I Fight, the Harder I Fight, the More I Love You. In that time, the indie veteran has released a vinyl box set of her solo work, collaborated with k.d. Lang and Laura Veirs on the case/lang/veirs project, and recorded with longtime bandmates The New Pornographers on 2017's Whiteout Conditions.
Looking for a new sound for her forthcoming record, Case wanted to put herself in a setting far away from everything she knew. She recalled Björn Yttling's skill with Lykke Li, Camera Obscura, and his own band, Peter Bjorn and John. "I've worked with the same people so long, I never had to step outside my comfort zone," Case says. "In this instance, I chose to."
The two began to record in the fall of 2017, and the process went smoothly until the artist received a 3am call telling her that her house was burning and would likely be completely destroyed. Only a few hours later Case would enter the studio and record the already written, now unfortunately aptly titled early single "Bad Luck." The track gallops through its 4-minute run time, keeping the hook loud and clear the whole time. Reflecting on her the album, Case notes "I'm writing fairy tales, and I hear my life story in them, but they're not about me," adding, "I still can't figure out how to describe it. But I think that's why we make music or write things. You've got to invent a new language."
Hell-On arrives June 1 via ANTI-.
Rolling Blackouts Coastal Fever – Hope Downs
Hope Downs is the debut full-length from Melbourne, Australia's Rolling Blackouts Coastal Fever (RBCF). The album follows a pair of well-received EPs,2015's self-released Talk Tight EP and 2017's Sub Pop-released The French Press EP. Both EPs received praise from publications like allmusic, Uncut Magazine, and Pitchfork—the last of which said RBCF "stand out for the precision of their melodies, the streamlined sophistication of their arrangements, and the undercurrent of melancholy that motivates every note."
Billing their music as "tough pop/soft punk," the quintet plays warm guitar pop. The sounds of The Go-Betweens, Belle & Sebastian, and The Chills resonate in of RBCF's songs, but the group's sound is its own. Lead single "Mainland" follows singer/guitarist Tom Russo's pilgrimage to the island of his grandparent's birth, reflecting on his own love and privilege while a refugee crisis unfolds not far away. "I was reading about a refugee crisis unfolding not far away in the Mediterranean Sea," says Russo. "The song is about longing, disillusionment, privilege and holding on to love as a kind of shield."
Hope Downs arrives June 15 via Sub Pop.
Did you miss on May's releases? Check 'em out here.