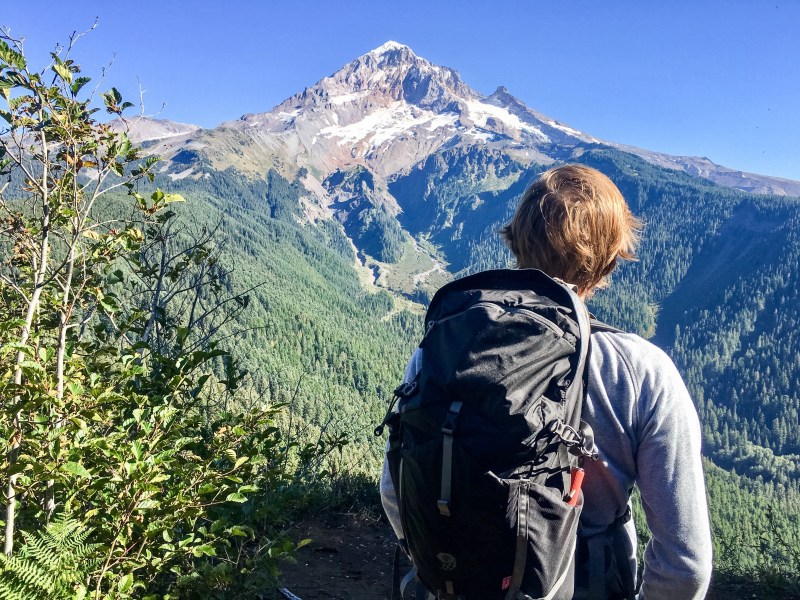 There's nothing worse than getting halfway through a 12-mile hike only to be caught in a downpour. If you don't have the proper waterproof gear, the rest of the journey will feature soaked socks, feet verging on the edge of trench-foot, drenched gear (including your travel towel), and general misery.
For our readers who come from sunny, dry places like the Southwest, this may not be an issue, and for that we congratulate you and your regular backpack with only the slightest hint of jealousy. For those of us living, working, and playing in the Pacific Northwest, however, we require a bag that can stand up to the long, rainy days of an Oregon winter as well as any unexpected fair-weather rainstorms. But how to choose? Do you go for the super-expensive 100 percent waterproof backpack that could sink to the bottom of the sea and be found thirty years later, still containing a dry pair of underwear within? Or do you go super-cheap and buy a water-resistant backpack that lasts a season and then loses all semblance of water-tightness, rendering it about as useful as a wet blanket?
We recommend walking the line on this one and going for a bag that splits the difference: Mountain Hardwear's Rainshadow 26L Outdry Backpack ($150), a waterproof, middle-cost backpack for hiking and day trekking that looks great and wears well, all while keeping you and your gear dry on the trail.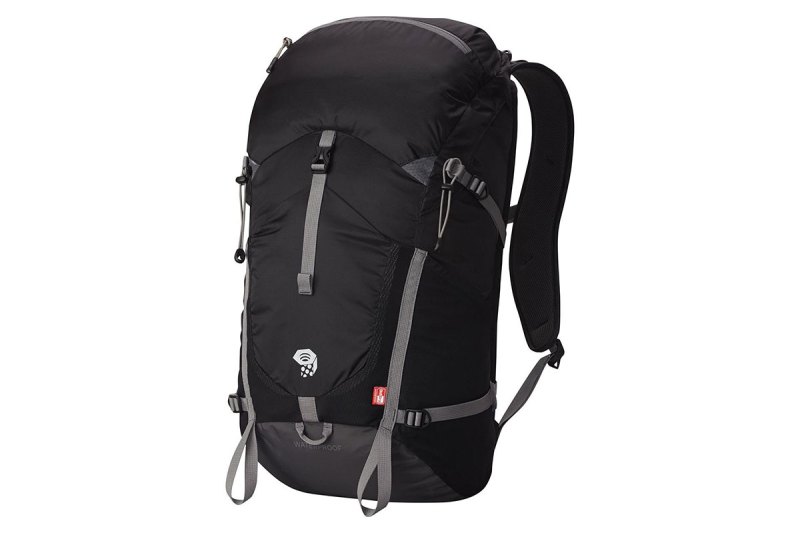 Mountain Hardwear has been around for over two decades and throughout that time they have continuously refined and honed their products. In the case of the Rainshadow series (which includes the 26L and 36L versions), the packs are constructed with Mountain Hardwear's proprietary OutDry material that bonds a waterproof membrane to the inner-shell of the backpack, sealing the fabric and the seams against moisture. You could literally fill the Rainshadow with a bucket of water and it wouldn't leak. Take that, dear Liza!
Mountain Hardwear Rainshadow packs are rain-room tested for at least 24 hours–meaning, Mountain Hardwear designers literally chucked a bag in a room and simulated a storm for a day. We at The Manual lack a rain-room, so in order to put Mountain Hardwear's Rainshadow to the test, I took this pack out last weekend for a hike when the forecast called for rain. Unfortunately, the weather man was wrong (as is so often the case) and no rain was to be found. However, I did run this pack through a waterfall with a fairly substantial flow and found, to no surprise, but much delight, that my extra sweatshirt, snacks, phone, camera, collapsible beer-cooler, and selfie-stick (yes a selfie-stick) remained bone dry.
I, of course, was not so lucky. But, being the well-prepared hiker I am, I always carry a handy chamois towel with me on every trek. After drying off with my shammy, my towel was still a little wet–which is not exactly something I wanted to stick back in with my dry items. But Mountain Hardwear seems to have thought of everything, conveniently positioning a mesh pocket on the front of the pack to allow you to stow your wet items to dry external to your already dry gear. Simple and effective.
Other features that round out the pack include mesh straps and back padding to allow areas of the pack that are in contact with your body to dry quickly, a hydration sleeve that can carry up to three liters, loops for ice axes or trekking poles, stretchy side pockets for additional water bottles, snacks, or selfie-sticks, an external top pocket for quick-access items, a huge internal compartment that can pack up to 27 liters worth of gear, and compression straps to keep everything secure. The bag also sports a chest and waist strap to keep the pack snug on your back while hiking, climbing, or bouldering.
Overall, the pack is extremely comfortable (even after a full day's trek), but it is also narrow. I'm 5'8 and weigh 145 pounds and wearing three layers made the straps snug, but not tight on me. So, if you're broad-chested or are cut like a Marine, you might want to opt for the larger sized version.
And, while Mountain Hardwear's Rainshadow Outdry Backpack will be waterproof to all rain, hail, sleet, snow, and even a momentary dip in a river–it probably will not remain waterproof during a six week kayaking tour through the rainforests of Brazil. For that you're going to have to skimp on style and go for a military-grade dry-bag.