While we all love the old school feel of a kerosene lamp when camping, we know how dangerous they can be. And we just use them for weekend trips. Many people in the world have relied on kerosene lanterns to light up everything they do and many a home and human has been burned in the process.
Greenlight Planet is working on solving this problem by bringing 'innovative energy solutions to the underserved' Launched in 2009 by a trio of young, global entrepreneurs dedicated to reducing the use of dirty fuels, Greenlight Planet's solar-powered Sun King lanterns have provided sustainable light to more than 15 million users in rural India and Africa. And the Sun King is responsible for offsetting more than 290,000 tons of carbon dioxide.
Their Pro Light ($45) can shine for 45 hours on a single charge. It also provides a USB port for charging while lighting. Naturally the outdoor market caught on and these Sun Kings are in huge demand around the globe. An ideal addition to any emergency kit, hunting camp or off-grid homestead, the lanterns include a separate aluminum solar panel with a five-meter cord and a removable rigid metal stand for tabletop use. Additionally, the stand can be suspended from the wall, ceiling or used as a flashlight.
Related: The Ice Mule is the reason to ditch the classic Coleman
We spoke to Desh Malik, Vice President North America, Greenlight Planet to hear more about this dynamic company:
What came first, working with people in need or the outdoor market?
The people in need came first then the outdoor market by popular demand. The word got out with NGO's, travellers and others. It has been tested on the plains of Africa and villages in India. Others wanted to know, "why can't we get these here?"
We started doing surveys asking, 'would a product designed for the third world have a use in the first world?' The answer was yes. The outdoor recreation market is huge but second is the emergency market and third is educational. People use these in their garage, their boat, their plane and in their garden.
The light will last 45 hours with a 6-8 hour charge. We guarantee five years of use.
Who else has been using them?
We started hearing more and more from customers on Amazon that they were buying for hurricanes, blizzards and blackouts. That is another target market.
You mentioned the educational market.
Boy Scouts, Peace Corps and university professors want them too, so they can show their students how solar energy can be successful.
Is there a percentage that is donated to third world areas?
Profits we make from Western markets we reinvest in the company to expand the global network in the developing world. We are aligned with certain non-profits like Sunny Money and Solar Aid who have distributed over a million lights.
Also, we are developing ways to get the lights to regions with immediate needs , say the Ebola crisis and weather disasters.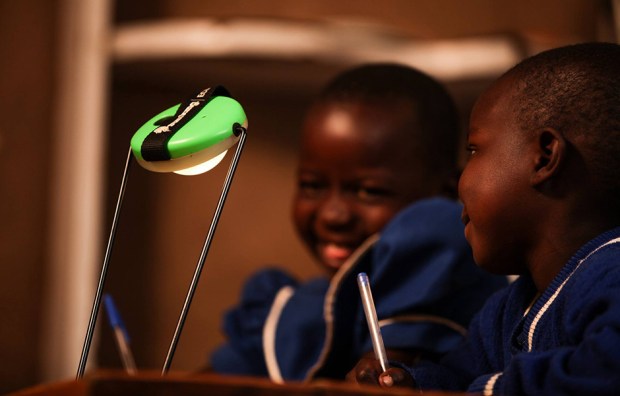 We don't do a 'buy one get one' sale because giving someone the product doesn't give it as much value as them having to buy it on their own. Basically the light pays for itself over a couple of weeks or months in these third world countries. We are eradicating kerosene lamps, which are unhealthy and unsafe. The prices are about 25% lower than they are in the US. We keep the extra profits to use in the network.
How is each of the lamps different?
Eco is the lowest price level to introduce the product.
The Solo has a flashlight mode.
The Pro lasts longest and has USB technology.
What is next?
We have a home system we are launching in the developing world. It consists of three hanging lamps and two USB ports. You can control the amount of light for each lamp and this is a way to have overhead light in multiple areas of a home, office, etc.
Editors' Recommendations