No matter where you live, everyone needs at least one good fan. Even if you have air conditioning that would make an Alaskan green with envy in the summer, there are still times when you or a guest will be more comfortable with circulating air.
Fortunately, the days of the "grandma fan" are gone. Bid a fond farewell to those big box fans that make your bedroom sound like an airport tarmac. It's time to up your fan game with one of the following examples of what can happen when you cross the latest in home cooling technology with aesthetics that fit into any modern man's home. Here are the best tower fans you can find right now.
"Oooh —what is that?" You can expect to hear that question a lot when you have this Dyson tower fan in your home or apartment. It's a conversation piece on par with the latest Apple gadget.
This fan belongs to a future generation of home cooling technology. We didn't know it was possible to buy a fan without blades. Turns out, it is.
Ten precise airflow settings give you a range of cooling options. You can even program this fan to shut off after a few hours. The remote control lets you stay cool without getting up off the couch. If you're looking for function plus an aesthetically pleasing design, the Cool AM07 is the perfect choice.
Ozeri 3x – $98
The Ozeri 3x tower fan cools you off without keeping you awake or forcing you to raise the volume on the TV. That's due to special fan blades and passive noise reduction technology. Also, if you're looking for a high-tech fan that can fit in your East Village studio, we've got you covered. The Ozeri 3x is among the world's thinnest fans at only three inches thick.
Three color options allow you to match your decor while taking advantage of the preprogrammed airflow patterns. A touch-sensitive LED remote gives you easy access to all fan features even in low-lit romantic settings. Stay cool, my friends.
Ozeri 3x – $98
Lasko Wind Curve Fan – $56
Lasko has been killing the fan game for decades. The Wind Curve is the result of years of testing and design. Three speed and oscillation options let you direct the exact amount of cool air you need wherever you need it. The sophisticated design not only keeps your home comfortable, it blends elegantly into your decor. Wouldn't that wood grain finish look nice in your leather-upholstered study?
This tower fan has a built-in Fresh Air Ionizer that adds millions of negative ions to the air, creating a fresh air feeling that is only second to being on an actual mountainside. At 42.5 inches in height, the Wind Curve provides quiet, high-reaching, and widespread air circulation. Reduce the pollen, mold, and dust in your home while staying comfortable and cool with the latest in Lasko fan technology.
Lasko Wind Curve Fan – $56
See It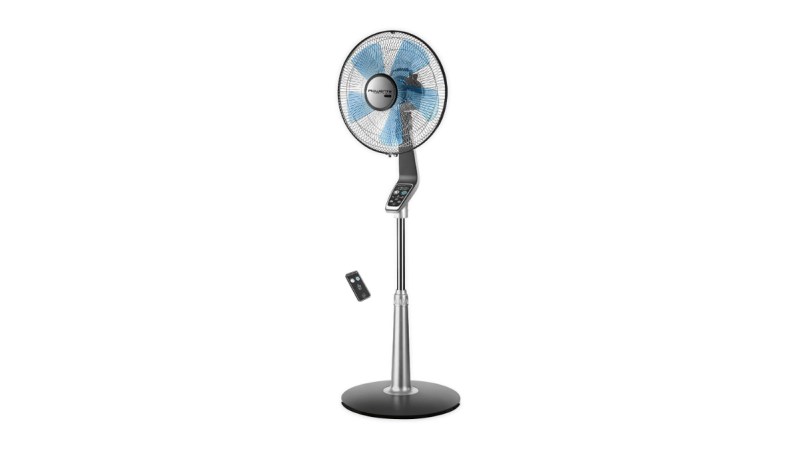 When you need a turbofan with a silencer, this is the fan you get. It's technically a pedestal fan, not a tower fan, but it still delivers exceptionally strong airflow without a sound. Even at its most powerful setting, it maintains the silence and efficiency of a good butler.
With five speed settings, including Turbo Boost for extra power during an August heatwave and Silent Night Mode for light sleepers who like a cool breeze, it covers all your cooling needs. The height is adjustable and it comes with a compact remote. Cool your whole lifestyle with the Rowenta Turbo.
See It
If you're already thinking ahead to the dark cold days of non-summer, check out our picks for best space heaters and get your cozy on well ahead of winter.
Editors' Recommendations