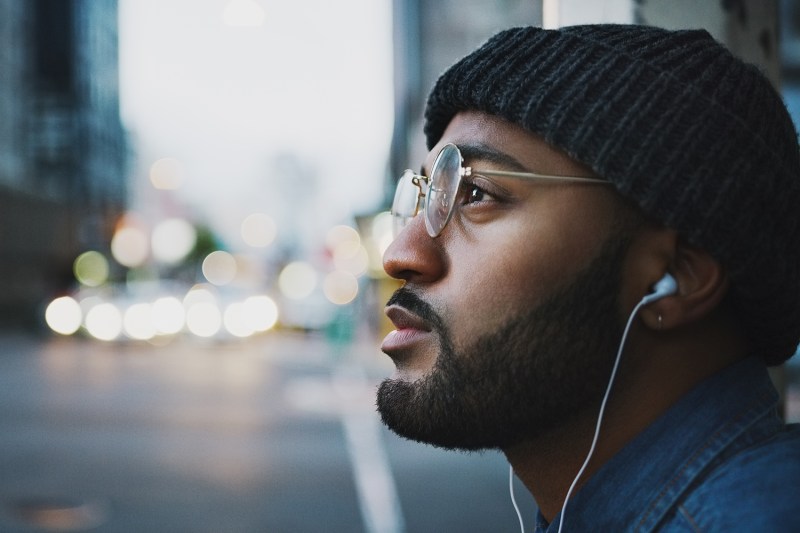 Whether you want to call them male anthems or mantras for men, this is a collection of tunes that, along with speaking to our values, epitomize what it means to be a man — and a good one at that. No, not your societal-based image of a man, but rather a perspective of self-reflection, will power, and, ultimately, motivation to help remind us of the impact we have on our own lives, our careers, and those around us.
As men, we think it's utterly important to hear from others — whether it be thematically happy or sad — who have gone through similar experiences. Some of the best songs about being a man are from men who have been there and understand how you're feeling.
The Boys Are Back in Town by Thin Lizzy
The Rock and Roll Hall of Fame 2020 inductees will forever hold the title for the best male mantra with their 1976 hit "The Boys Are Back in Town." This one was made for blasting on your stereo before a night out with the boys or whenever you need a pick-me-up.
The Man by The Killers
The Killers' frontman Brandon Flowers immediately makes his presence known in the band's 2017 jam, "The Man." As he sings "Who's the man? Who's the man? I'm the man. I'm the man," it's clear that it was made for men looking for some self-motivation and self-confidence or when you're looking to celebrate your successes. Either way, "The Man" is a funky, upbeat tune for everyone to enjoy, from grandpa to grandson.
Free Bird by Lynyrd Skynyrd
Southern rock legends Lynyrd Skynyrd song goes in a different direction, but the importance of "Free Bird" rides on stark, in-your-face honesty. The band's timeless hit essentially discloses the character of being a complete and total arse (in relationship terms), but no matter what, you have to take responsibility for it.
One Man Can Change The World by Big Sean ft. Kanye West and John Legend
Detroit rapper Big Sean inspired men around the world in 2017 with his star-studded collaborative release, "One Man Can Change The World." The title says it all, but what really stands out is its impact. This song was created to remind men everywhere that you can, in fact, change the world, whether it be by getting through internal struggles or helping those closest to you.
I Am A Simple Man by Ricky Van Shelton
American country music artist Ricky Van Shelton has a whole collection of songs that self-reflect on his position as a man in the world, but none come close to his 1991 hit "I Am A Simple Man." This is an anthem for working men everywhere, as Van Shelton visualizes his feelings about manhood, its over-generalizations, and the importance of enjoying the little things. Sometimes, after a hard day's work, a man just wants to come home, crack a beer open, and relax. "I Am A Simple Man" is the perfect soundtrack for these moments.
Better Man by Leon Bridges
Although he's a contemporary act, Texas-native Leon Bridges makes music reminiscent of the good old days. By that, we mean raw, unwavering, and honest songwriting. Bridges' "Better Man" details his mistake of cheating on a loved one and wanting to do anything to make amends. It's a plea for forgiveness and for the opportunity to better his mistake, which is a great trait for us men to remember. We've all made mistakes that we're not proud of — and that's okay. Bridges gives us an example of how sorrow and song can help us learn from our mistakes, own up to them, and move on.
Little Lion Man by by Mumford & Sons
Sometimes, we're our own toughest critic. British folk quartet Mumford & Sons reminds us in "Little Lion Man" of the impact this feeling can have on our mindset and morale. The meaning of the song lies in its title: "Lion refers to the inherent braveness a man is supposed to have, while "little" and "man" point toward how small we can feel when presented with a situation of self-doubt and nervousness. Although it's presented to us as a storytelling journey of a man's love for a woman, this song can be placed in many different situations as a reminder that it's plausible, and inevitable, to feel both.
My Way by Frank Sinatra
"My Way" by Frank Sinatra is one of the best-written tunes to ever grace the world. In this self-reflective piece of failure and success, Sinatra discloses that no matter what happens, do it your way. If you stand tall, persevere through whatever hardships and goals you're aspiring to overcome, you'll always feel complete if you do it your way.
Lose Yourself by Eminem
Eminem's "Lose Yourself" has become a timeless piece since its release in 2002, as the Detroit rapper looks back on past obstacles in his life and reminisces on the importance of overcoming those hardships by being courageous and continuing the grind towards greatness. Everyone deals with adversity, and "Lose Yourself" is a reminder to keep pushing, whether you're dealing with hitting your goals at work or reaching your goals in the gym.
Boys In The Better Land by Fontaines D.C.
Ireland's up-and-coming post-punk band Fontaines D.C. takes on the male ego enterprise on its song "Boys In The Better Land." The tune takes on the perspective of always looking to others for comparison, whether it be out of hatred or jealousy. However, through raw instrumentalism and assertive lyrics, the band heightens the importance on how superficial that act of comparing really is no matter what it's rooted in. Essentially, it's a satirical take that directs listeners to not focus on what others are doing because you envy or dislike them, which is important to remember for any man who is looking to better himself.
Editors' Recommendations