When life gets rough and stressful, we practice self-care. Self-care usually involves meditating, eating healthy food, and knowing how to sleep better at night. If your current self-care practices do not help in easing stress and anxiety, you may want to reach for an essential oil diffuser.
OK, hear us out. Essential oils are a lot more than a multilevel marketing scheme. In fact, diffusing essential oil in your home is shown to reduce airborne allergens and improve your overall mood. From natural sleep aid lavender to energy-boosting cinnamon, there's an essential oil for every ailment, and finding the right diffuser will help you get the most out of your fragrance. We rounded up the best essential oil diffusers that will help you establish a sense of calm at home in 2021.
Related Guides
Best Overall: Saje Aroma Om Deluxe Diffuser
This ceramic diffuser is a looker, to be sure, but it's also a real workhorse. Its 15-fluid ounce reservoir, 11-hour continuous run time, and reach of 1,200 square feet are paired with a whisper-quiet operating system. Fans of this diffuser say it's like living in the presence of a quiet, fragrant volcano.
Best Decorative Diffuser: Ellia Imagine Cordless Ultrasonic Aroma Diffuser
Looking for a diffuser that you won't want to hide behind a plant or bookshelf? Ellia has a wide array of handsomely designed diffusers, both ultrasonic and non-electric ceramic models, that complement just about every décor. Our pick is this model, and not just because of the soothing oceanic gradient of its thick glass exterior. We also love its compact size, 4-hour runtime, and most of all, the battery-powered construction that lets this beautiful diffuser bounce all around the room.
Best Salt Lamp Diffuser: Hammacher Schlemmer Himalayan Salt Lamp Diffuser
Want to combine your oil diffusing with the therapeutic effects of Himalayan salt? Your high-vibe needs are all taken care of with this combination salt lamp-ultrasonic oil diffuser. Halotherapy (i.e., Himalayan salt therapy) gives your respiratory ailments some extra support by releasing positively charged ions in the atmosphere that clear clogged airways. At the same time, ultrasonic waves send your preferred essential oil scent through a 160-square foot range. The lamp and diffuser can be operated independently, too. At 4.5 pounds, it's on the bigger side, but the mod beehive shape makes it a handsome conversation piece.
Best Set-and-Forget Diffuser: Aera Diffuser
If you're the type who has every appliance cued to your smartphone, this is the diffuser for you. Rather than leaving you to dither over the scent and strength of your oil each time, the Aera Diffuser is designed for use with its own proprietary aroma capsules. Once you've popped in your scent of choice, use the Aera app to program how long and strong you want the diffuser to run, or even schedule the diffuser to start as soon as you walk in the door. Aera's Microdroplet Technology sends out a clean, even stream of ultra-tiny oil particles and uses the room's airflow to evenly circulate the scent — unlike many other diffusers, you'll smell your fragrance almost instantly. Best of all, this high-tech machine continuously diffuses scent for as long as 800 hours.
Best Analog Diffuser: HyaScent Hourglass Diffuser
With its hourglass shape and wooden accent, the HyaScent looks more like a coffee flask than a diffuser. This ingenious design and function deliver consistent, long-lasting fragrance with no battery or electricity required. Designed by a San Francisco realtor for both form and function, this diffuser combines with proprietary HyaScent fragrance oils to saturate the wooden base with oil, emitting a fresh burst of scent each time you turn the glass over. No cords, no charging, no noise—it's the minimalist's dream come true. Our favorite scent is the classy Bourbon Joy, which contains hints of bourbon vanilla, cedarwood, and mandarin for diffusing a happy hour-inspired fragrance at home.
Most Quiet: Smiley Daisy Essential Oil Diffuser
Some oil diffusers make low but distracting sounds. If you're looking for a whisper-quiet product, opt for Smiley Daisy's Essential Oil Diffuser, which lets out a relaxing Hibiscus scent for your aromatherapy needs. It has an ultrasonic water-oxygen feature to ensure that the essential oils will come out as a very fine mist with a distance of up to 200 square feet.
Best Nebulizing Diffuser: Raindrop 2.0 Nebulizing Essential Oil Diffuser
A nebulizing diffuser will quickly give the purest and most concentrated fragrance in large rooms. The Raindrop 2.0 Nebulizing Essential Oil Diffuser has a durable air pump to atomize the essential oil into tiny micro-particles into the air. It also comes in an elegant wooden base with LED rainbow-carousel mood lighting for to add a more relaxing vibe to the room.
Best Humidifier: Doterra Petal Diffuser
This portable diffuser is a purifier and humidifier in one. The benefits include preventing dryness that causes irritation on various parts of the body, as well as easing symptoms caused by the common cold. It has 1, 2, and 4-hour diffuser settings to dispense ultra-fine mist up to 330 square feet.
Best Splurge: AromaTech AromaPro Nebulizing Diffuser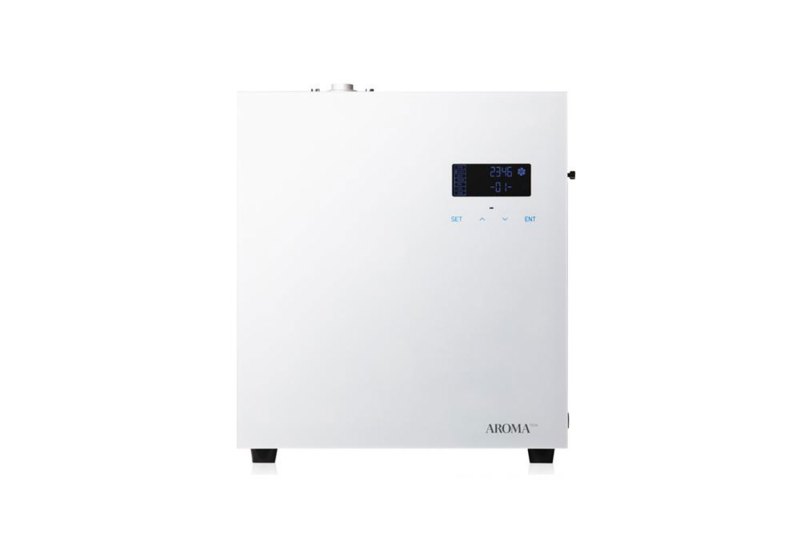 So you're a "nothing but the best" type of dude? Have we got a diffuser for you. The AromaTech uses cold-air diffusion technology to release residue-free nanoparticles with all their olfactive and therapeutic benefits intact — no heat, no evaporation, no dilution. You can control the scent intensity through an external dial, and you can even connect the unit to your home HVAC system, allowing you to pair fragrance with your home's temperature control. Ultra-quiet and energy-efficient with a range of up to 4,000 feet, this essential oil diffuser will make you feel like you're living under a redwood canopy.
How to Find The Best Oil Defusers
How Big is Your Room?
Looks aren't everything. All diffusers have different water capacity and range. The cute little porcelain model you're eyeing right now might be perfect for diffusing a soothing lavender or eucalyptus oil from your bedside table, but it's unlikely to make much impact in your kitchen or living room. Putting the wrong size diffuser in your room requires you to use a lot more oil to get the same level of fragrance, so look for a model with at least 500 mL capacity to run in bigger rooms. Something in the 200 to 400 mL range is fine for a bedroom, bathroom, or hallway. (Some diffusers provide an estimated square-foot range in their specs.)
Do You Want to Move Your Diffuser Around?
The biggest downside of any oil diffuser is the cord. If you plan to bring your diffuser along as you move from one room to another or just have a shortage of electrical outlets in your home, it's worth considering a battery-powered or chargeable diffuser so you can enjoy your fragrance without constraints.
Do You Want Added Moisture in Your Room?
Depending on your region's climate and the time of year, a little added moisture isn't a bad thing. Many oil diffusers operate like mini-humidifiers, sending out your chosen essential oil fragrance in a puff of fine mist.
How Important is Your Diffuser to Your Health?
If you're adding an essential oil diffuser to your room for health reasons, it's worth considering the materials of your chosen diffuser. Cheaper diffusers tend to be constructed from plastic, which corrodes more easily (especially when certain oils are used, such as citrus) and can leach chemicals into your essential oil. If you're hoping to reap significant aromatherapy benefits from the olfactory molecules in your essential oil, you'll want to select a diffuser made from all-natural materials like glass, wood, or porcelain. You might even want to invest in a nebulizer over a diffuser since these machines are better at preserving the integrity of your essential oil.
Editors' Recommendations