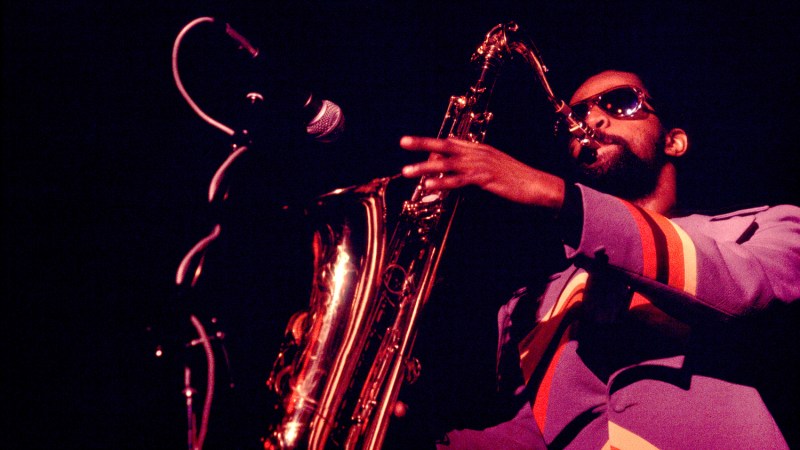 We here at The Manual have been yearning for just the right playlist theme to allow us to fully unleash our massive love of funk music on the masses. And as is so often the case, the answer was right there in front of us the whole time: getting down and getting funky is a theme unto itself! Yes, no matter your lifelong (or temporary) musical affiliation, funk unites us all, as George Clinton (the funkiest of the Clinton family) says, "under the same groove." Rock n' rollers dig funk, hip-hop heads, hippie jam band fans, scratch turntablists, reggae lovers — and I mean, c'mon electronic music mavens, if you don't have a deep passion or respect for funk and disco, the godparents of modern dance music, you're raving it wrong.
Funk makes you feel good. Funk loosens up the uptight among us. From roller rinks to velvet lounges, funk is the grout between the tiles of life that keeps our bathtub all sparkly, scrubba-dub-dub fun. With all that in mind, we bring you the beefiest basslines, thickest beats, and a whole lot of nitty-gritty, four on the floor magic as we blast ourselves into hyperspace to explore the outer realms of the ever-expanding party funk universe. We've included five highlights from the playlist below.
"Ain't Gonna Hurt Nobody" by Brick
Brick. What could possibly be a better name for a funk band? Hailing from Atlanta, Georgia, Brick is the lone group rocking two tracks on this playlist ("Dazz – Disco Mix" further downstream being another standout hit of theirs). Following the always infectious musings of Kool & The Gang beseeching us to "Get Down On It," Brick provides the emotional support one needs to genuinely fulfill that demand as they remind us: "It ain't gonna hurt nobody / To get on down / Don't stop me / And I won't stop you." This track is so good that it automatically shape-shifts whatever you're doing into a show-stopping dance sequence from a well-cast, independent, yet incredibly popular action-adventure '70s movie.
"I Got My Mind Made Up (You Can Get It Girl)" by Instant Funk
If you've ever wondered where that crazy opening riff to De La Soul's "A Rollerskating Jam Called Saturdays" came from, look no further! Instant Funk earned their moniker in 1968 by effortlessly coming up with deep-end, spontaneous funkiness while backing the Trenton, New Jersey vocal group The TNJs. On the cringe-inducing chorus of 1979's "I Got My Mind Made Up (You Can Get It Girl)," we can all give collective thanks for the inclusion of the female voice pushing back on the over-the-top Lothario/Cassanova lead vocal by perpetually protesting: "Say what…?" But even with its questionable "romantic" theme, the most excellent groove of the tune is undeniable and contagious.
"Get Up To Get Down" by Brass Construction
Another oft underappreciated '70s/'80s funk outfit is Brooklyn's Brass Construction. Frequently sampled yet rarely celebrated, Brass Construction delivers the goods in big, bouncy bundles of boom. On "Get Up To Get Down" they slow down the BPM (beats per minute) to 107 but maintain the overall thump and vibe with deft prowess. Furthering the playlist's agenda, "Get Up To Get Down" is a veritable prequel to "Get Down On It" and "Ain't Gonna Hurt Nobody" as Brass Construction is keenly aware that before one is able to truly get down, one must first indeed get up.
"Bring It Here" by Wild Sugar
Hello, super fun sample solution No. 2! I mean, who amongst you could stand up and say, "No, sir, I don't like 'Brass Monkey' by the Beastie Boys?" I can only hope none of you! The iconic opening riff comes at you fast and strong right out the gate of "Bring It Here" by the very little-known Wild Sugar (also from Brooklyn). And frankly, I have to imagine that the Beasties, like myself, were disappointed that the life-affirming horn stabs are never revisited. Mind you, Wild Sugar and the Beasties had to settle out of court in an early sampling battle so there is likely little love for the reworking of their original song. However, as a stand-alone track, "Bring It Here" is an excellent early '80s funk song with a ginormous bassline and cowbell-enhanced beat to get your old-school breakdancing moves popping and locking.
"Brothers On The Slide" by Cymande
Now, this is what we're talking about when we say funk! Sure, it's not the fastest or the most dance-centric track on the mix but, damn, the laidback, ridiculously cool vibe stepping out of this tune is downright transformative. I'm a little biased as I was beside myself with giddiness to catch the reunited Cymande live a couple years ago (so good!) But wait, just who the heck is this Cymande (and how do you pronounce their name)? Sah-mahn-day is a lesser-known funk band from the U.K. (with members coming from faraway locales like Jamaica, Saint Vincent, and Guyana) who saw little to no love, money, or fanfare during their first attempts in the early '70s. After a lot of hip-hop sampling and delayed funk history appreciation, Cymande got back together in 2012 and has been finally able to reap some solid benefits from being such a badass funk crew both then and now.
May this mix aid you in getting as all the way down and as super duper funky as you can possibly get with your bad self!
Editors' Recommendations