ZenVanz was born out of pure wanderlust: Bryan and Jen Danger, a couple of Portlandians fatigued with the corporate nine-to-five lifestyle, kitted out a 1967 Volkswagen bus, quit their jobs, and headed south to see how far they could get in a year or two. Flash forward to the present and they're running a company helping loads of other people fulfill the same dream.
Founded and run by two veteran van lifers who also combine 25-plus years of experience in architecture, interior design, and general contracting, ZenVanz provides modular cabinet kits for the DIY van builder. They're beautiful, eco-friendly, and the ultimate in thoughtful, flexible design. Not only are the kits infinitely customizable with expertly vetted and curated components, they can be assembled and reconfigured over time as your van needs changed. As for functionality, every ZenVanz kit is field-tested by the Dangers themselves on their endless, epic overland journey.
To the naked eye, these two are living the ultimate dream, running a successful business while functioning as their own lifestyle ambassadors. But even van life success can come at a price. The company's rapid growth in popularity and demand has occasionally threatened to put the couple in a corner, making demands that they had to weigh carefully against their love of the open road. Do they let the brand dictate their lifestyle? Or do they prioritize their unfettered ability to wander?
We caught up with Bryan and Jen (while they waited for a ferry to take them from the Northwest Territories back to Alaska) to get the inside scoop on how van life really unfolds. It's probably nothing like you expect.
View this post on Instagram
The Manual: What were you doing before you started living van life?
Dangers: We'd had our jobs for a long time and tried to fit into the nine-to-five lifestyle as best we could, working 60 to 80 hour weeks. It wasn't that we were unhappy. We had good jobs. They paid well. We had happy lives. It just felt like a waste to do all that for two to three weeks of vacation every year. It just wasn't fulfilling.
We started trying to find a way to change something up. We ended up moving to Utah for a couple years, to Vancouver, British Columbia, for a couple years, trying to change whatever we could. But moving never really changed anything. Meanwhile, we were downsizing, purging, paying off debt and saving money … doing the stuff we needed to do for an eventual leap, as it turned out. Eventually, we committed to a date — June of 2012 — which became our light at the end of the tunnel.
TM: Did you intend to leave everything behind and start over completely? Or did you plan to "test drive" this lifestyle for a while?
Dangers: At the time, we thought we were leaving for a year — two if we lived really lean. We drove to Mexico and Central America and eventually found ourselves in a place where we had to either head back or go to South America. Our bus was not ready to handle that; at the same time, we weren't ready to go back to normalcy. We ended up leaving the bus in Costa Rica and going back for what we thought was going to be a couple of weeks and falling in love with Portland all over again. A couple weeks turned into a couple of years.
When and where did the ZenVanz brand come into play?
Dangers: Our first business was born by complete accident. We traded in the old VW for a Sprinter van — that was our second van build, so we knew a lot more, and tried to build it much more modularly. People kept asking us to help them build their vans. It turns out there's a lot of money in that right now! We had friends who finally convinced us to start a business — they could be the ones on the ground in Portland while we were traveling and marketing on the road. It was an offer we couldn't turn down, and that's how ZenVanz was born.
The goal was to just do DIY cabinetry kits to help people find a very affordable way to do what we were doing. A way to have a very highly refined home on wheels, but not have to necessarily do everything yourself. But a few months in, our partners were getting really stressed — we offered to buy them out and they said yes. That wrapped up just before a big Overlanding event in Arizona in May. We went to the event and had this huge coming out party for the company. People ate it up and loved it.
How does actually running a business from the road look?
The goal was to just do DIY cabinetry kits to help people find a very affordable way to do what we were doing.
Dangers: We work out of a community shop in Southeast Portland. We have a lot of very talented friends in Portland who are craftsmen, welders, and fabricators whom we rely on—it's a win-win scenario of getting more work to people who are running small businesses, while we're spending more time on the road.
When we started, we would pick one piece that we thought was indicative of the larger kit. I would put together a prototype and would ship that out to several different people so they had to deliver the same product, and we could do some wear and tear testing on it, shaking the hell out of something on a rutted dirt road.
We've started another round of our interior cabinet kit and are testing out various local builders to see who we can support. And then we left for a trip to recharge and get out of the shop, to get all the things we desperately need to still have excitement over this.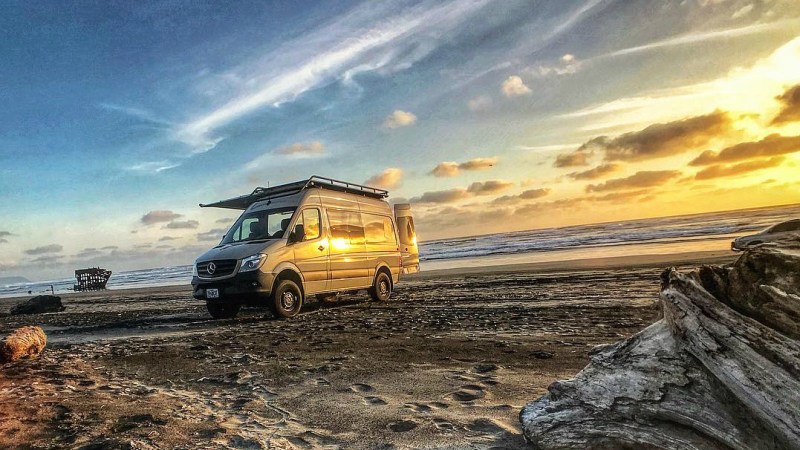 Was it hard to grow a business while staying true to your own van life goals?
Dangers: We had this struggle — we somehow just launched a highly sought-after business, but our goal is to be on the road full time. How do we do that? To be honest, we're still figuring that out.
Even when everyone was so excited — like, "We want this" — we weren't sure. We thought about shutting the doors. It's hard to go back to work, whether you're your own boss or answering to a boss.
View this post on Instagram
With ZenVanz, it's very present to us that even if it's based on a lifestyle that we are thrilled to promote, that it can still become a job. In the first year or two, when we were getting all these offers to build other people's vans, we also met several people with the exact same story—they lived in a van they built themselves and other people asked them to build one, and they started a company and were hugely successful. They would talk about how they haven't left the shop in years, they haven't been camping in months, they're hoping that in a few months they can get out in nature for an overnight. And those are people who started out focused on freeing themselves!
A lot of people we've met who are sponsored for this lifestyle aren't living it very authentically. Sponsorship, just like any other job, can end up owning you, and making you just as unhappy as you were at that other job. It comes back to taking deep breaths, living in nature, having the freedom to be where you want to be.
So how have you managed to balance your amazing company with your desired way of life?
Dangers: For a month and a half now, we've been driving around the Yukon and Northwest Territories. Then we'll go back to Portland and see how everything went. This has been a really needed step. We've not only recharged in terms of energy, but it's also reminded us of what we wanted this business to be.
We're living our best life and the business is on a parallel path.
We're living our best life and the business is on a parallel path. We still take calls and emails, the interest is still building, it seems to be going in a great direction. But we started this business because we loved the idea that us transferring some knowledge could help other people move on from jobs and start their own business. If we're moving slowly enough, and listening enough, the universe seems to remind us to be really careful, and not go too far too fast.
What's your advice for would-be digital nomads?
Dangers: Leap and it will appear.
You don't have to have it all figured out before you take that step. Go after it, and opportunities will present themselves that you can't see ahead of time.
You don't have to have the perfect setup — just go for it.
When we took off for Mexico, we were in an old VW with a fridge, stove, and water, but we met people that were doing the same trip in a Jetta, or on a bike. If the goal is to travel, then whatever vehicle you have parked in the driveway is the perfect vehicle. We've met people who have spent the past several years trying to design the perfect vehicle. But you don't have to have this completely outfitted vehicle. You can take off in anything, at any point, and evolve it as you go.
Do it for love, not for lifestyle goals.
The hashtag #vanlife didn't exist when we started this. We weren't infatuated with some lifestyle we saw on social media. If your current life is bad enough, or boring enough, to lead you to be dreaming of living in a space that's about 60 square feet, waking up every day not knowing where you're going to eat (or pee!), then you need to get away.
The worst case scenario isn't that bad.
It was horrifying to me to walk away and not have a safety net, to not know what was coming. Now I look back and realize, you can always go back. Whatever it is you're running away from, worst case scenario, you're going back to something you know. You probably won't have to, though, because you'll figure it out. We're more available and aware when opportunities arise, because we're not exhausted after a long week.
Follow your heart.
If your heart is in a van, do it—if it leads you to a specific place, go there and stay. No decision has to be permanent—you can move again at any given second.
Follow Bryan and Jen's excellent adventures on Instagram and learn more about how you can live your own van life here.
Editors' Recommendations