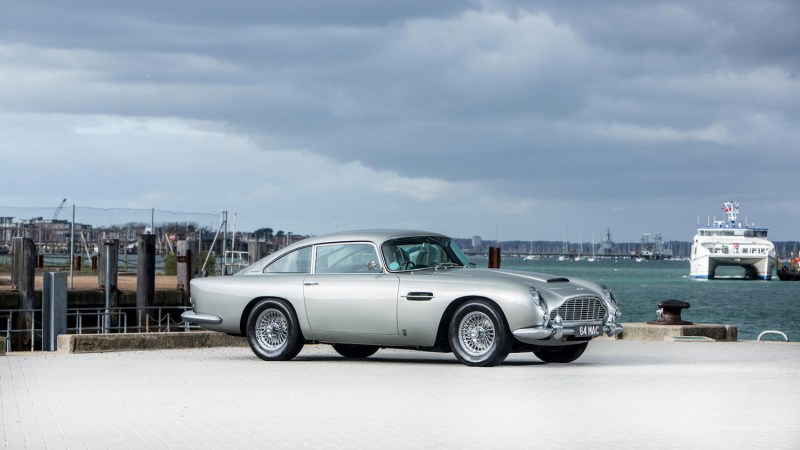 No band is more emblematic of British music than The Beatles, and no car is quite as quintessentially British as a Mini Cooper — except, perhaps, an Aston Martin.
Now's your chance to own what are arguably the two most British pieces of musical and automobile history: an 1964 AstonMartin DB5 formerly owned by Sir Paul McCartney and a 1966 Mini Cooper that used to belong to Ringo Starr. Both vehicles are up for bids via Bonhams, a celebrated auction house in England.
The Aston Martin was purchased by McCartney in 1964 and enjoyed by the Beatle for six years. "Though [McCartney] later owned an Aston Martin DB6, which has been the subject of extensive media coverage, this lesser known DB5 is believed to be the first Aston owned by the musician. He ordered it at a particularly important career juncture: just weeks after the Beatles' famous appearance on the Ed Sullivan Show and the completion of filming A Hard Day's Night, their first film," Bonhams elaborates.
After McCartney, this DB5 accumulated an long line of owners, changing hands for decades and receiving some much needed updates to keep it running and looking sleek. Today, the car looks a little different from the one McCartney drove. In the 1960s, Paul could be seen cruising in an Sierra Blue exterior finish and a rich black leather interior that reportedly included music note stitching. Since then, the DB5 has been repainted Silver Birch (which is the color that James Bond prefers) and given a dark red leather interior. The coolest feature, however, is the Philips Auto-Mignon record player that McCartney added to the vehicle, which has since been re-commissioned — because who doesn't listen to vinyl on the road?
Starr's 1966 Mini Cooper 'S' Radford Conversion was purchased alongside three other Mini Coopers — for Paul, John, and George — by Brian Epstein's management company in 1966. Each member of the Fab Four owned their respective vehicles for varying amounts of time (George Harrison eventually gave his a sweet paint job and featured it in The Magical Mystery Tour). However, Ringo only held on to his for about a year until he sold it in 1968. The car disappeared for a bit until it was scooped up in 1977; the Mini has remained within the same family until now.
Before it first hit the road, the Cooper was modified by the famous coach-building business, Harold Radford, to include a hatchback so Ringo would have enough space to haul his drums. Other highlights include a two-tone, Rolls-Royce Regal Red and silver-grey exterior; walnut accents; bespoke window frames; and the original logbook signed by Richard Starkey (aka Ringo Starr) and Brian Epstein.
Both McCartney's Aston Martin and Starr's Mini are going to auction at The Bond Street Sale on December 2, 2017 in London. The Cooper is expected to sell for anywhere between $120,000 and $160,000. The DB5 is, understandably, a little more expensive — the expected price tag is between $1.6 million and $2 million.
Also up for grabs is a 1965 Porsche 911 'SWB' Coupé, 1960 Jaguar XK150 3.8-Litre 'S' Coupé — oh, and 1959 Bentley S1 Continental Sport Saloon owned by both Sirs Elton John and Alan Sugar. We hope you have a million (or two) lying around.
Editors' Recommendations