In a world where app-enabled smartphones have seemingly limitless capabilities, one must ask whether the once-innovative GPS device has lost its relevance.
Turn-by-turn navigation, real-time traffic reporting, satellite-tracked speed, voice guidance, and crowd-sourced alerts are all part of popular apps like Google Maps and Waze. Dishing out $300 for redundant features seems foolish. Fortunately, the latest GPS devices can do far more than tell you how to get from A to B.
GPS manufacturers with years of experience and millions of miles of real-world testing now offer advanced driver assistance features, Bluetooth connectivity, geo-based recommendations, voice commands, and much more on large HD displays. For many smartphone users, day-to-day life includes watching their monthly data allotment dwindle. Modern GPS devices can operate independently of wi-fi and your data plan.
Whether you're upgrading your older car with new technology or simply looking for a high-quality navigation partner, our list of the best in-car GPS devices is sure to have something to meet your needs.
Garmin Nüvicam LMTHD
Why should you buy this: The Nüvicam is a veritable Swiss army knife of GPS devices
Who's it for: Those with the budget for every great feature
How much will it cost: $349.99
Why we picked the Garmin Nüvicam LMTHD:
At its core, the NuviCam is a solid navigation unit with a bunch of extras tacked on. Its HD dash cam is always recording, and it saves footage automatically in the event of an accident. When traveling over 30 mph, the device's camera can sense if you're following too close to the vehicle in front of you, and it uses visual and audible warnings to get you to back off. If you exceed 40 mph, the NuviCam recognizes when you're drifting out of lane. It can do it all.
The 6.0-inch screen's high-resolution, pinch-to-zoom display works quickly and accurately. Garmin's 'points of interest' feature is a standout, listing nearby restaurants, gas stations, shopping centers and the like with handy pull out menus. Addresses can be typed in manually or dictated via voice command. If you're traversing an unfamiliar area, Garmin's 'Real Directions' really comes in handy. Using local landmarks and traffic lights as reference points, the feature will guide you with phrases like, "In 500 feet, use either of the two right lanes and turn right at the stoplight" instead of simply, "Turn right in 500 feet."
The Garmin NuviCam is an ambitious product that does everything it sets out to do, and does it quite well. It could also turn out to be a huge trendsetter for dash-mounted devices. It isn't cheap, but it's hard to argue with its robust feature set.
Garmin DriveAssist 50LMT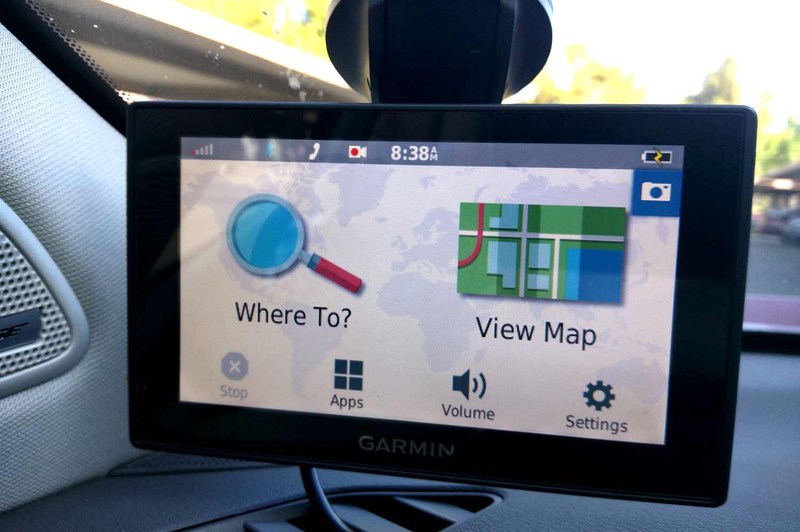 Why should you buy this: Garmin's DriveAssist can guide you to your destination safely, every time
Who's it for: Those with older cars that want contemporary driver assistance features
How much will it cost: $299.99
Why we picked the Garmin DriveAssist 50LMT:
The new Garmin DriveAssist is packed with features to navigate the road ahead, alert you of a potential collision, and record your drive. The user interface and voice search make finding wherever you need to go a breeze, and intuitive turn-by-turn instructions take the guesswork out of guidance.
The bright 5.0-inch TFT navigation screen shows free lifetime traffic information, points of interest (like gas stations or restaurants), the names of each exit on your route via the "Up Ahead" feature. A high resolution dash camera is built into the rear of the unit to record video to an included 4GB micro-SD card. The dash cam is great for insurance purposes, but it also lends itself to camera-based driver assistance features. Even mounted in the corner of the windshield, the device will detect if a driver strays from their lane and alert you via visual and audio cues. A forward collision alert feature will also give a warning when it detects a driver is approaching a car too fast, giving them a chance to brake. Perhaps most relevant in this age of driver distraction is an audible alert when traffic ahead has started moving. That way, if you've spaced out, you can get back on the gas sooner.
Even as smartphones continue to invade GPS device turf, Garmin knows the right features to add to make their product worth the price tag. If you are looking for a great all-in-one device to help navigate, keep you alert on the road, and record your drive, the Garmin DriveAssist 50LMT is an easy choice.
Garmin DriveLuxe 50 LMTHD
Why should you buy this: Garmin's DriveLuxe can complement your smartphone or replace it
Who's it for: Those who don't want to drain their monthly data on navigation
How much will it cost: $349.99
Why we picked the Garmin DriveLuxe 50 LMTHD:
While many GPS manufacturers seem terrified that smartphones will make their devices obsolete, Garmin has designed the perfect companion for your smartphone.
The Garmin DriveLuxe 50 LMTHD has a 5.1-inch TFT display with 800 x 480 pixel resolution. The device feels extremely solid at just over 8 ounces, and attaches easily to the magnetic front of the suction mount. Via Bluetooth, you can connect your phone with the free Smartlink application for Android and iOS. This enables the DriveLuxe to take Bluetooth calls through the device, get local weather information, and even read your phone notifications aloud. This feature instantly upgrades old cars that lack Bluetooth calling and goes a step further to read Facebook or Instagram notifications aloud. This should go a long way to cut down on driver distractions.
When it comes to navigation, there are few better systems on the market. DriveLuxe has all the latest map updates and can get lifetime locations updates using the Garmin Express program. Voice or text entry will let you quickly and easily search for specific destinations or points of interest. The touch interface is smooth and zooming in on the screen is easy with "pinch-to-zoom" features in addition to the "+" and "-" icons.
If you just want basic guidance with the most up-to-date mapping and traffic info, the DriveLuxe won't waste a single megabit of data, but if you want advanced features, Garmin's system is ready to pair with your smartphone at a moment's notice.
More Food For Thought
If you're thinking about a dedicated GPS system, you may also be considering a dash camera. While some of our best in-car GPS picks include a dash camera, only a high-end recording unit can offer 360-degrees of visual protection. The roads are getting crazier each day as driver distractions increase. Using a dash cam means irrefutable proof of fault in the event of an accident, and, while we don't have quite as much auto insurance fraud cases here in the U.S. as abroad, video can shut those cons down too.
Still not convinced you need a dash cam? Consider all the video gold you're missing out on. Chances are, you see a moronic maneuver on your way to work every single day. With a little editing, you could turn all those WTF moments into one beautiful YouTube compilation. Believe us, your internet friends will thank you for it.
Editors' Recommendations