Most cruises are designed as decadent retreats where passengers spend a full week doing plenty of things they'll regret later. From too many daiquiris to stuffing your face at the midnight chocolate buffet to five karaoke renditions of "Kokomo" (because there's always room for more Beach Boys), there's no shortage of self-indulgent treats aboard. Now, Virgin Voyages is offering cruise-goers one more option: getting tattooed at sea.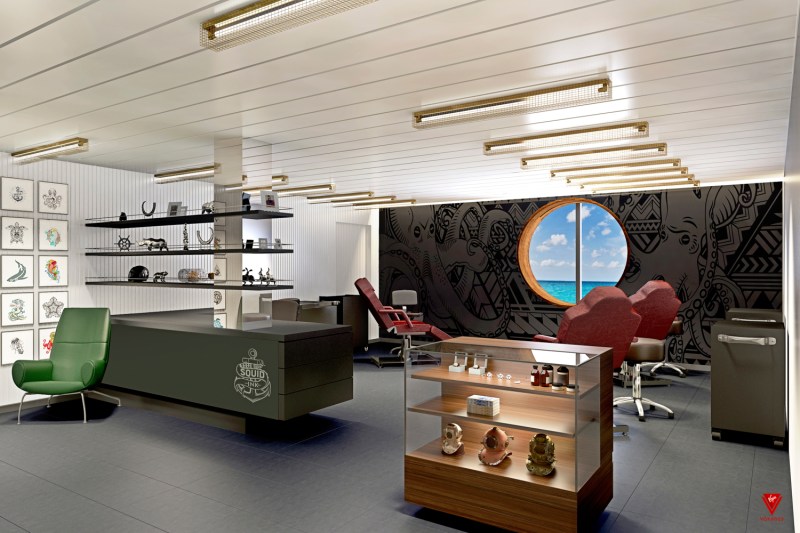 Virgin Voyages will launch its first cruise ship, Scarlet Lady, in 2020. True to the brand's young, bold, too-hip ethos, the ship will boast the world's first-ever tattoo parlor at sea. Squid Ink — how rad is that name for a sea-based tatt shop, by the way? — will be home to two full-time resident tattoo artists. Both will be personally chosen by legendary artist Lou Rubino, Jr., the industry pioneer behind Freshly Inked Magazine, Soho Ink, and World Famous Tattoo Ink. The shop will also host a staff of rotating guest artists including tattoo industry celebrities and trendsetters. So far, they've already nailed down Spike TV's Sarah Miller and surreal creative Arlo DiCristina.
Squid Ink's tattoos will rely on World Famous Tattoo Ink's signature vegan ink. The pigments are renowned for their lack of animal by-products or animal testing. The shop will use similar Perma Blend pigments for custom permanent makeup treatments, and body piercings will be available as well.
If the idea of stabbing your body with needles aboard a wave-thrashed ship rocking around the Caribbean Sea seems like a bad idea, just focus on the romance of sailing the high seas. Tom McAlpin, Virgin Voyages' CEO, puts it this way: "Tattooing is a time-honored seafaring tradition, and we're continuing that legacy with rock and roll style by bringing some of the best ink artists to sea. Our sailors are looking to make lifelong memories, and we think there's no better way to commemorate their first voyage with us than with a souvenir they'll never lose track of."
That's one way to look at it. Indeed, British sailors are credited by many historians with popularizing tattoo artistry and culture in the West. The tradition was adopted from aboriginal and island tribes around the world. So, just tell yourself that Chinese symbol for "hope" on your ankle is all about history or … something.
For now, details surrounding Squid Ink are thin. Since the shop doesn't open for another two years, there's plenty of time to sketch out that mom-in-a-heart-anchor design you've been daydreaming about.
Editors' Recommendations