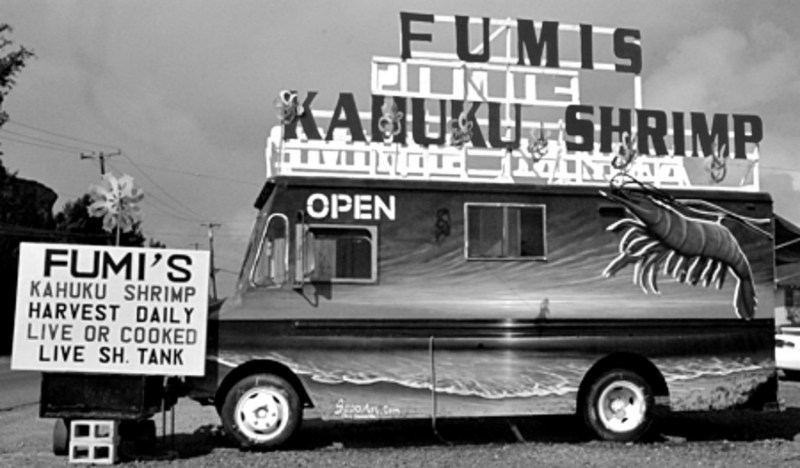 On the North Shore of Oahu, beyond the famed Pipeline beach, is a strip of road dotted with rundown trucks. People crowd the benches beside them, waiting in line for one thing: shrimp.
The first truck we come across announces itself miles before its actual location. "SHRIMP! FIVE MILES!" a neon-yellow sign reads as we round the shoreline from the south. We keep our eyes peeled for more arrows, afraid we might miss the spot where said shrimp awaits.
Not to worry. The Shrimp Shack truck is a few megawatts brighter than its sign five miles back. At the foot of a rainy mountain stands a yellow box on wheels, where a 6-foot something man with an enormous white beard waves us in from the road.
Within ten minutes, we have two steaming plates of shrimp and rice, one batch fried in coconut, the other sautéed in garlic. The coconut shrimp, hot, sweet, and crunchy, wins hands-down. The garlic shrimp is good, but less convenient with the shells still attached and heavy on the oil. The shrimp on both plates are plump and enormous.
After a taste of the Shrimp Shack, there's only one thing left to do: try more shrimp. So we cruise further toward the north, passing Fumi's Kahuku Shrimp and Seafood, Famous Kahuku Shrimp, Macky's, and Giovianni's. We pass a handful of trucks within a three-mile stretch, all with their own shrimp ponds and long lines of hungry customers.
We didn't taste a single bad shrimp, but Giovanni's shrimp scampi takes the prize for best plate on the island. Pretty much all of the shrimp need to be peeled before eating. But it's a small price to pay for a savory bite of Oahu, smothered in butter, garlic, island spices, and whatever that amazing, mystery sauce is on the side.
Check out the list of Oahu's shrimp trucks here.
Editors' Recommendations