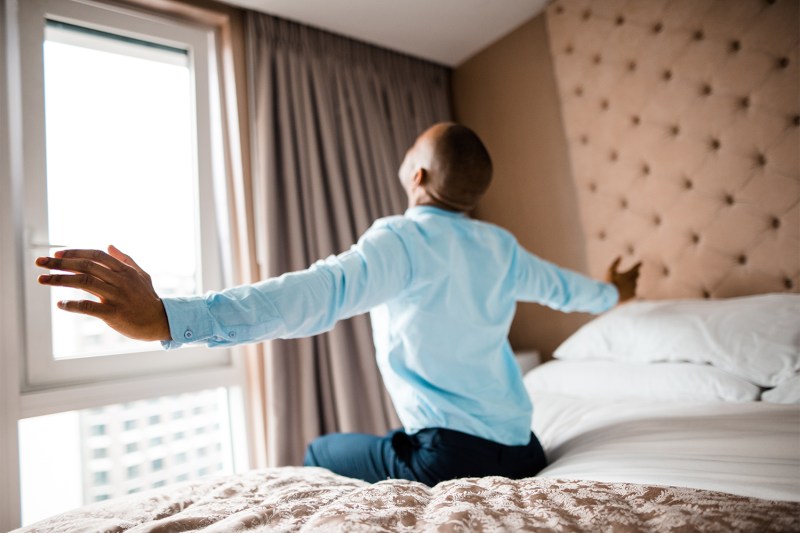 Before calling room service, commit to this hotel room workout (it only takes about 20 minutes) to keep your body strong and refreshed while traveling. Using zero equipment, these bodyweight exercises force your muscles to engage to maintain balance, burning more calories than you might with a fixed-range machine at the gym. Plus, you can do this workout any time, night or day.
Certified trainer Kenta Seki created this hotel room workout for The Manual. "Try this workout and see if you can make it through three to four sets of each exercise in under 25 minutes," Seki says.
If you dig it, check out his other workouts on FitOn, a cool workout app that offers personal training and a boutique group fitness vibe with tons of exercises to pick from (i.e. weights, HIIT, Pilates, etc.).
Hotel room workout
The moves
Dip to toe touch (20 reps)
Pushup to extended plank (15 reps)
Pistol squat (15 each leg)
Jump squat (20 reps)
Cross-legged situp (20 reps)
Dip to toe touch (20 reps)
What: This exercise uses the edge of a bed, couch, stable chair, or even window ledge.
Why: Bodyweight dips are an awesome exercise for building and toning your triceps. Adding in these alternating toe touches also tones your arms and challenges your core as well.
How: Perform a tricep dip off the edge of your furniture or a safe ledge, then lift one foot off the floor and touch that toe with your opposite hand. Perform a tricep dip again, and touch the opposite toe. Keep alternating each rep.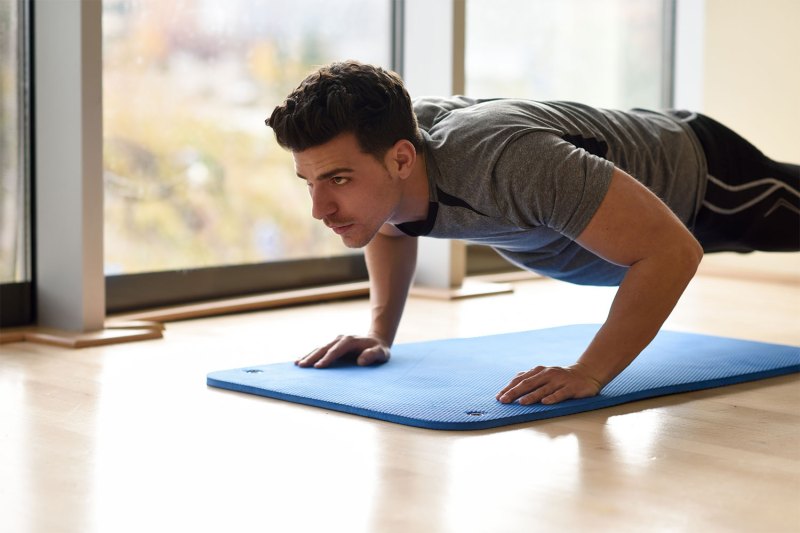 Pushup to extended plank (15 reps)
What: This variation of a pushup uses the edge of a bed, couch, or stable chair.
Why: It is a great progression from a normal pushup because it adds shoulder and core strength.
How: Perform a pushup. At the top of the plank, put one hand up on the edge of your furniture, followed by the other hand, until you're in an extended plank with your elbows straight. Put one hand back down. then the other hand back down. Repeat.
Pistol squat (15 each leg)
What: Pistol squats, also known as one-legged squats, can definitely be challenging. But if you use furniture as a seat, it makes the exercise much more doable.
Why: Squatting most of your weight on one leg is a great way to build up balance and strength.
How: Sit down on your bed, couch, or a stable chair. Lift one foot off the floor and extend it out in front of you. Interlace your fingers in front of your chest and stand straight up, without letting your foot touch the ground. Sit back down and repeat.
Tip: The lower the furniture, the more challenging this exercise will be.
Jump squat (20 reps)
What: This is a challenging progression from the basic squat. No equipment required!
Why: Jump squats are a great way to build explosive strength in your legs while getting your heart rate up and burning some serious calories.
How: Squat down with your feet flat and arms reaching forward. Press into your legs and jump straight in the air, pressing your arms straight down to your sides. Land back on the ground and immediately bend your knees to land back in the squat position.
Cross-legged situp (20 reps)
What: This is a challenging alternative to basic situps.
Why: Situps can become monotonous and are not tough enough for some people, so it's fun to mix things up and activate different muscles.
How: Sit on the ground with your ankles crossed. Lie down on your back and reach your arms straight behind you, then exhale and sit all the way back up without moving your legs. Lie back down and repeat.
Tip: Change which leg you have crossed in front of the other after each set.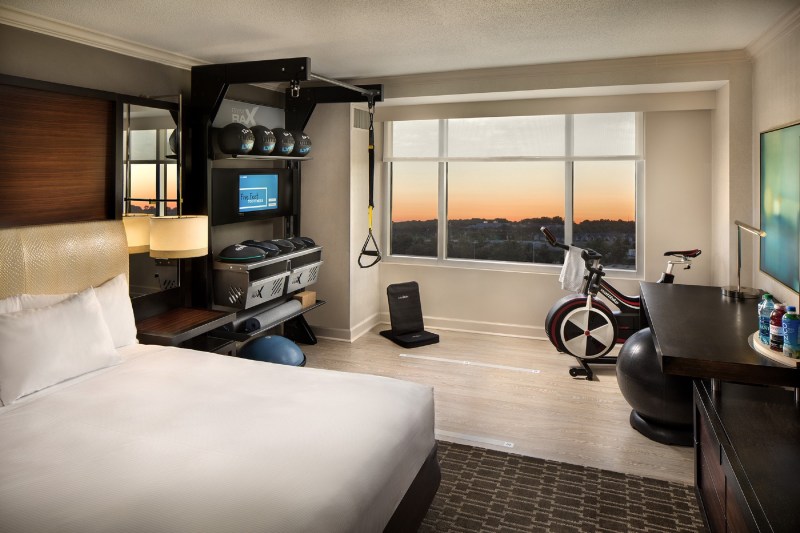 Upping your in-room hotel fitness game
If you're looking for a more extensive in-room workout, there are hotel chains that offer some great options.
Hilton
Hilton is the granddaddy of in-room fitness with its Five Feet to Fitness with Fitness Zone featuring over 11 different in-room fitness equipment and accessory options at select hotels.
If you love variety, the storage bay comes loaded with fitness accessories for a variety of workouts, including strength, suspension, HIIT, yoga, and even family workouts. If cardio's your game, some rooms have fitness bikes for an indoor cycling workout. And if you prefer to have a trainer take you through the motions, look for the Fitness Zone kiosk with over 200 guided exercise tutorials and over 25 classes, all using either bodyweight or equipment found in the room.
Tryp by Wyndham
This brand from Wyndham is known for channeling the energy of the city of each locale and offers a series of Signature Rooms to fit unique traveler needs. One of the options: a Fitness Room for guests who want to take their workouts on the road. The rooms, available at select locations, offer cardio equipment, including an in-room elliptical, exercise bike, or treadmill. Each Fitness Room also comes with a floor mat and a fitness kit with perks such as towels and mineral water.
EVEN Hotels
This InterContinental Hotels Group brand is fairly new to the fitness game and has a complete focus on guest wellness. In addition to offering some of the largest and best-equipped hotel gyms around, you can opt for an in-room fitness zone with equipment like fitness bands, Stediballs, and Gaiam yoga accessories. The rooms also feature on-demand fitness classes if you prefer a guided workout. Rooms are also designed for post-workout chill (or to keep the zen going if you were doing yoga) with cooling linens, spa-like showers, plant-based amenities, and a design that reflects soothing natural spaces.
If you're looking for a room with fitness included, make sure to call the location ahead to see what it offers and if there's any additional charge (there usually is). Remember, whether you're traveling for business or pleasure, getting your workouts in is easier than ever — and you won't have to feel guilty if you indulge a bit when you order room service.
Editors' Recommendations