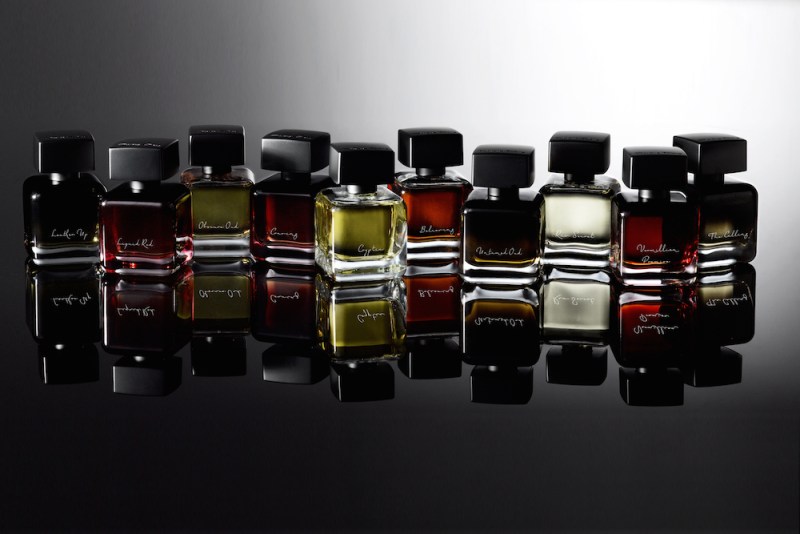 If it seems many men's scents smell suspiciously alike, you're not wrong. To ensure commercial success, many mainstream brands stick to a crowd-pleasing formula. While these are perfectly fine fragrances, you also end up blending into the crowd, olfactorily anyway. That's why the world of indie fragrance is such a welcome relief from this sameness. From D.S. & Durga to Le Labo to Atelier Cologne, there are small guys putting out unique options when you want something different. We found a couple of newcomers—one luxe, the other literally down-to-earth—to give you a whiff of distinction.
Phuong Dang is a Vietnamese artist who transformed her aesthetic as inspiration to build a collection of unisex fragrances that are launching this fall. Dang found that besides painting, she felt drawn to fragrances, which are sort of works of art in a bottle when done right, so she partnered with a couple of perfumers, Bertrand Duchafour and Marina Jung Allegret, to whip some up. She based the ten creations on her own art and ambitiously hopes her new medium will spark inspiration, emotion, and a jolt to the senses. If there is any question about the departure from the business-as-usual fragrance business, then just check out the her awesome offerings' mysterious monikers, like Cryptic, The Calling, and Raw Secret, which give absolutely nothing away.
If you prefer your perfume all-natural, then Sigil's range might be more your speed. The California company hand-blends wild-crafted, organic flowers and plants to product scents based on Earthly goodness. Nebulous names are meant to conjure specific moments and feelings. There is Focus, a stimulating blend of juniper, neroli and rosemary, that suggests "coffee at sunrise, mother's herb garden and thousands of orange blossoms" and Open, a revitalizing mix of ginger, geranium and elemi, that offers visions of "ice-chilled gimlets, tangy treacle ginger chews, full lung breathing and key lime tarts."
Whether you like your fragrance fancy or not, chances are you won't run into your scent twin on the street with either of these super niche collections.
Editors' Recommendations