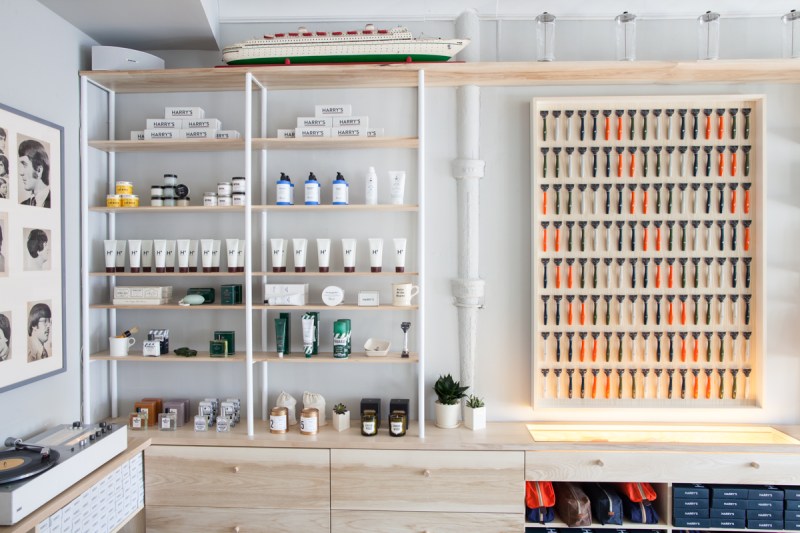 Grooming with iPads? Just another day of innovation from the guys at Harry's Shave, which successfully launched less than 365 days ago as a stylish, but affordable razor blade alternative to drug store brands. The young brand is barreling though their freshman year, as if they were determined to win some kind of rookie of the year award, with the opening of a flagship barbershop. Located on the border between New York City's West Village and Soho, the shop takes Harry's classic-with-a-touch-of-modern aesthetic, and philosophy of unpretentious prices, and adds a few more dimensions.
First, there's the barber  part. Shaves are $30 and cuts $35. Not rock bottom cheap, but the barbers here are all classically trained and come with years experience; so really not as blown out of proportion as some salons that charge $60 or more for a men's cut. Besides, they're doing avant-garde stuff; barbers use iPads to take head shots so they can keep notes and track the work they've been doing. Maybe not stuff you want posted to Facebook, but at least it'll help you see what works and what doesn't (and, cue Debbie Downer—keep track of how much hair you're losing or grey your gaining).
In addition to freshening up your follicles, Harry's will sell a curated selection of men's lifestyle wares like Makr leather goods, Sleepy Jones boxers, Public Supply notebooks, Geneva portable speakers and some good ol' white tee-shirts. 
The store itself is just 300 square feet. Tight, but personal and definitely old school with two refurbished Koken barber chairs from the 1920s, a tiled floor and ash wood shelves for storage. It's a bold move to open up such a conceptual shop just months after, well, being born, and for this we're intrigued. We've already set up an appointment, via their easy to use online system, for just a few days after the October 29th opening.
Editors' Recommendations