You might be surprised to know just how much goes into making your favorite fragrances.
Similar to crafting fine wines, the process entails bringing together carefully selected, fragile ingredients. The goal is to create just the right balance of good taste and in the case of scents, a good smell. When AXE set out to formulate their new AXE YOU fragrance they went straight back to olfactory master, and expert perfumer, Ann Gottlieb. You may not recognize her on sight, but you surely know her blockbuster fragrance, Calvin Klein Obsession, as well as her other AXE classics. We caught up with Ann for a behind-the-scenes look on how the magic happens.
We would love a cheat sheet on how a fragrance is made. How does it all start?
We start with an olfactive vision based on the concept and then translate the images into scent. The fragrance vision is shared with perfumers and they then interpret it how they perceive it. Several fragrance ideas are then shown to us. Until we find the signature that achieves the brief and meets our expectations from an olfactive standpoint, we could go through anywhere from five hundred to a thousand iterations before finalizing the scent that ultimately goes into the bottle.
About how long does the whole process of creating a fragrance take?
4-6 months.
You are the olfactory force behind the evolution of the AXE guy. Is there a common ingredient or creative thread that runs through all of the scents? The secret here is a touch of vanilla, sometimes greater and sometimes more reduced but always present. It gives the fragrance an easy, approachable character that guys seem to love.
We've been watching the AXE guy grow up and become more sophisticated. Now AXE YOU is here appealing to Gen Z. From a fragrance perspective, how is this guy different from the AXE guy of the 80's?
In the 80's, the fragrances were created without regard for a specific target audience. Now so much more is known about who the consumer is and therefore fragrances are specifically targeted.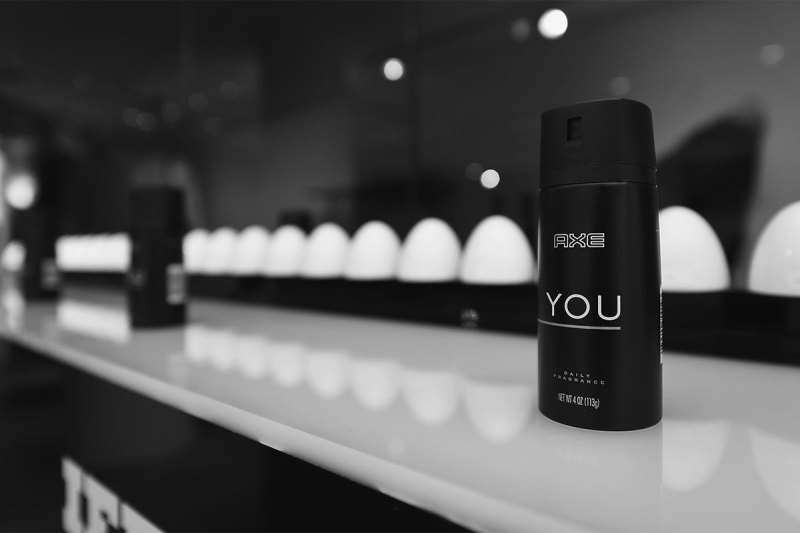 Are there specific notes that can make a fragrance smell more youthful?
Generally, fresher notes such as citruses and fruits tend to have a youthful impact on a fragrance. In the case of YOU, it is the freshness, which comes from the coriander leaves and black basil. The inclusion of vanilla is also very meaningful to this target.
What was your inspiration for this fragrance? Which parts of the brief were you most excited to bring to life?
We took our inspiration from the woody, amber-y fragrances from the premium end of the fragrance market and Axe-ified it to be appropriate to our target audience. The concept behind YOU is that it would be a fragrance that adapts to each person's body chemistry. Watching that come to life was very exciting.
What is the best way, wear and how much body spray should be applied for it to smell its best?
Moderation is always recommended when using a body spray – say AXE when you spray AXE. It can always be layered to achieve greater strength, but if too much is applied at once it can become quite overpowering.
I have to ask, do you have a favorite?
My favorite Axe fragrance is probably the most recent one on which I worked because I really like them all. If you are asking in regards to my personal fragrance, I would say it was Obsession because it was my first one and always has a special place in my heart.