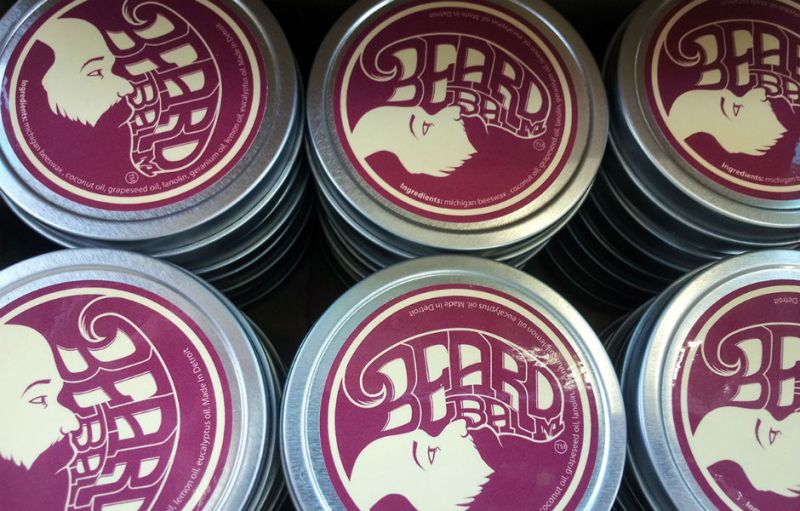 When Jon Koller first started growing through puberty, he realized he hated shaving so much, that he would rather grow a beard than shave regularly. He grew one beard after another, and people would tell him countless times to shave it off, but he didn't care and kept on growing out his whiskers. According to their website, "Then one day in 2009, somebody said, 'either cut it off or put something on it.' But what could that magical 'something' be? After years of development, Beard Balm, our namesake product was born." Koller started cooking up cans of beard balm out of a pot in his kitchen in Detroit, making 50 lbs. of the goo at a time, and sold Beard Balm at holiday markets, before long, business started booming, and he moved the operation to Ponyride in Detroit.
Now on a busy day, Koller, who is also an engineer, makes up to 200,000 cans of Beard Balm, which is made of grape seed oil, coconut oil, lanolin, beeswax, lemon oil, eucalyptus oil, and geranium oil. Locally made in Detroit, Beard Balm comes in a number of different varieties, like the original, which has a clean scent, unscented for the sensitive folks who prefer no extra scent and more. "It lasts forever, and it makes you have an awesome beard," said Koller when we recently paid Beard Balm a visit at its production headquarters in Detroit. "It's a conditioner for really coarse hair, it's also good on your cuticles."
We scored a few cans of Beard Balm and it has certainly won over the beard-wearing friends who have it. Plus, who doesn't feel good about using a product locally made by a small business in Detroit?
For more information, visit beardbalm.us.
Editors' Recommendations