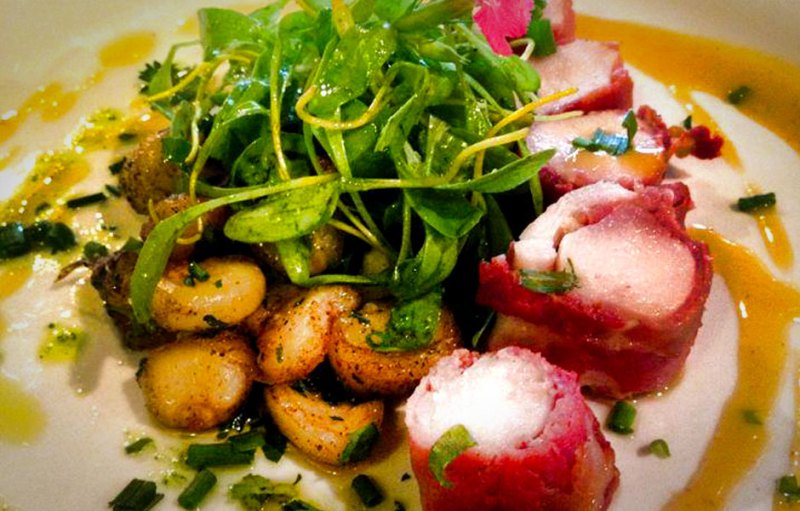 I don't normally want to buck etiquette rules to lick my plate at the end of dinner, but that's exactly what I wanted to do while dining at Vidalia in Boone, N.C. While I had heard from locals about how good the place is I still wasn't prepared for the flavor explosion when I savored a plate of pecan herb breaded North Carolina trout topped with lemony celery and green Napa cabbage slaw. It's normally served up on a heaping mound of stone ground grits. Even though I'm a southern girl, grits just aren't my thing, so they gladly substituted some amazing mashed potatoes.
This small, cozy foodie paradise located near Appalachian State University is the creation of Chef Samuel Ratchford and his wife, Alyce. He's really keen on using locally grown produce and meats as much as possible and has a flair for creating dishes that keep the house packed with appreciative diners. Fast service – not especially, but this is a slow food dining experience.
Located across the street from the Watauga County Courthouse, the space offers intimate seating at tables and on barstools around the open kitchen where you can watch the chefs at work.
Some of the other choices include creole battered southern fried chicken served with waffles, pan sautéed lump crab cakes, and sesame coriander tuna. There's a decent wine list and tantalizing desserts. Make sure to save some room to try one (or do as I did and share a couple of different treats with friends). The choices change nightly, but feature homemade ice creams (one is called Captain Crunch and delicious), apple turnover, creme brulee, tiramisu, and a chocolate praline tart.
Vidalia is located at 831 W. King Street in Boone, North Carolina. Visit them online at www.vidaliaofboonenc.com
Editors' Recommendations