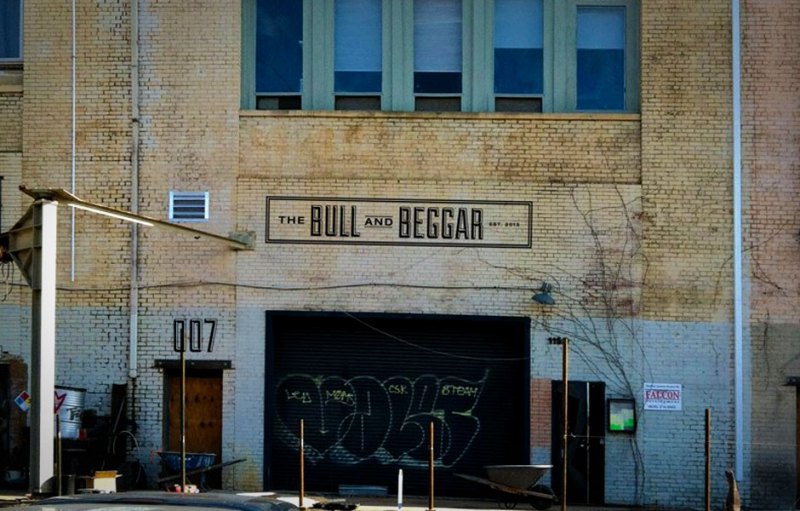 One of Asheville, N.C.'s newest restaurants is a bit elusive. There's no giant sign or neon light to point the way. When you turn into the gravel parking lot at the Wedge building in the River Arts District, you might look around thinking there couldn't possibly be a restaurant nearby. Look a little closer on the old loading dock side of the building and you'll see the words "The Bull and Beggar" emblazoned on the simple brown door leading inside. The photo that you see above this article is what the building might look like with the restaurant's name out front. In reality, The Bull and Beggar logo and 007 over the door were photoshopped in as a landmark guide.
"We don't have a sign and we don't advertise," said Drew Wallace, one of the restaurant's co-owners. "We believe in word of mouth in getting people in the door."
He says it's fun to see people who may have searched a bit to find them enter in and become wowed with the ambiance and incredible food.
Wallace knows a thing or two about the wow factor. He also owns the wildly popular West Asheville restaurant The Admiral, which has been winning rave reviews and even national attention for years.
So why did he venture into this new project?
"I'd been working with Tim Schaller who owns Wedge Brewery. The Admiral is one of the few restaurants to get their products," said Wallace. "When investors purchased the Wedge building, they approached me about starting a restaurant there. I was really attracted to the neighborhood."
He teamed up with chef Matt Dawes who formerly led the kitchen at Table in downtown Asheville. Dawes is in charge of all the culinary aspects and Wallace maintains other areas of the business. He refers to himself as "the conductor," which is a little more explicative term than general manager.
The Bull and Beggar welcomes diners for dinner Tuesday through Sunday and brunch on Saturday and Sunday. On a recent Sunday, I ordered the Fishing Camp Breakfast (trout, fried egg, bacon and potatoes) for brunch while my companion opted for the Hangtown Omelet loaded with fried oysters, bacon and chives. Every bite proved outrageously satisfying, plus the prices are very reasonable for an upscale restaurant. The laid back atmosphere lends itself to fun conversations at your table or around the bar.
"We do something more unique with our dinner menu," said Wallace. "We serve from 6 p.m. to midnight Tuesday through Saturday and until 10 on Sunday. We let people know that if they come in at 11 or 11:30, they can still get the full dining experience. We're trying to be a little bit more available in that way."
The Bull and Beggar is located at 37 Paynes Way #007 beside the Wedge Brewery in Asheville, N.C.'s River Arts District. No website yet, but you can check out their Facebook page here.
Editors' Recommendations