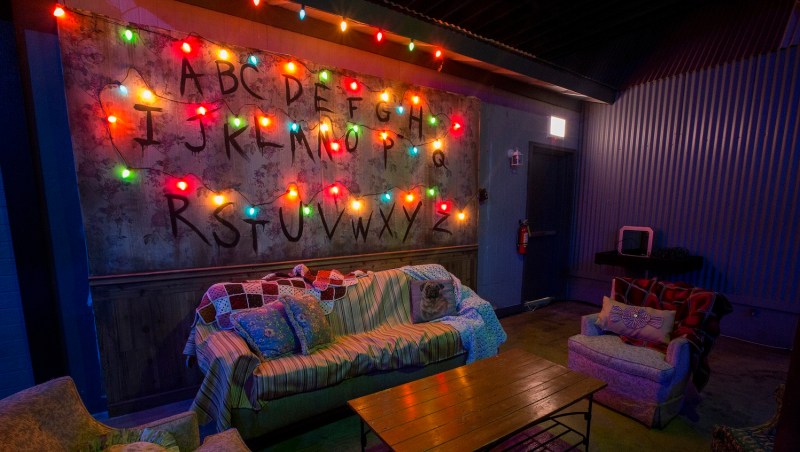 Stranger Things was one of Netflix's breakout hits of 2016. It managed to create a captivating, larger-than-life universe inside a tiny, fictional Indiana town. It deftly blended every 1980s horror and kids' movie trope with references to things like Dungeons & Dragons, the Alien film franchise, and E.T. And, like all memorable '80s flicks, there was Winona Ryder. Ahead of the highly anticipated second season premiere on October 27, Chicago's Emporium Arcade Bar is paying homage to the show in the most 2017 way possible: by hosting a Stranger Things pop-up bar.
The Upside Down condenses the show's most memorable, creative, and (wait for it) strange elements into a single destination. Just inside the entrance lies a recreation of the Byers' living room with Christmas lights decorating an alphabet wall like the one young Will Byers cleverly used to communicate with his mother and friends on the show. A terrace is designed to resemble the creepy forest outside of Hawkins National Laboratory, but the coolest touch is The Upside Down-inspired furniture clinging to the ceiling. The walls are adorned with locally designed artwork and installations inspired by the show, and the bar's owners promise a steady stream of live performances by "some very special mystery guests."
The menu features Stranger Things cocktails like Eleven's Eggos, which features bourbon and an Eggo Waffle garnish. The Snack Pack is a mix of mezcal and creme de cacao laced with chocolate syrup and served in a tin cup. The Upside Down's pièce de résistance, however, is the Demogorgon — essentially a neon-pink rum slushie.
The themed pop-up bar has inexplicably become the way to indulge our Hollywood fantasies. We've previously covered the Tim Burton-themed Beetle House in Los Angeles, which was derived from a New York City bar with a similar concept. With the opening of the Star Wars-themed Scum & Villainy Cantina in LA and Manhattan's swanky Oscar Wilde-inspired bar, it would appear the concept may be finding more permanence.
The Upside Down is open Wednesday through Sunday until October 1, 2017. The space is closed to the public Mondays and Tuesdays, but available for private rentals in case you've always wanted a birthday party fit for a Demogorgon.
Updated on 9/19/2017 by Nicole Raney: Our time in The Upside Down is coming to an end. This week, a cease-and-desist letter from Netflix began circulating around the Internet. The streaming service had a legal (but equally hilarious) request for the folks operating the Stranger Things pop-up bar Emporium Arcade Bar.
"I heard you launched a Stranger Things pop-up bar at your Logan Square location. Look, I don't want you to think I'm a total wastoid, and I love how much you guys love the show," reads the note. "But unless I'm living in the Upside Down, I don't think we did a deal with you for this pop-up. You're obviously creative types, so I'm sure you can appreciate that it's important to use to have a say in how our fans encounter the worlds we build."
Netflix asked the Emporium team to end the pop-up on October 1 as originally planned. If they would like to extend or recreate the experience, Emporium just needs to reach out for permission next time — or else .
"We love our fans more than anything, but you should know that the demogorgon is not always as forgiving. So please don't make us call your mom," Netflix says.
You can read the full letter on DNAInfo Chicago.
Article originally published on 9/12/2017.