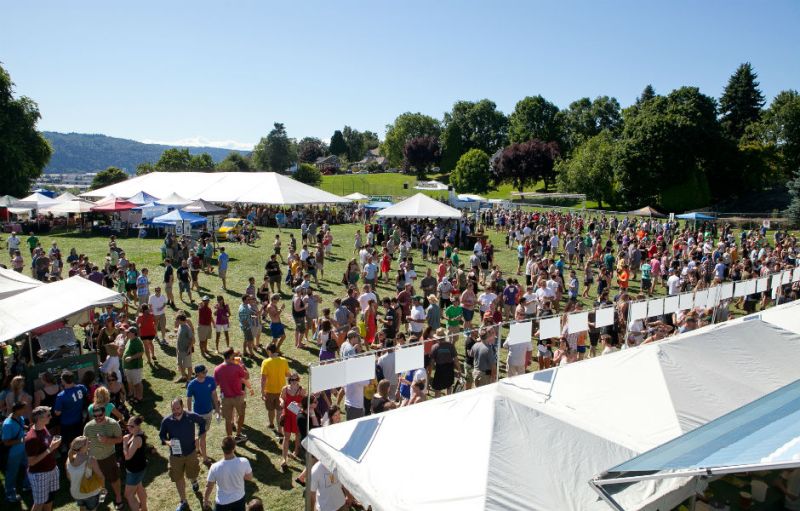 There are so many beer events in Portland, Oregon during the summer, it can be tough for some of us to decide which to attend and which to pass on. There are a few, though, which automatically make the list every year–and Organic Beer Fest is one of them.
Formerly the North American Organic Brewers Festival, festival director Craig Nicholls felt like, in its 12th year, it was okay to simplify things a bit. "Everybody already refers to us as the Organic Beer Fest, since we're the only one in the world that we know of." Indeed, between double IPA festivals, cask tastings, wrestling-themed snack/beer pairings, and sour beer barrel tappings, we were unable to find evidence of an Organic Beer Fest anywhere else in Portland or beyond.
Held at shady Overlook Park in North Portland every late summer, the Organic Beer Fest brings together brews from more than 40 breweries, many of them creating drinks exclusively for the event. There are other distractions, like cornhole, home brewers working on their latest batch, local organic suppliers handing out fruits and veggies to passerby, and of course a bike valet, even though Portland's light rail takes you straight there from downtown in 15 minutes. A lot of the attendees are simply residents of the Overlook neighborhood, drawn to the live music and tents just down the block.
At the end of the day, there were some drinks that still lingered on the tips of our tongue. Two Kilts Brewing Co out of Sherwood, Oregon brought the Manbun IPA which, unlike its namesake, was deceptively simple and very tasty. The team there brewed what's called a SMaSH IPA (Single Malt and Single Hop) using all organic pilsner malt and citrusy, bold Simcoe hops.
Based out of Bellingham, Washington, just outside of Seattle, Aslan Brewing has just recently made its way down to Portland in some striking cans. It's an entirely organic brewery, so the Batch 15 IPA wasn't a new beer to us, but it was particularly bright and juicy fresh from the tap. Both that beer and the Dawn Patrol Pacific Ale have become fast regulars in our can selection.
It may have been a beer fest, but of course ciders made an appearance as well. Reverend Nat's, a cidery just up the street, brought the elusive Overlook Organic, made from a blend of organic Golden Russet and Newton Pippin apples. It only shows up at the Organic Beer Fest ever year, standing out with an impressively clean, lightly dry flavor that sends even staunch hop-heads back for another taste.
But what stands out most about the Organic Beer Fest every year isn't the loyal flock of attendees, or the beautiful sprawl of Overlook Park in North Portland, but the strong taste of care and patience in every one of these brews.
Editors' Recommendations