There are lots of famous folks getting into the spirits game these days, and some are obviously doing it better than others (here's looking at you, Clooney and Casamigos). But we have high hopes for the latest celebrity collaboration to come across our radar. Blackened, a blend of straight American whiskies from master distiller Dave Pickerell and the band Metallica, is set to launch in fall 2018.
Metallica's members knew they needed a true master to pull off such a feat. "It could only be Dave Pickerell," Sweet Amber Distilling CEO John Bilello, a spirits industry veteran hired by Metallica to helm this venture, said in a release. "Dave is an icon in the spirits community."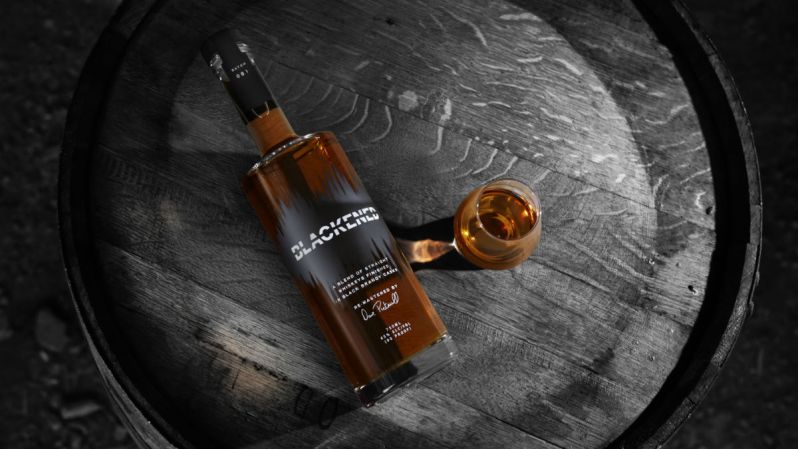 Pickerell, who was the master distiller of Maker's Mark for 14 years before joining the WhistlePig team, hand selected an assortment of bourbons, ryes, and whiskies from all across North America for the blend. After the various liquids are married, the mix is finished in black brandy barrels. Pickerell uses his background as a chemical engineer to pioneer different finishing techniques like solera aging and triple finishing; he had been wanting to experiment with sound waves since he was a chemistry professor at West Point. The academy is home to the world's largest church organ, and the sound of the lowest note would reverberate through the halls when it was played.
"The whole building would tremble, it would really shake your guts," Pickerell said in a release. He pondered running a similar frequency through whiskey as it's being finished and the partnership with a musician clicked.
Metallica has worked with Meyer Sound for years, and the company engineered a subwoofer that's capable of hitting such a low frequency, which has been a hallmark of the band's sound since the beginning. The band members put together playlists while Meyer Sound and Sweet Amber Distilling Co. developed a process to bring the music to the barrels. As the liquid is aging, the barrels are surrounded by intense, low-hertz sound waves, which supposedly intensify the molecular interaction and finish. The process takes between two to 10 weeks.
While we're not sure that sound waves truly affect a whiskey's aging process, Blackened sounds delicious nonetheless. Burnt caramel, oak, and honey are present on the nose before the spirit opens to mint, baking spices, and a hint of apricot on the palate. They want the price point to be affordable, so we figure it will be good for both sipping and mixing in cocktails.
Blackened is set to launch in limited markets on September 29, just in time for Metallica's fall North American tour.
Editors' Recommendations