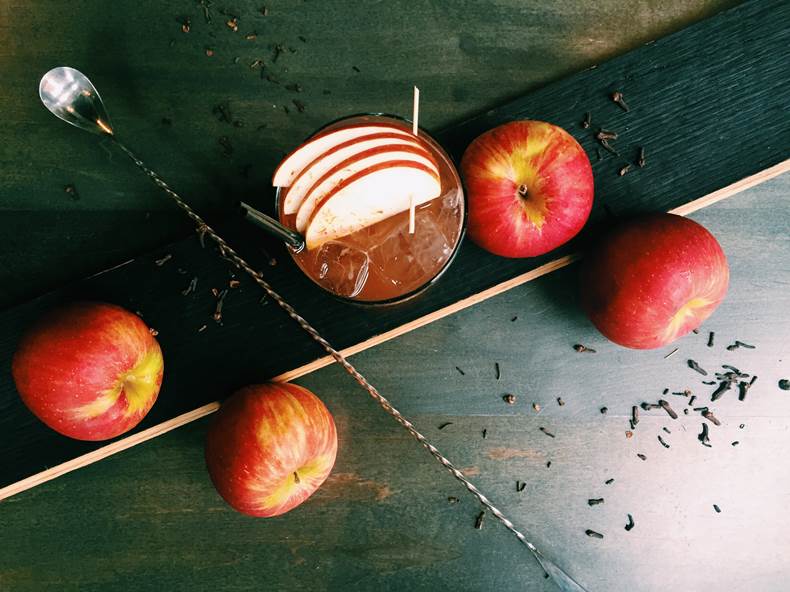 Fall is officially here. I've been grilling squash, whipping up a lot of soup, and drinking a lot of apple cider. And on a cold, rainy New England day like today, there's nothing I like more than a hot mug of spiked cider to warm me up in the evening. Today even happens to be National Hot Mulled Cider Day.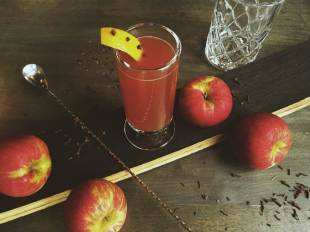 Mulled cider is a little bit more than warmed up apple cider. I like to use local apple cider. It's often unpasteurized and has a cloudy appearance, but tastes so much better than the mass produced stuff. The cider is gently warmed on the stove and seasoned with spices and lemon peel. You can use whichever spices you'd like, but some of the best flavors for cider are cinnamon, cloves, cardamom, ginger, and coriander. If you can, buy them whole and toast them in a dry pan to bring out their flavor before adding them to your cider. You can drink your mulled cider as is, or you can spike it with your preferred choice of brandy, rum, or bourbon.
In honor of Hot Mulled Cider Day, I asked Alex Jump, mixologist of Easy Bistro & Bar, to share some of her favorite apple cider cocktails with us. While my preference may be to warm my hands around some piping hot cider, she realized that some of you might appreciate a cold option.
The Right Combination

1 oz Calvados
1 oz Buffalo Trace
0.5 oz Local Apple cider
0.75 oz Cynar
0.5 oz mulled apple syrup*
0.75 oz lemon juice
2 drops angostura bitters
Shake all ingredients with ice and fine strain into an old fashioned glass over fresh ice. Garnish with local apple slices and grated cinnamon.
Mull it Over

1 oz Calvados
1 oz Buffalo Trace
0.5 oz Cynar
0.5 oz mulled apple spice syrup*
0.25 oz lemon juice
5 oz Hot Local Apple Cider
Combine all ingredients in a hot mug and top with hot apple cider. Garnish with a clove-studed orange peel.
*For the Mulled Apple Spice Syrup:
1 tablespoon cloves
2 cinnamon sticks
1 tablespoon grated nutmeg
2 star anise pods
1 teaspoon allspice
5 local gala apples
1 cup superfine sugar
1 cup water
In a saucepan combine sugar and water and mix until sugar has mostly dissolved. Add in spices and place over heat. Before the syrup comes to a boil, add in 5 apples, cored and cut into cubes. Cook on low heat for another 5 minutes and then remove. Let cool completely and then strain. Will keep in the fridge for a month.
Editors' Recommendations