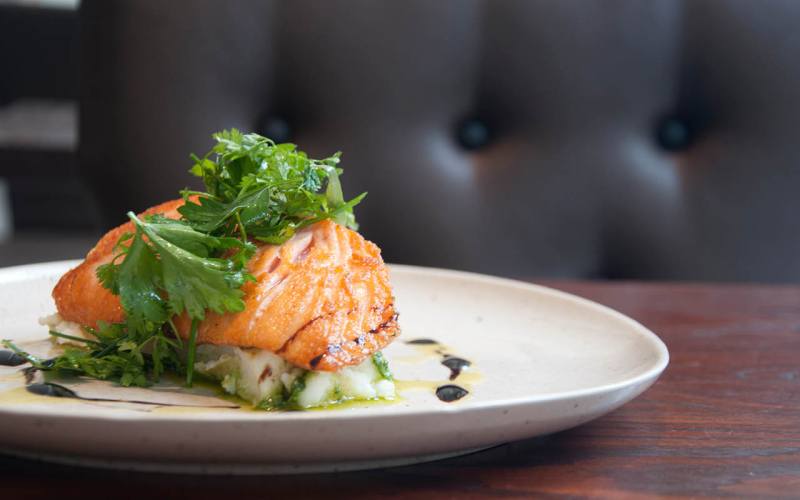 We know that many of you out there find cooking with fish a bit of a daunting task. It's hard to know the right type of fish to pick, how long to cook it, and how to avoid that lingering, fishy smell in your house or apartment after you're done. So, today, we're bringing your our Fresh Seafood 101 Course with Chef Ed Brown.
Chef Ed Brown has an extensive resume that is basically impossible to enumerate here. He's worked at all manner of top-flight New York City seafood restaurants including The Sea Grill in Rockefeller Center. Currently, he is the chef and partner of Ed's Chowder House as well as the Chef Innovator behind the recently opened Lincoln Center Kitchen. He is also the author of The Modern Seafood Cook.
As you can see, this is a man who knows his seafood inside and out, and has an undying passion for fresh fish. Or as he likes to say: "I started working with and cooking fish when I was fourteen years old. I'm now fifty-one years old and I feel as excited about it everyday as I did then. There are infinite possibilities with fish."
So, without further ado, here is our extended conversation with Chef Ed Brown. You will find plenty of tips on cooking fish, the truth behind some of the biggest seafood myths, as well as how to be a smart consumer and appreciator of the ocean's gifts.
When you were fishing and working on charter boats as a teenager, what were some of the first important aspects you learned about what restaurants are looking for in good seafood?
I guess the big eye opener was the difference between what people think fresh fish tastes like to what truly fresh fish actually tastes like. Now, obviously that was thirty-five years ago and the chain of supply has improved, but still the difference of what you catch on the same day versus what you get anywhere is big. So, my first recognition was, "Wow, this is an entirely different product!" Also, being close to the fish gives you a different respect for the product. You've seen the fish up close and it obviously took years to grow and if you are taking its life, you want to make sure you are treating it with the respect it deserves.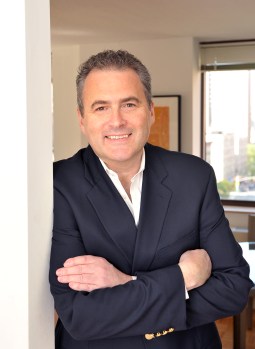 In your experience, what are some of the most common false myths about seafood? Is the biggest one the fresh/freezer confusion?
The shining example is bluefish. Everyone thinks bluefish is terrible and that it has the worst reputation in the industry. But, on my own dime, if I could buy a fresh three to five pound bluefish caught the day of, I would put it up against anything as the best fish I've ever had. Bluefish is extremely flavorful because it contains a lot of oil, which also means that it disintegrates very quickly. So just a few days after it's out of the water, it starts to fall apart and smell a little bit. But every summer, I can't wait to get out to Montauk and catch fresh bluefish.
Lobster is usually associated with the summer, but the best time to eat lobster is during the winter. In the summer, the lobsters are molting, so very often the shell will be softer and thinner and so the meat inside will have a consistency that is watery and mushy. The consistency of lobster meat in the winter is much better.
When it comes to oysters, there is a myth about oyster names. When you go to buy oysters you see so many different names, but all those names represent are where they landed the oysters. There is no true species difference. What really makes the difference between oysters is the water. For Wellfleets, the water in Wellfleet is really cold and passes over the oysters very fast, so the taste of the oyster is like taking a bite out of the ocean. The more water that passes through an oyster (or any shellfish) the better.
What about the myth of eating oysters in the winter as opposed to the summer?
With oysters, the colder the water the better. So, really you can eat oysters from the eastern seaboard—say from Cape Cod and north—all summer long. I don't like large oysters in the summer, though. I prefer the smaller ones.
Steamed mussels are a simple dish that anyone can make to impress guests; plus they are usually pretty cheap as well. What do you look for in a good mussel or mussel variety?
For mussels, I'm a fan of the French style of growing, which is called bouchot. That means growing them on a stick. Most of the time mussels grow by attaching themselves to rocks or whatever. By planting a pole or stick, the mussels are suspended and have less sand and grit in them.
So when you're buying mussels, the cultivated ones are smaller. Also, when you look at them they appear very clean. That's not because they were scrubbed—that's how they were grown. Down in Barnegat Bay in New Jersey you can find these giant mussels and it takes a lot of time to take off the beards and scrub them and clean them out. They are really good eating, but it takes a ton of work. For the home cook it's not really worth the effort.
How do you undertake your due diligence in sourcing your fish? How do you make sure the vendors you buy fish from adhere to your standards?
I've spent a lot of time over the years working with a variety of vendors, but I always try to go back to the source. I want to know where all of my fish comes from. For a long time I used to deal with a guy who used to be a commercial fisherman, but he got out of that business and opened a truck where he would go around delivering fresh fish (caught the day of) to restaurants based on his relationships with the fishermen.
I also have vendors who have direct contacts to guys who own three or four boats in Florida and these guys are just catching three or four species of fish. I know where the catch is coming from—that it was landed yesterday and that the fish was flown in overnight.
I've spent time at the docks in Chatham, Massachusetts and Portland, Maine, so I know where my cod is coming from. You've got to spend time with these guys and know who they are and what they are doing and how they are catching your fish.
When looking at the calendar, what are some of the best types of seafood to eat in each season?
With fish there are a few highlights throughout the year that I personally look forward to. Right now, there are Nantucket Bay scallops, which are what I call "sea candy." When they come in, they are so good that we just pop them in our mouths raw.
Then in May, there are soft shell crabs. They are just as popular as the Nantucket Bay scallops, but they are more readily available. When they are on the market, we'll always sell as many as we can buy.
In this part of the country, as early as April and May we look forward to stripers all the way through September—as well as fluke.
Also, down in Florida there is stone crab season, which is from October to May.
What are some of the essential rules for cooking seafood? Are there tricks that people at home might be missing or steps they are skipping?
It takes a lot of finesse to cook a piece of fish. If you overcook a piece of steak for a minute, the steak will probably turn out fine. But if you overcook a piece of halibut for a minute, you've ruined a perfectly good piece of fish. And that's probably the biggest mistake people make—overcooking.
They also cook it too hard. The reason why people say their house smells like fish after they cook it is because they are searing it too hard. I'm a proponent of slower cooking, gentle cooking. So, I'd take a piece of halibut and rub it with butter and put it in the oven at 250 degrees, 300 degrees at the most.
When cooking fish in a pan, you can use a pinch of wine or water, a small piece of butter, a squeeze of lemon and bring that to a simmer in a pan. Then you place the fish in that mixture at a very low heat and bring it along slowly, basically just warming the fish up as you're moving it around. So what's happening is that you're cooking the protein and the flavors of the fish are coming out in that little bit of sauce. And what I'll do is add fresh mixed herbs—parsley, dill, chives—and then that's it. I take the piece of fish out, put it on a plate, then turn up the heat on the sauce so it emulsifies and pour it over the fish.
When you're cooking fish in a pan how long do you recommend cooking it for?
The rules for meat don't apply to fish. You can't really give general cooking times. Fish have very different densities among the different varieties. A piece of codfish will cook much faster than a piece of striped bass. Codfish contains much more water in the meat, so once the heat gets in there it basically steams it from the inside out. If you had a piece of cod and a piece of striped bass that were the same thickness and weight, the cod would cook about three minutes faster.
The main variables that make fish cook faster are density, water content, and also fat content.
How do you assemble the menu at a new restaurant like Lincoln Center Kitchen? Specifically, how do you decide which seafood dishes to include on a "Classic American" menu?
The process has gotten much easier for me as I've gotten more mature and more experienced. Instead of trying to sell people what I think might be good, I want to sell people fish that they want to buy. I know that salmon, codfish and tuna sell so I want to feature those. You also have to take into account the concept of the restaurant, the location, the price point and the target demographic. Sometimes if you put mackerel on the menu simply because you love mackerel, it just might not sell.
Is there a specific fish or seafood dish that you think is perennially underrated? Is there a fish that people tend to overlook?
I guess I would just encourage people to seek out types of fish they haven't had before. If you try a fish that you've never heard of, that will actually help support the sustainable fisheries. I even try to encourage chefs around the country to get to know fisherman and buy new and different types of fish.
I recognized a long time ago that in our lifetimes we will have a big issue with wild fish food supplies, and it's because of that that I was an early supporter of aquaculture and sustainable farming. Our oceans cannot support the increased demand for fresh fish.