Other than coffee and rain, the first thing most people probably think of when Seattle is mentioned is music. From Pearl Jam to Nirvana to the countless other acts that have come forth or passed through, music is as much a part of Seattle's DNA as anything else. Beer, too — in the Pacific Northwest as a whole — is very much a part of the area's identity, which makes it come as no surprise that the two entities have come together time and again.
This time around, they are meeting in the form of one of the city's biggest breweries and one of the world's biggest acts of the last 30-plus years: Elysian Brewing, the three-time Large Brewpub of the Year at the Great American Beer Festival, and Def Leppard, the band that has sold over 100 million records worldwide and is freaking Def Leppard. The two have come together to create a beer-tiful lovechild they've named Def Leppard Pale.
"I love craft beer — it's the indie side of the beer industry. You get the rock 'n' roll and the creative, and it tastes amazing. We can't wait for our fans to try it," lead singer of Def Leppard, Joe Elliott, said in a statement.
In the release video, Elliott puts it much more succinctly after taking a sip of the brew: "That doesn't suck!" Elysian ​CEO and co-founder Joe Bisacca was equally stoked about the collaboration, calling it "fucking cool" in a statement.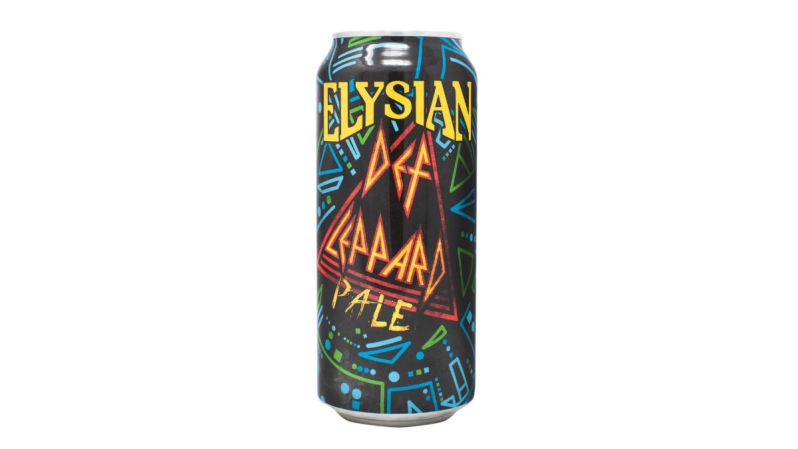 Def Leppard Pale is a British ale made with Northwest hops (Cascade, Chinook, Simcoe and Magnum, to be specific) that tunes in at 6 percent ABV. Amber in color, the beer has notes of caramel, citrus, and pine.
Fans of Elysian know that this isn't the first time it has brewed a beer influenced by music. In the past, Elysian created Superfuzz, a seasonal blood orange pale ale named after a famous guitar pedal, and Men's Room Original Red, which was crafted for The Men's Room Radio Show on 99.9 KISW.
The beer will be released to coincide with Def Leppard's 2018 world tour with fellow legends Journey. It will be available starting May 23 (the second stop on the tour, which will occur at the Times Union Center in Albany, New York … sorry, Hartford fans) and can be purchased on draft or in 16-ounce cans at most of the concert venues, in addition to selects bars and restaurants.
For those all about Def Leppard and not here for the beer (which, you do you, but come on, it's beer!), you can still get something good out of this: 2018 marks the first time the band will be releasing its entire catalog on digital platforms.
Editors' Recommendations