Chef Profile is our new column dedicated to getting to know more about the chefs we love around the nation.
The Chef: Chef Andrew Cooper, head chef of Terra at the Four Seasons, Santa Fe, and James Beard Award nominee for Best Chef: Southwest
Favorite New Mexican Ingredient: Hatch green chiles
Chef Andrew Cooper is all about local produce, head to tail cooking, and providing luxe, hands-on experiences for his guests. The menu at Terra incorporates New Mexican flavors into contemporary American cuisine. Chef Cooper sources his meat from local ranchers and his produce come from both local farmers and the garden he keeps at his restaurant.
Chef Cooper's interest in farm to table dining was inspired by his desire to know where his food was coming from. Cooper says that being a chef is all about being on the ground with the suppliers of your food, it's about "going to the farmers markets and to the farms themselves and talking directly to the farmers and asking them for ideas, asking them what they are planning on planting for the next couple of months." He cites his work with another chef who told him being a chef meant a commitment to the motto: "Regional, Seasonal, and Artisanal".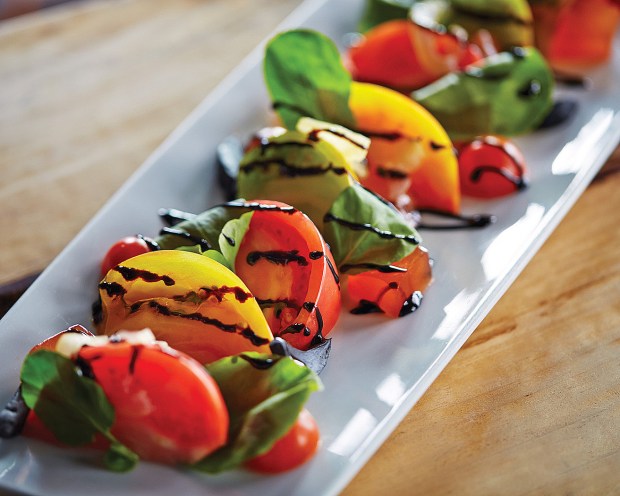 Cooper takes that motto to heart and took it a step farther: into his own garden. He loved how much local food was being produced in New Mexico and he'd become involved with an organization called Cooking With Kids that teaches children about making healthy food choices. "[The garden] was a challenge that I took on, my cooks laughed at me in the beginning, especially in March when it was still snowing and I was germinating a lot of my seeds in the kitchen in, but now all of my cooks go out into the garden to get ingredients, we offer cooking classes in the garden as well as the chef's tables."
The best part about talking with Chef Cooper about his food is his obvious enthusiasm for getting his guests involved as much as possible in their food experience. His Chef's Table is hardly a passive experience. He pulls guests from their tables, has them call orders to the cooks, and even gets them on the line and cooking alongside his staff. And he keeps it casual – there's music playing and, after certain events, a disco ball descends from the ceiling to turn his kitchen into "ClubTerra". He's hosted nose to tail events with other local chefs and took a particular liking to the restaurant's recent Santa Fe Undercover event. Guests had no idea what was in store for them when they purchased tickets. They placed their trust in Cooper, his staff, and the Four Seasons and were rewarded with a variety of tasting experiences, cocktails, hors d'oeuvres filled with local ingredients, a local history lesson, horseback trail riding, and dessert under the stars. He says there will definitely be more events like this in the future, so keep an eye on Terra's website for tickets.
Terra is definitely on the top of our list the next time we're in Santa Fe. We're hoping to make it in August when Chef Cooper is hosting foraging walks for porcini mushrooms in the mountains outside of Santa Fe.
Chef Cooper's Green Chile Braised Short Rib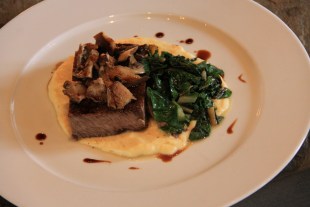 Method and Assembly:
3 bone-in short ribs (about 2 3/4 pounds)
Kosher salt
Extra-virgin olive oil
1 large Spanish onion, cut into 1/2-inch pieces
4 Green chilies
2 ribs celery, cut into 1/2-inch pieces
2 carrots, peeled, cut in 1/2 lengthwise, then cut into 1/2-inch pieces
2 cloves garlic, smashed
1/2 cups tomato paste
2 to 3 cups hearty red wine2 cups water
1 bunch fresh thyme, tied with kitchen string
While the short ribs are browning, puree all the vegetables and garlic in the food processor until it forms a coarse paste. When the short ribs are very brown on all sides, remove them from the pan. Drain the fat, coat the bottom of same pan with fresh oil and add the pureed vegetables. Season the vegetables generously with salt and brown until they are very dark and a build up has formed on the bottom of the pan, approximately 5 to 7 minutes. Scrape the build up and let it reform. Scrape the build up again and add the tomato paste. Brown the tomato paste for 4 to 5 minutes. Add the wine and scrape the bottom of the pan. Lower the heat if things start to burn. Reduce the mixture by half.
Return the short ribs to the pan and add 2 cups water or until the water has just about covered the meat. Add the thyme bundle and bay leaves. Cover the pan and place in the preheated oven for 3 hours. Check periodically during the cooking process and add more water, if needed. Turn the ribs over halfway through the cooking time. Remove the lid during the last 20 minutes of cooking to let things get nice and brown and to let the sauce reduce. When done the meat should be very tender but not falling apart. Serve with the braising liquid and garnish with coffee reduction.
Coffee reduction:
Leftover morning coffee, reduce, with local sugar until syrupy, add red wine sauce and whisk in 1 Tbs of butter.
Editors' Recommendations