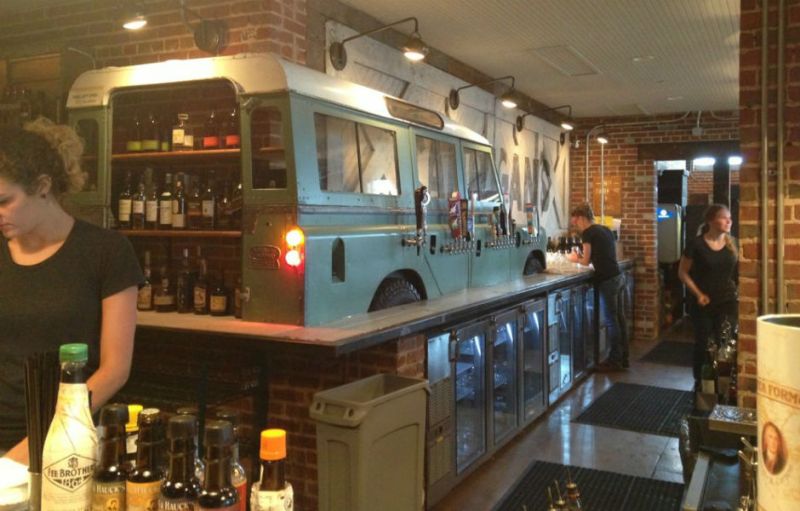 Birmingham, Alabama has a new bar in town, and it has everything you need — and a little something extra. It's called Carrigan's Public House. Located at 2340 Morris Avenue, Carrigan's Public House serves up craft cocktails and beer along with elevated bar food. One of its most impressive features is something a little unconventional — a Land Rover Series III holds all its microbrews on tap.
Once inside one of Birmingham's newest hot spots, you'll experience a menu with a plethora of bar classics with their own Carrigan's Public House twist. The Double Burger gets white cheddar or ghost pepper jack, stick onions, pickles, and roasted garlic aioli, while the Corn Dog is drizzled with hipster ranch, guajillo ketchup, cotija cheese and cilantro. The Fish 'N' Chips Sandwich even has an elevated touch! Grilled trout fillet takes the place of haddock and cod, and it's served with root chips, lettuce, tomatoes and a malt vinegar aioli. The Panko Fried Chicken comes with smoked collards, gouda grits, mushroom, bacon, and aerated sriracha. And Ramen lovers can rejoice! There's a special Pub Ramen with house smoked brisket, chilled ramen noodles, ginger sesame vinaigrette, soft boiled egg, kimchi, jalapeno, cilantro and green onion.
And the cocktails will do more than just please you. The Black Lab is a mix of trim tab brown ale, gin, jalapeño, grapefruit, celery, and Buffalo Rock ginger ale — the citrus and spice mix will wake you right up. Read the Sign comes with Bulleit bourbon, Aperol, Cocchi Americano, and Luxardo Maraschino. The beers that line the Land Rover Series III are on rotation regularly, so there's always something new to try. What more can you want?
Editors' Recommendations