Ok, you're about to get your pack-on for New Year's. So we at The Manual wanted to inspire the pack possibilities. Whether the destination is warm or cold, or you've got a staycation planned, we've got some great ideas to make pulling it all together, that much easier.
Cold
Tumi – This lighter and stronger Alpha 2 carry-on roller bag weighs only 10.7 lbs. and is made of ballistic nylon. Perfect for TSA guidelines, this bag may be your year round travel essential.
Hawke & Co. – Need a ultra-lightweight jacket that is not only warm, but is packable into it's own pocket? Done and done. Weighing just 3.10 oz., packs away to 9"x 6". Sometimes small IS better.
Cockpit USA – Yes, shearling-lined leather. Military inspired, and the perfect vest to wear with a sweater, or layered over a jacket. Made by American craftsmen and features hand warmer pockets and a heavy-duty brass zipper.
Coach – Wool & Cashmere. Combining hounds tooth and stripes, make this a twofer scarf of sorts. Lightweight yet perfectly warm, it measures 72 inches x 16 inches, which makes wearing it numerous ways is easy.
L.L. Bean – This classic Portuguese brushed flannel shirt features two button pockets. Perfect on it's own, or layered over or under. Very lumbersexual or woodsy, but all-American style.
Levi's Made & Crafted – These are a pair of jeans that every guy needs to know. Narrow, not skinny, that sits at the natural waist and has two percent stretch. This may be the perfect storm of a man's jean.
Waltzing Matilda – Made of Horween© leather and hand-sewn in the U.S., this 7-eyelet boot has rawhide laces and Vibram Christie soles. The best feature of this moc color (think light caramel) is that it gets better and better and better with each wearing.
Persol – Style icons from Steve McQueen to Paul Newman, and recently George Clooney all have worn Persols. This new style inspired by a vintage frame comes with their signature green internal anti-glare treatment.
Amos – This Dopp kit is made of merino wool felt with vegetable tanned leather, and features one interior zip pocket and two slip pockets. Fits all your needs.
Das Boom – The Everything Box (the actual box stays home) has the four essentials: the hand-forged steel straight razor combined with a boar bristle shaving brush, an Everything Bar of soap, and a pocket comb.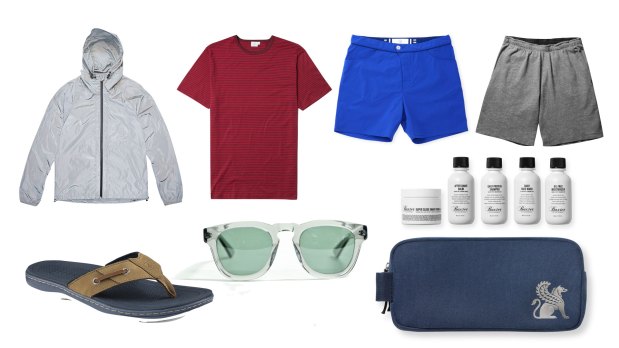 Warm
Lotuff – This classic men's duffle is made with hand-selected, tumbled, and vegetable-tanned leather. It has a removable shoulder strap and all doubled-stitched handles and all brass hardware. The bag is unlined and features a double-layered bottom. It's handcrafted in the USA, and is the perfect carry-on.
Craft Atlantic – 'Crafted for a journey' is this brands mantra, and this lightweight jacket, made of Italian nylon, is packable into it's own pocket. Ideal for a cool night's campfire at the beach.
Sunspel – This 100% Egyptian cotton striped t-shirt combines a clean look with a classic fit. Perfect from beach cabana to boardwalk café.
Aether – From chillaxin to going for a run, this knit short is made from breathable, wicking French-terry performance fabric, but feels as great as cotton.
MacKeene – Inspired by the military, this ultra-fast drying swimsuit, has 6% stretch, which is great for SUP and windsurfing.
Sperry – The Baitfish Thong Sandal pairs leather and molded-rubber, for a most comfortable, durable and stylish sandal, this side of a full-on beachfront luau.
Feltraiger – This pair of Protestor sunglasses that feature Carl Zeiss (a German optical instruments maker from the 1800's that basically influenced how today's modern lenses are made) lens, are their newest extension of the Feltraiger brand. The smokey-clear frame is a more refined design element, while still making a style statement.
Baxter of California – From Dopp kit, to all the grooming products you'll need on this, or any trip, Baxter has put it all together. From shaving to shampoo, these TSA-friendly sized product say "pack me".