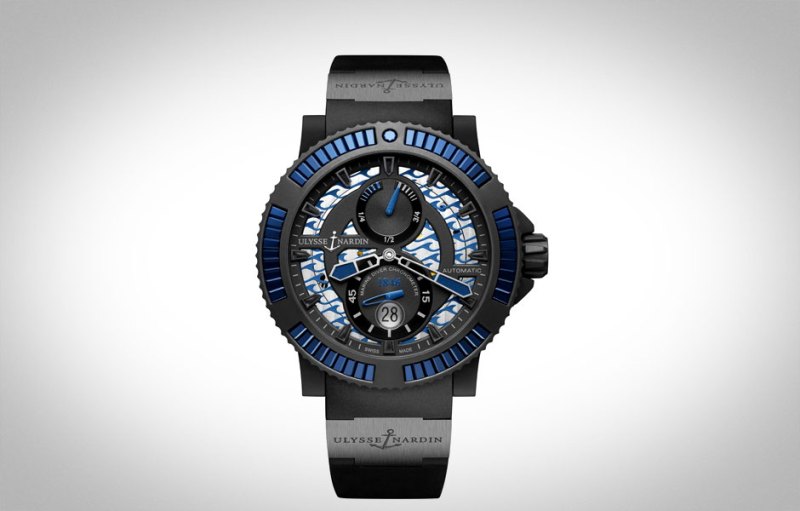 In the watch world, it is very common for a brand to exploit a single watch blueprint. Watches like the Hublot Big Bang, Audemars Piguet Royal Oak Offshore, and the Ulysse Nardin Marine Diver have all seen many variations and limited editions over the years. While it is tough to ruin a classic timepiece design, sometimes a brand can go a little overboard. The Ulysse Nardin Maxi Marine Diver is the staple sport piece in UN's large line of timepieces. Over the years it has increased to its current size of nearly 46mm. It's latest production model, the Diver Black Sea, takes this classic sport piece over the top.
Vulcanized rubber coats this 45.8mm stainless steel case to give this UN a black textured finish. The instant focus of the piece is the bezel. Raising an eyebrow, what is in the bezel? At first glance I thought black diamond baguettes until I saw all the color variations. The bezel is set with ceramic baguettes keeping the price reasonable while offering this very unique look. Offered in black, white, yellow, and blue, each color piece has a matching dial and strap. Giving it a skeletonized appearance, waves of the matching color break across the dial keeping the Ulysse Nardin's nautical theme. Below the dial lies a UN automatic in-house caliber movement with 48 hour power reserve and power indicator. More vulcanized rubber and ceramic attach this piece to the wrist with a folding buckle and ceramic elements with the Ulysse Nardin logo.
Ulysse Nardin is known for its use of exotic materials, both in and outside of their movements. They have come up with a very unique way to use ceramic offering a baguette look for stainless steel money. Some of the colored pieces are a little too over the top for me, but the black white versions are sporty and unique. Ulysse Nardin has a knack for creating polarizing designs. They have done it again with this hit or miss sport piece, the Diver Black Sea. With an msrp of $14,800, you can decide hit or miss.