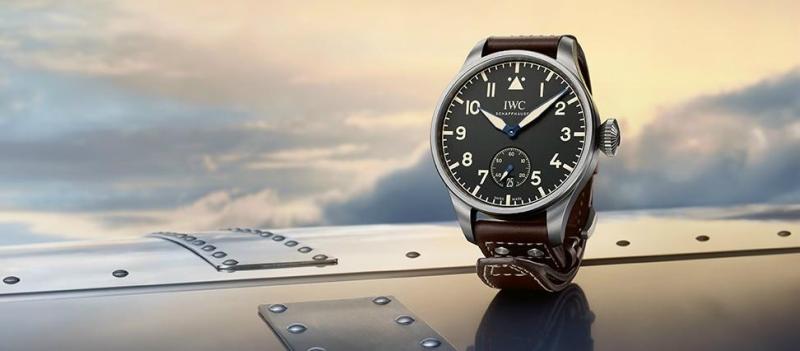 The new year brings new watches. As soon as the clock ticks 12:01, the rumors and pre-releases start to swirl in the watch world. The brands are just as excited to exhibit as the watch-a-holiics to see. IWC always has their new releases in the chamber ready to be fired. This year is no different. IWC has reloaded their iconic Big Pilot for their new Big Pilot Heritage.
Offered in two sizes, 48mm and 55mm, the larger version is the largest IWC introduction since 1940. Taken from the original 1940 design, the Heritage brings back that classic look, but with a twist. The case is now in titanium. A monster like this comes in weighing a mere 150 grams (over 30 grams less than the steel version). Blue steel hands and the now extremely popular faux patina add contrast to this classic dial layout. Attached with a brown calf strap and deployment completes this tribute pilot piece. An IWC 8-day power reserve moment powers this classic beast. There is even a newly added window on the caseback to view the power reserve truly making this a modern classic.
Possibly being the brand the put the aviator watch on the map, IWC has reinvented it once again showing its history. Appropriately named the Big Pilot Heritage, this piece embodies all three words. Big watch. Pilot Watch. Exemplary of IWC Heritage. Make sure you call your local boutique and get on the list now. These modern Pilots are only being made in a limited number. 100 55mm pieces and 1000 48mm pieces will eventually make their debut. Modern history can be tough to get a hand on. Price not yet available.