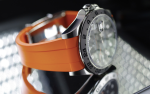 With warmer temperatures continuing to  swell, so comes the annual wardrobe change.  We revel in the ability to transform our lives for the casual and sporty dog days of summer.  Activity plays a larger role in defining style and functionality and the timepiece must follow suit.  With its mainstream introduction into the high end watch world in the early 1980s, the rubber strap has completed its long journey to acceptance. Now this common material can be found snuggly fit alongside precious metals and high end movements.  Hublot might have been the originator, but now, if a brand does not offer this option they are missing the yacht.
One major brand out there that curiously does not offer a rubber strap for their timepieces is Rolex.  Arguably the most notable and collectable watch brand in history has yet to succumb to what is no longer a trend but a staple.  One company, however, has taken it upon themselves to break open this market and they have done it well; Rubber B.  This American company has brought a well designed and produced vulcanized rubber strap to fit a variety of Rolex watches.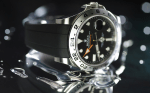 Designed and constructed with the Rolex models in mind (see their site for compatibility), these rubber straps look right at home next to a Rolex bezel.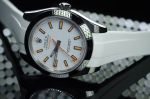 Integrated with the Rolex case design, the straps flow right into the lugs seamlessly, leaving no spaces.  This not only creates a streamlined appearance but also maximizes comfort.  Rubber B's options include a variety of colors to match particular watch models as well as the ability to use their tang buckle or attach the original Rolex folding clasp.
Priced well at an average of $250 per strap, there is no reason every Rolex owner should not be a beach explorer with a Rubber B. Now you can switch up that heavy metal bracelet for a red rubber for the weekend or a cool blue to match your summer suit.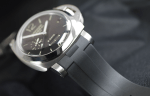 The definition of luxury has certainly changed over the years.  Functionality has played a role in helping redefine what is deemed luxurious and rubber is a prime example.  This simple material has become almost mandatory on wrists in the active seasons.
Rubber B is one brand that is helping make rubber straps the only rubber a guy actually wants to wear. RubberB.com offers integrated strap for Panerai as well!
Editors' Recommendations