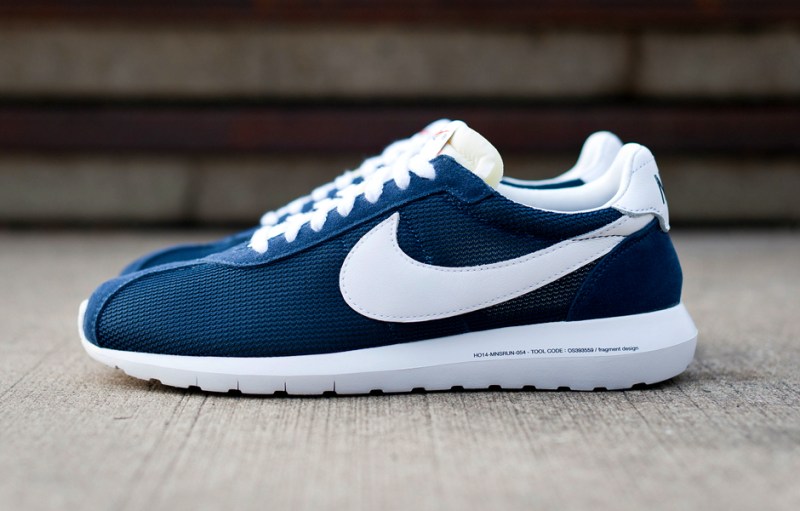 On Your Feet is all about that new shoe feeling- from the first time you open the box until they're worn into the ground. Sometimes we'll sift through the constant Air Jordan releases to bring you the gems other people will leave on the shelves, and sometimes we'll slide on reclaimed leather loafers from Prague, but we'll always focus on comfortable shoes with appealing and creative aesthetic. So lace up your new kicks and stand on the precipice of adventure, where will we go together?
Whenever Nike works with Fragment Design on a product, you can expect something exceptional. The newest pair of kicks in a long-running relationship between the two brands, the Nike Roshe LD-1000 SP borrows elements from the modern classic Roshe run, and fits the uppers with the shape and cut from the Nike Cortez, a running shoe first introduced during the 1975 Olympics. The result is a pair of sneakers that's not only exceptionally comfortable and lightweight, but brings together one of the shoes that made Nike what it is today with a pair that represents the most cutting edge of their design philosophy.
Hiroshi Fujiwara is one of the most influential names in streetwear and fashion, and his company Fragment Design is responsible for countless collaborations across many mediums. From building guitars with Martin for Eric Clapton, to launching products lines for Levi's and Nike, Fujiwara is even credited with bringing American hip-hop to Tokyo. Stealth is the word that defines Fragment's design language, it's all about keeping a low profile, except when you really want to be noticed. From his art, to the sneakers, to the elegant Clapton guitar, everything is minimalist, but there's always something extra that shows the true quality and gives it a little pop.
The brilliance of the shoe comes from its collision of classic and modern elements. The Cortez running shoe blew minds when it dropped in almost 40 years ago, redefining the running shoe with its light weight and flexible textile upper. The Cortez is largely pointed to as one of the products responsible for changing the image of Nike and launching them into the international brand they are today. At the other end of the spectrum, the Nike Roshe Run continues to impress as it gains new traction with each technological improvement. The zen-inspired Roshe was the perfect platform to reimagine the classic running Cortez, and Fujiwara embraced the traditional colorways, fitting them on top of the specially designed natural motion outsole.
The Nike x Fragment Design LD-1000 SP is available now in limited quantities from Nike.com and Nike stores. Thanks to our friends at High Snobiety for sharing the images with us.
Editors' Recommendations