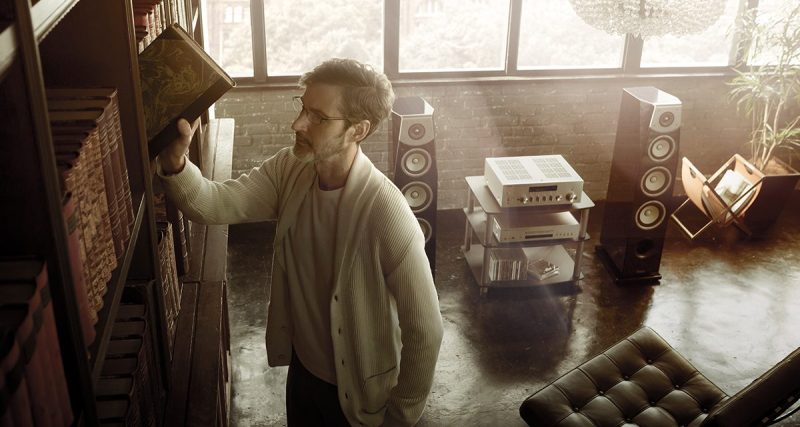 If you're a hardcore digital audiophile, vinyl collector, or just a general home theater and music enthusiast, Yamaha's newly launched R-N803 wireless stereo receiver will help you achieve the high-res audio setup that your music collection deserves, while simultaneously acting as a centralized hub for an entire multi-room speaker system.
The Yamaha R-N803 is well equipped to handle a wide range of listening options, both digital and analog. The receiver touts a 24-bit/192kHz ESS Sabre Digital-to-Analog Converter (DAC) chipset with support for multiple high-resolution digital audio formats, including 24-bit/192kHz FLAC, WAV, and AIFF files, and 2.5/5.6MHz DSD files. In addition, the R-N803 features a dedicated phono input for vinyl record players, plus two digital Optical ports and two coax ports for other devices like CD players, Blu-ray players, or TVs. Rounding out the connection ports are Ethernet and USB connections, subwoofer out, headphone out, and control trigger.
Regardless of where the R-N803 is set up in your home, the sound is designed to be dynamically adjusted to fit the acoustics of the room thanks to the Yamaha Parametric Room Acoustic Optimizer (YPAO) system and YPAO-RSC (Reflected Sound Control). The R-N803 is the first stereo receiver to boast the feature.
The R-N803 also includes Yamaha's MusicCast multiroom streaming technology that allows users to incorporate the receiver into a full multiroom speaker setup with a wide range of speaker options. In addition, the receiver supports Bluetooth and Apple AirPlay, as well as wireless connection to external network PCs and storage devices via DLNA. On-board streaming services include Spotify, Pandora, Deezer, Napster, SiriusXM, and Tidal.
In a press release, Yamaha Corporation of America AV division general manager Robert Goedken added, "This is a receiver for music heads looking to bridge from the legacy physical media of vinyl and CDs to the more modern platforms of downloaded music files and music streaming services."
The Yamaha R-N803 receiver is available for $800. You can get more information on the R-N803, and all of Yamaha's audio and home theater equipment, on the Yamaha website.
A similar version of this article also ran on our "brother site," Digital Trends.